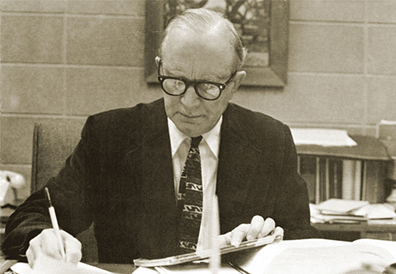 As our college begins its 85th anniversary celebration with an alumni reunion, we've taken a moment to pause and reflect on the college's history. Looking back over the years, it is interesting to see who stands out in our remembrance book as important contributors to the story of the institution. Scores of alumni and faculty have interacted at the College over the years, so one might wonder what there is about certain people that forms a lasting impression upon others and makes them part of a legacy.

The people I hear about when I chat with alumni are usually professors who have had a passion for teaching. At the top of the list in our college's history of important figures is the former director of the school of business administration, Judge Russell, who taught from 1938 to 1977. Many alumni attribute their success in business to his influence on their lives. His strong sense of ethics combined with his rigorous curriculum and high standards have stayed with them through the years. He and other popular faculty were mentors who saw life in a unique way and were dedicated to sharing their knowledge with students. They expected the best, sought to encourage, and never gave up on their pupils. Their ability to motivate others pulled them out of the ranks of the average, and placed them at the forefront of memories of the many people they guided.

These colorful individuals might not have been easy on their students, and they might not have been appreciated as much then as they were later in life. However, with maturity and time, alumni now see them as indelible symbols of inspiration; dedicated and caring people who wrote themselves into the thoughts and hearts of our alumni.

From my perspective, leaving a legacy starts with living your life with dedication, passion, purpose, civility, and striving to share your vision with others. A legacy may naturally follow.
REAL LIFE. REAL NEWS. REAL VOICES.
Help us tell more of the stories that matter from voices that too often remain unheard.