Feeling that we are making progress in meaningful work is core to being higher-performing and happier, according The Progress Principle co-author Teresa Amabile. Not surprisingly, companies and employees that take that same stance in volunteer work are able to grow faster. One way to optimize that notion is to enable would-be volunteers to use their best talents on projects where their skills are needed and allow them to gain new talents in the process.
As well, MovingWorlds matches volunteers to projects overseas that can benefit from their skills and experience, for both people lucky enough to work for one of these employers, and also for people that want to do this on their own time. MovingWorlds is a For-Benefit Organization, meaning it exists to support the growth of social impact organizations around the world while developing more globally conscious leaders.
It allows its vetted partners like startups, foundations, impact investors, nonprofits and schools, to publish projects on its website so that volunteers - that MovingWorlds dubs Experteers - can find matches for their skills and interests. Since they seem to be part of a growing trend, I turned to co-founder, Mark Horoszowski for his insights about how and why volunteering is changing.
Q: What trends do you see in how people want to do volunteer work now?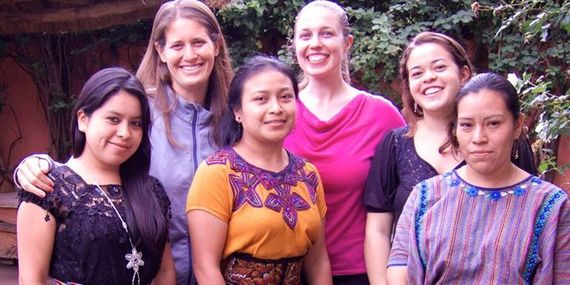 A: We see two interesting shifts. First, people want to put their best talents to work - not just their labor - and to have more concentrated volunteer stints to create greater impact. For example, Experteer Deana Jirak designs and improves website experiences based on user behavior at her global online company. Consequently, she didn't want to volunteer in a soup kitchen one day per month or help build a home.
Instead, she dedicated her two week vacation to use her best talents in collaboration with two other Experteers for Maya Traditions in Guatemala. That's a non-profit that employs women in rural areas to make bags and other products using traditional backstrap weaving. Deana's team designed a new website that attracted more people to buy these products. They also trained the local team how to keep the site updated - thus creating a virtuous circle of more educated and well-paid employees, growing sales, and self-sustaining impact.
A second trend we see is the desire to work with for-profit companies that have a social mission, particularly when they are in the startup phase. Such organizations include tech startups, startup accelerators, and small businesses that deliver products that make people's lives better, like clean-burning cook stoves, sustainably produced fashion from recycled materials, and health services (like eye care) for people in poverty. In many parts of these world, these organizations are leveraging more sustainable value to people than many charities. They are able to self-sustain and they generate more jobs - often more skilled jobs - which enables people not only to move out of poverty, but into self-empowerment.
Nicole Wickswat, for example, volunteered at a Brazilian startup, Ebanx, which enables Brazilians to use domestic payments for transactions with merchants anywhere in the world, thus spurring local job creation and aiding international vendors to conduct ethical business in Brazil. As a former Intel employee with experience in international business and sales, Nicole was the first non-Brazilian to support the founding team, just as it was attempting to scale up.
She helped them build an international customer base, implement a business development strategy, and hone the sales process and skills of the local team. Since then, Ebanx has grown from ten employees to over 100, creating jobs, with better pay, in an area that desperately needs them.
Calling all HuffPost superfans!
Sign up for membership to become a founding member and help shape HuffPost's next chapter