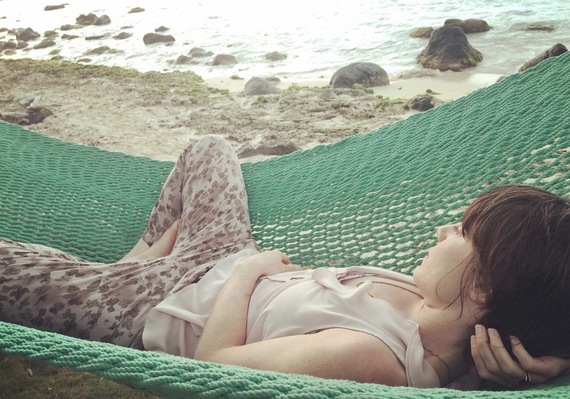 If you want to live a life with purpose, a life that feels right, you must spend time being quiet, being still - listening to yourself, trusting yourself, being honest with yourself, so that you may discover the gifts you were born with. As the Platonic doctrine of recollection asserts we do not come here to learn, but rather to remember the comprehensive knowledge we came bundled with at birth. Living a life that feels right is contingent on our discovery of that knowledge. And the giving away of those gifts is how you live a life with purpose.
Personally, I wasn't taught that I carry in me ancient wisdom to be discovered and used for the good of all. My education suggested I look outside myself for what I was seeking. And when we look outside of ourselves most of us are looking with just our eyes. Some of us ignore completely how it feels. In this sense, many have begun to misplace value - we think if it looks good, based on some ridiculous preconceived notion, then it must be good. We look at it and compare it to what someone else thinks about it, or consider it's monetary value, which has foolishly deemed it somehow superior or inferior. So rather than uncovering what is within us, we begin to mimic, and in the process of mimicking, forget who we are.
If you want to live a life with purpose you must stop mimicking and you must stop seeking outside yourself, so that you can begin to wake up to what lies dormant within. Those who haven't yet heard the voice that speaks when all is still and quiet often wake up feeling a little lost (or a lot lost!), like there's something missing from their life. This is why meditation is becoming a billion-dollar-a-year industry. But do not be fooled - you do not need to purchase something to access what is being offered. In order to discover in yourself what you came bundled with at birth, you must learn to still the body and mind, and you must self-initiate. No one is going to pull you aside and let you know you've been specially chosen for this life. You have arrived! Do not wait for someone else to choose you - choose yourself. Rather than making decisions based on how it looks, make decisions based on how it feels. If it feels right, then it is right. If it doesn't feel right, then it's not. Apply that to every aspect of life - the relationship, the job, the city, the food - and if it doesn't feel right, find within you the courage to do something about it.
While on your path of self-discovery remember, above all, to be gracious and kind to yourself. You will make mistakes. You will be tested, so that your values can become increasingly clear. When your values become clear, your desires and your dreams, they too become clear. They become markers on your map of destiny. They are indications of what you have every right to achieve. If you can dream it, you have within you the tools to achieve it. You simply need to learn to harvest what you carry within. Be discerning on your journey. Very often who we think we are keeps us from recognizing who we really are. And don't take yourself too seriously. Remember to enjoy it. That too is your birthright. This life is meant to be enjoyed... it's meant to be pleasurable. Allow it to be. Slow down, remember to breathe, get still, be quiet, so that you can understand your experience with your whole being, rather than with only your eyes or only your intellect, and one day you will wake up and find yourself living a life with purpose.
"Your vision will become clear only when you can look into your own heart. Who looks outside, dreams; who looks inside, awakes." -- Carl Jung
On June 13th, 2016 Amber will travel to Washington, D.C. to lead members of Congress in a meditation session. For more information visit www.ambervoilesyoga.com.
Related