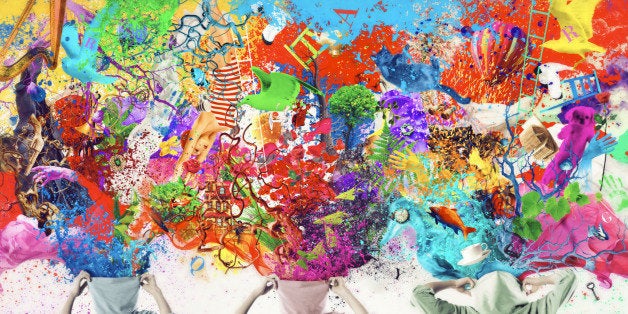 Have you ever looked at someone you admired, someone who was changing the world and doing incredible things, and just wondered how they got there? And how you could get there too? Take Scott Harrison for example. He went from nightclub promoter to solving the world's water sanitation crisis with charity:water.
Sometimes, I'll sit around just trying to figure out what problem I can solve. What can I do to make a difference? Can I really have that kind of an impact?
Yes. We can -- and I'm a HUGE believer that we can all do something. Even if I help one person, I'm still helping someone. But you know what? We're not going to change the world if we have no passion, and that's just not something you can fake.
I read an article this week by Live in the Grey, a movement I think is just pure genius. They are all about blending passion and profession and have the most incredible manifesto that is now hanging on my wall:
In the article, LITG interviewed Tama Kieves, a Harvard-bred lawyer turned life-changing career coach. While the article is chock-full of some pretty kick-butt advice, one thing she said really hit home with me:
You can't plan an inspired life.
Take a look back at Scott Harrison. He didn't dream of starting a world-renown non-profit when he was a little kid. To be quite frank, he wasn't even aware of how serious the water crisis is until he was hit right in the face with it.
But after his service trip, he was changed forever. He couldn't not do something. All of the steps he had taken and decisions he had made led him there, and now he had to take that next step.
In her interview, Tama elaborates, "Most people never take that first step towards a dream because it sounds illogical. But if you take that first step, it morphs into something else."
Taking on the challenge of bringing clean water to the 800 million that currently live without it is no small feat. Scott started small. It's just taking that first step that makes all the difference.
We stop ourselves from accomplishing incredible things before we even give ourselves a real chance. We think of a million different reasons why we can't or shouldn't do something. We're too young. We can't possibly help 800 million people. We don't have the right experience. It's too hard.
If it's easy, it's not worth it.
Start small. Do what you can now. I say it over and over again, I know. But if you don't believe me - then take Tama's advice. She gives great examples in her interview about how to take that first step, whether it's by taking a new class on Wednesday nights or writing poems in your notebook.
You'll never change the world if you don't try - and that will never happen if you don't take that first step.
Whether you impact a million people or one person -- you're having an impact. Imagine if every person today just touched the life of one other person? The outcome would be incredible!
So what are you waiting for? Why settle for "almost" doing what you love? Almost changing the world? Almost starting that company or moving to that new city?
"I see so many smart, brilliant people who are doing almost jobs. Imagine what amazing things they could do by taking that first step."
So, what's your first step?
This post was originally published on Quarter For Your Crisis, an online community created to share stories of those who don't think normalcy is an option and who want to actually live and breathe their passions.
Related