Have you heard of the tiny house craze? It is the latest trend, people are living in small spaces, but "living big!" Living big means they are living more with less. Enjoying life with fewer things. So, why can't we apply these trendy tips and tricks to dorm living? There is no reason at all!
Traditional dorm living is often bland, overcrowded, messy, and cramped. That's an idea we can simply through out now! The "less is more" rule is especially true when you are living in a dorm room. With the latest creative approach to making small spaces more livable, we can transform any dorm room into a bright, organized, spacious home.
Here are some bright ideas on how to make your dorm room big livin':
• Raise It: If you have watched any of the tiny house TV shows you know that they find storage in every corner of the space to make the most of the space. The same goes for a dorm room. Purchase bed risers to add more storage space. A lofted bed will give you more space for your shoe collection, storage containers, study desk and more.
• Functional Accessories: Most dorm rooms come with the basics such as a desk and dresser. Enhance the space by adding in functional furniture and accessories such as funky storage ottomans, a bench or couch with storage inside and over-the-door organizers. These stylish accents will help keep your dorm room feeling open and relaxed, all without cramping your space or style.
• Strategic Décor: With that right décor you can make a space feel bigger. Here are strategies that will open up your dorm room while showing off who you are:
o Walls: Wall decals are the latest home décor rage, from formal homes to tiny homes. They are beautiful and meet any dorm rules about placing nails in walls, etc. Shop online or in stores for the removable wall decals that speak to you. Another way to add cheer is by draping lights and calming fabric on the walls, softening concrete walls.
o Mirrors: Hang interesting mirrors around the room. The views and reflected light from the mirrors will make the room feel bigger. Select big and small mirrors with interesting frames to add dimension to the room.
o Color: Brighten a dark dorm room by using bright colors, but be sure to stick with one color scheme. Too many colors can close in the space. Check in with your new roomie(s) to see what they are planning so you can coordinate. For example, if you both love blue, make sure you choose blues or patterns that coordinate.
o One POP Item: Choose one "pop" item that really makes it your home and wows guests. For instance, a chandelier, faux fur rug or throw, elaborate throw pillows, etc. Your room will pop with that over the top piece!
• Become a Pro Organizer: While you may not be majoring in the art of organization, it is time to study up on professional organization. An organized dorm room is a bigger dorm room. Here are some tips from the pros:
o Clothing: Lay folded clothes (t-shirts, sweaters, etc.) inside your drawers vertically on their side (not stacked on top of each other). You can purchase wooden or plastic planks to use as dividers. This way you can fit more of your clothes and see them all at once when you open the drawer. Organize your closet and drawers by color, light to dark so you can always grab just what you want when you want it.
o Laundry: Keep your laundry basket on the floor of your closet if there is room. This will leave more free space in your dorm room.
o Books: Arrange your textbooks by size and stand them up on a shelf. That way they will take up less room on your desk.
o Storage Containers: Clear storage boxes can be a lifesaver in a small space and they come in cool colored tints. Use those boxes for school supplies, files, seasonal clothes, phone chargers, electronics, etc. The more stuff you have stashed away the bigger your space will feel.
o The Big Stuff: If you have skis, snowboard, surfboard or other big items look into getting a storage unit close to the campus. Split it with your roomie!
Now sit back and enjoy your huge dorm room -- big space, big character. Oh wait, now you need to hit the books and one more step.... Take photos on your phone of how it all turned out so you can refer to the images if you slip up on the organization and get it back in shape in no time! While you are at it, why not brag a bit and post them for all your friends to admire!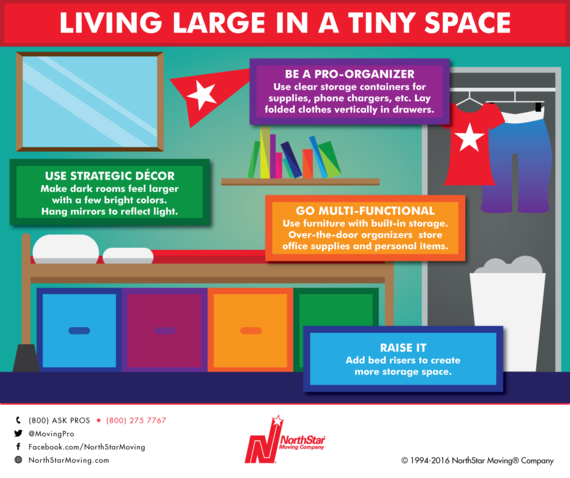 Calling all HuffPost superfans!
Sign up for membership to become a founding member and help shape HuffPost's next chapter