Just because you're totally broke doesn't mean you have to abandon the dream of living somewhere spacious, beautiful, architecturally important and very expensive. I'm talking about living under a bridge.
The right bridge can provide excellent shelter as well as reflect your taste and status. And unlike your current housing set up, a good bridge comes with access to free running water, weekly janitorial service and maintenance, not to mention public transportation virtually right outside your front door. The ubiquitous tollbooths make living under a bridge the closest thing to a gated community you can get for $0/month.
Here are some examples of what's available around the country:
New York City: Pre-war classic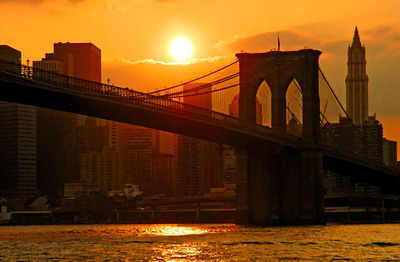 This 3460 foot granite and steel suspension bridge offers spectacular views of Manhattan and Brooklyn, easy access to the arts, fine scavenging, upscale shoplifting as well as some very nice parks and public spaces. Built in 1883 for 18 million dollars (which was nothing to sneeze at back then), the original details are still intact, a little TLC will make it sparkle. Perfect location for Wall Streeters.
Florida: Post modern masterpiece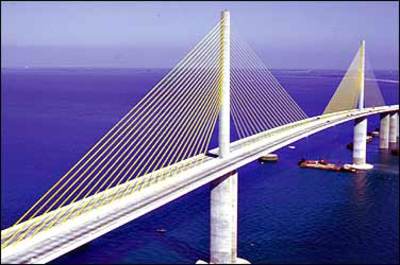 29,040 feet of steel and concrete, the Sunshine Skyway bridge is for those who like their clean spacious design with a little edge. Completed in 1987, this beauty offers classic suspension construction coupled with dramatic details and views of Ft. Lauderdale and Bradenburg. With several golf courses nearby, year around sunshine and easy access to decent healthcare in the Caribbean and Mexico, this is an excellent place to retire.

Northern California: Views, views, views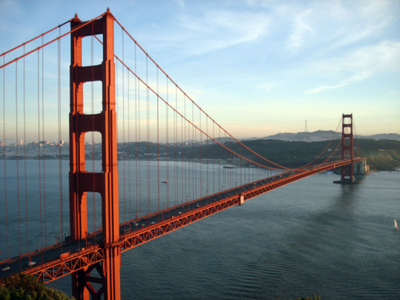 No matter where you're standing on this 8981 foot icon of steel and concrete, you'll have a spectacular view (except when the fog rolls in). Designed by Robert Straus in 1937, the Golden Gate bridge is now one of the most coveted pieces of real estate in America. Residents enjoy nature in the nearby Marin County public spaces as well as partake in the lavishly filled dumpsters in the city.

Chesapeake Bay: $200 million marvel of engineering.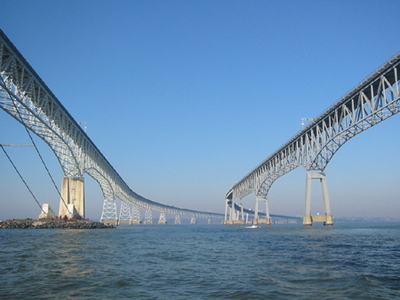 The Chesapeake Bay bridge is the bridge equivalent of the Neverland ranch. A massive 89760 feet of steel and concrete, it dips over and under open waters with a complex chain of artificial islands, tunnels and bridges. This 200 million dollar futuristic wonder spans four separate states, convenient for anyone anticipating trouble with the local authorities.
Minnesota: Charming 19th century fixer upper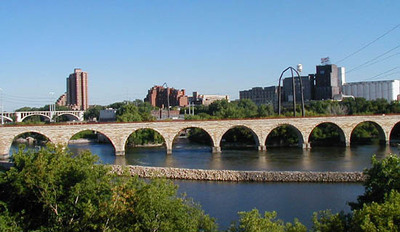 If you prefer rustic charm to grandeur and don't mind cold winters, this could be the bridge for you. The Archstone Bridge in Minneapolis consists of 2176 feet of native granite and limestone. Converted from a railroad bridge in 1965, 26 well-placed arches add character and warmth. As a pedestrian bridge and historic landmark, it's a great place to panhandle --just think, no more commuting!
A guide to world bridges for impoverished expats is coming soon. Suggestions and recommendations are always appreciated.