Economic and demographic figures show a rapidly growing segment is tuning out Twitter, Facebook and other social networking phenomenon in favor of isolation, gazing blankly into space and weeping a lot.
The question facing marketers is how to reach the emerging "impoverished isolator" demographic; people who rarely leave their homes, have stopped keeping up with friends and family and often spend several hours a day in the fetal position.
Smart marketers are looking into Anti-Social Media -- any place you can put an ad or logo that reaches an audience that has ceased caring about anything except meeting their most basic needs.
Print media isn't dead, it's just changed location. With traditional media facing extinction and a disheartened, disinterested public, Toilet Paper Messaging (TPM) has emerged as one of the most effective marketing tools out there. Even in a difficult economy, toilet paper users remain loyal with a share holding steady and even growing as people begin using it as a replacement for pricier Kleenex. If you're trying to reach a wide audience, not even a Superbowl ad matches toilet paper's reach. TPM guarantees exposure 3-4 times a day while the Superbowl ad is a seven million dollar, 30 second, one shot. It should also be noted that toilet paper enjoys high viewership during Superbowl ads.

The soft sell strategy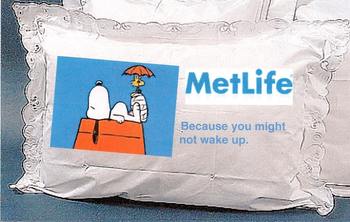 Considering that ever since its introduction, the pillow has consistently averaged at least seven hours a day consumer exposure within virtually every target (A.C. Nielson, June 2007), it's surprising its marketing potential hasn't been exploited sooner. Recent studies show that the time consumers spend with pillows rising at an astronomic rate, with the average now ranging from 8-24 hours a day. The above ad illustrates how placement and messaging can create a powerfully persuasive communication. 95% of the focus group responders said they'd consider Met Life as a life insurance option if they could afford life insurance.

Mobile technology for an audience going nowhere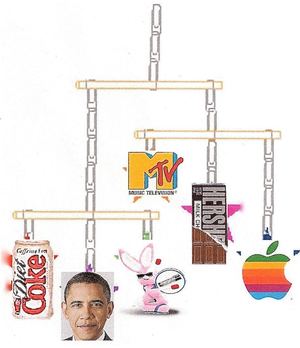 Twitter, texting and other mobile messaging tools are losing their effectiveness as the public becomes immobilized by debt and depression. Fortunately, new technologies are being fashioned to replace them. One promising mobile device being tested in beta, involves attaching your message/graphic/logo to a string, wire or whatever is handy and hanging it from ceilings. Like its mobile predecessors, it hasn't done much for sales, but top-of-mind awareness numbers are through the roof. It also enhances multitasking abilities by allowing the target audience to engage with a brand while simultaneously staring at the ceiling listlessly.

Calling all HuffPost superfans!
Sign up for membership to become a founding member and help shape HuffPost's next chapter