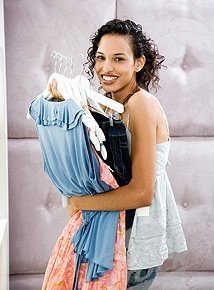 Since you probably still have a small amount of pride left, you want to give off the same air of success in person that you've been cultivating on your Facebook and LinkedIn pages. Not so easy now that you've started referring to the $2.00 tee shirt you got at Walgreens as your "dress shirt."
Fortunately, all the latest in designer names are still at your disposal for those rare occasions you have to get dressed and go somewhere. Free.
If you still have a valid credit card, your best bet is buying and returning (aka "bulimic shopping" to diagnosticians and "borrowing" to those who practice it.)
A psychological lifesaver for fashion victims victimized by the economy, buying and returning allows you to binge on high end designer clothes and purge them once they're out of style (usually in a day or two). Sure, you'll have to keep the price tag on, but a little rectangle of cardboard digging into the fleshy part of your back is a small price to pay for the status of wearing the same dress Gwyneth was spotted in at the Ivy.
Once you've worn the item, the thrill of ownership is gone and you realize that a $1,999 white silk dress just isn't practical for your impending employment at Denny's (if all goes well), simply bring it back for the full refund.
To ensure a successful return, be very careful when wearing the article. Don't walk, eat, lean or sit. If you must drink, only consume clear fluids that don't stain. To be safe, you might want to slip a dry cleaning bag over it before going out (make sure to make a hole for your head to avoid suffocation). Check the refund policy or you may wind up paying for a one night stand in Stella McCartney for the rest of your life (or 30 years, whichever comes first). To learn more about refund policies from an expert, click here.
Finally, never wear your borrowed clothes on a date in which you plan to get naked--nothing's more of a turn off than a woman (or man, for that matter) with drooping tags.

Foot notes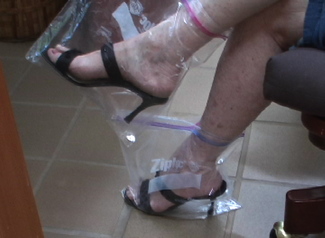 Unless you don't walk, returning shoes can present problems, as the soles can be dead giveaways come refund time.
If you're the eccentric artistic type, you might be able to get away with wrapping those strappy Pradas in Baggies, but it does take away from their timeless, yet modern elegance. There's also the risk that logo watchers might think your shoes were designed by Ziploc. On the plus side, the Baggies can help camouflage the crappy pedicure you had to do yourself.
As a rule, the only shoes that make sense to borrow are " f***- me" pumps, since your feet will be in the air most of the time anyways.

Fashion straight off the runway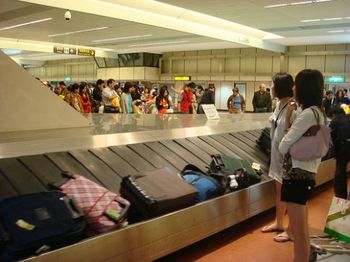 One of the best places to pick up free, quality clothes is at airport baggage carousels. There's little danger of getting caught since security is much more concerned with apprehending dangerous tweezer and shampoo smugglers than luggage thieves. The only risk involved is not knowing exactly what's in the suitcase until you've already taken possession of it. But that's also what makes it exciting. Every bag you steal is like a gift...maybe that Dolce & Gabbana blazer you've been wishing for is in there. Or better yet, the original owner is an international jewelery smuggler!
To increase your chances of getting something wearable, stick to carousels arriving from places that wealthy people travel and shop. Paris, Milan, Hong Kong and Dubai are always good bets. The first class baggage comes out of the chute first, so get there early. Avoid discount carrier carousels. Always grab designer luggage, since even if you can't use the contents, it'll get a good price on eBay.
Become a GOP presidential hopeful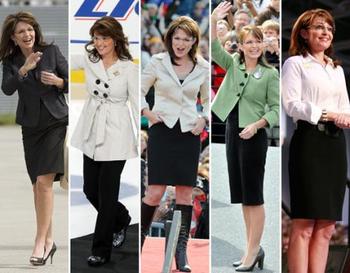 Considered by some to be the ultimate in designer label whoredom, this method has proven very effective in keeping a wardrobe up to date. You don't need to be articulate, or knowledgeable to qualify for a role on the GOP ticket and an all expense paid designer shopping spree. Start practicing nonsensical statements that incorporate phrases like "death panels", "that's what Hitler did" and "where's his birth certificate?" and a free $150,000 designer wardrobe could be yours!
It's not old, it's "vintage"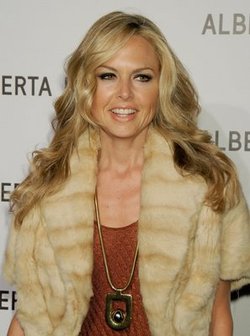 If all else fails, do what Rachel Zoe does when she's in a pinch--wear that frayed, slightly stained, hopelessly out of fashion Chanel/Gaultier/Dior you've got in your closet, hold your head high and tell everyone it's vintage. Or just wear an old slip accessorized with a fur throw and a necklace fashioned out of something you've got lying around the house (a bottle opener or caper spoon, for example). Everyone will think you're a trendsetter instead of just a poor slob.
Popular in the Community