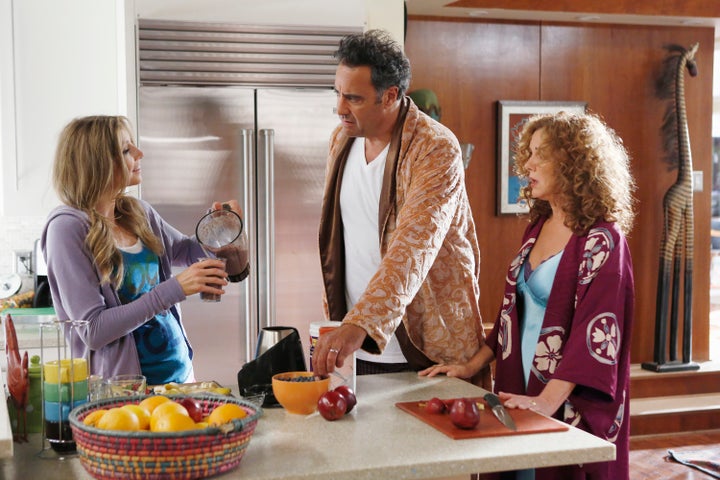 The "Scrubs" alumna completes her TV career 180 with the ABC comedy: Chalke, who played eldest Connor child Becky on "Roseanne," is now playing a TV mom.
"How To Live With Your Parents" follows Chalke's Polly, who's just recently divorced her irresponsible husband Julian (Jon Dore). Due to financial struggles, she and her five-year-old daughter Natalie (Rachel Eggleston) move in with her vulgar mom Elaine (Elizabeth Perkins) and uber-chill stepfather Max (Brad Garrett). But the uptight young mother's parenting ideals clash with Elaine and Max's improvisational and eccentric lifestyle. (As you've probably seen in previews, there is underwear in lunchboxes and coffee at bedtime when Natalie is under Elaine and Max's rule -- or lack thereof.)
Below, Chalke opens up to The Huffington Post about her return to TV, the cast (even young Eggleston) that makes it near impossible to finish a take, whether or not we'll see any "Scrubs" alumni on "How To Live With Your Parents," and much more.
Since you haven't been a regular on a TV show since "Scrubs," what was it about "How To Live With Your Parents" that made you want to return to TV?
It was a couple of things. First of all it was Claudia Lonow, who's the creator of the show and the writer. I sat down with her first and heard about the story of her life, which is the script. It's based on her life and I play her. And I just loved her. I mean, she's one of the funniest people you will ever meet. She's extremely charismatic and really funny and a great writer and she has such an interesting life. That ended up being one of the really cool things about doing it: So much of it is true, even small parts of the script. There'd be something like, "My after-school activity is hanging out with John the Grizzled Toothless Hot Dog Vendor and discussing film noir." And I'd be like, "Is that true?" And she'd say, "Yeah, that's true." [Laughs.]
So I really loved Claudia and then when I read the script, I just had a similar feeling about the pilot as I did when I read the "Scrubs" pilot. I mean, I've read a lot of pilots in between and I just loved the balance that it had between being funny and having heart. I felt like I really connected with the characters when I read it and I also laughed out loud. And I loved Polly because certainly she's the character that I can most relate to that I've played, in the sense that she's a mom who's just trying to the best for her kid. I think that when you become a parent, that changes the lens through which you view the world and a lot of it becomes about, how can you just be the best parent for your kid? It's neat to get to play that since obviously that's such a big part of my life -- I have a three-year-old.
And I loved the writing. I loved the jokes. I just thought they were smarter and funnier.
Plus, the cast is amazing.
The cast ended up just being a huge bonus. I mean, when I heard that they were offering [the role of Elaine] to Elizabeth Perkins, I don't think I slept between then and the moment that it was signed, sealed and delivered cause I'm a HUGE fan of hers from "Weeds." She just delivers lines differently than anyone else would. And Brad Garrett is one of the funniest people I've ever worked with. Claudia comes from standup -- her parents co-owned The Improv -- so she's grown up in the standup world. Brad comes from standup; Jon Dore, who plays my ex-husband, comes from standup; Joe Wengert, who plays my boss at the market, comes from standup. So it was obviously an insanely fun set to work on. I've never worked on a show where sometimes, they just had to move on. It was like, "I guess we're just not going to get this shot." That would happen a lot. [Laughs.] It would happen often that I would have to ask Brad, "Now that the camera is turned around and they're on my side, can you please not say that one line cause I may not make it through this take?" It made for a really fun few months. [Laughs.]
You couldn't really ask for better TV parents.
Oh my God, I know. I was freaking out! And that's all unknown when you sign onto something. You don't know who you're going to get to work with. And I feel that way about everyone in the cast from [Perkins and Garrett] to Jon Dore, who's insanely talented and funny; to Stephanie Hunt and Joe Wengert, who play my co-workers; and to Rachel Eggleston, who plays my daughter. She's playing a five-year-old! Brad and I both said we've never worked with a child who's made you break on camera. She's made me crack up on camera before and she's playing a five-year-old! It's insane. She's really good. It's crazy.
Is there any chance we'll see any of your former "Scrubs" co-stars making guest appearances?
Oh absolutely! I would love that! I'm still buddies with them and that would be really fun. I think that would awesome.
PHOTO GALLERY
New ABC Series
Calling all HuffPost superfans!
Sign up for membership to become a founding member and help shape HuffPost's next chapter
BEFORE YOU GO