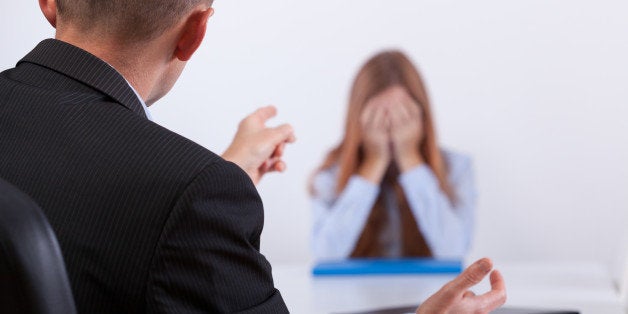 I have never been a fan of the term "dream job," because as a job search newbie your goal should be to get the right job, not the dream job. The reality of your first job search is that right out of college, you may be laced with unrealistic expectations. Generation Y and Z, the college kids and 20-somethings, have unfortunately been given a stereotype. We are viewed as the "entitled generation," and with that comes an upward battle to prove our worth to a company.
What is college failing to teach us about the "real" job search? Are we given unrealistic expectations about the job search? Is there a reason why no one educates us on the "unspoken rules" when applying and interviewing? As a young professional, there are things I wish someone would have given me a heads up about during the job search and interview process. Sometimes simple mistakes are putting qualified candidates at the bottom of the barrel.
Think How to Lose a Guy in 10 Days -- but instead, "How to Lose a Job in 10 Ways."
1.Your resume is two pages.
Long story short, your resume should not be two pages unless you have been working for twenty plus years. The only things that should be on your resume are relevant work experience, educational background, and any additional info about you that an employer would find attractive. If you are applying for your first job out of college, leave off anything from high school, that ship has sailed.
2.You ask too simple of questions in an interview.
Your questions should be thought out, prepared, and presented in a way that makes you look intelligent about the company or business you are applying with. Do not ask questions that could be answered in a simple Google search.
3.You fail to look the part.
The way you look matters regardless of what people will tell you. Now, with that being said, that doesn't mean that you need to be attractive to get a job. It simply means that you need to look the part for the job you are applying for. Regardless of what the dress code is for the company, you need to show up to the interview dressed in work attire. You need to look buttoned up meaning your clothes should be ironed, your shoes should be clean, and your face put together.
For the females: Subtle make-up is always your best option. For the males: Make sure your hair is clean and out of your face (well, this actually applies to both!). If you are hired, you will be a reflection of the company, and they want people who will represent them in a positive light.
4.You ask about salary before you are formally offered the job.
It is never appropriate in any situation to ask about what you will be making in the job before the company provides a formal offer letter.
5.You arrive late to the interview.
This seems like common sense, but you would be surprised. Whatever your time slot is for the interview, you should plan to arrive 15 minutes early. Arriving late for an interview is unacceptable, and the company will not care that you "hit traffic" or "could not find the building." Plan ahead and take into consideration any delays you might face the day of the interview.

6.You fail to apply because it says you need two years of experience.
This is the number one question I get from recent college grads, how do I apply for something when it says I need two years' experience, and how do I get this experience when no one will give me a job? You can get creative when explaining what makes you qualified for a position. It does not necessarily need to be two years in a full-time gig to make you eligible to apply.
Have you done internships? What about volunteer work? Were you a captain on a team or a team leader in an extracurricular? You can spin experience in any way you want, and use it to your advantage.
7.You are intimidated by a job title.
In short, job titles vary from company to company. It is more of a question of do you want to be a big fish in a small pond or a small fish in a big pond? Both have advantages, but both will also come with different job titles. Read the experience in a job description before you get too hung up on what the title is.
8.Your social media presence is negative.
The best advice I can give is that you should be putting all your social media on private when you are on the job hunt. Even on private, companies will find a way to dig into your past, but do your best to make sure your online presence is positive. Do not be afraid to Google yourself to see what comes up. You do not want the first time you are hearing of negative "press" about yourself in an interview. Be prepared, be smart, and make good decisions when it comes to your online activity.
9.You bring your phone to an interview.
There is not any reason why you need your cell phone with you in an interview. Leave it in the car or at home. The last thing you need is for the interviewee to come up and you are scrolling through Instagram. Keep it professional and stay focused on the task at hand. You can survive an hour or two without having it glued to your hand, I promise!
10.You badmouth past employers.
The company you are interviewing with does not want to hear negative remarks about your past experiences. Even if you have ill-will towards a past employer, that should not be coming up in any interview. It makes you look negative, naïve, and unprofessional. Spin any and all experiences in a positive light.
Calling all HuffPost superfans!
Sign up for membership to become a founding member and help shape HuffPost's next chapter