If you like stories with a twist, this one is for you.
For that matter, if you like stories about struggling against the odds -- or personal profiles about unique characters -- or how to lose weight -- or even stories about...
But I'm getting ahead of myself. First, it's important to go back a bit.
I have a friend, Myles Berkowitz. I've mentioned him occasionally in my articles because... well, if I need good copy, Myles comes in handy. I always say that his wife Elisabeth is the luckiest woman in the world, because she only has to say, "How was your day, Myles?," and can sit back with free entertainment for life. Myles is adventurous, widely read, richly opinionated (about everything -- he can do a 15-minute rant about sportscaster Al Michaels. And don't get him started on Alex Trebek.) He's a graduate of the Wharton School of Economics -- and years later will still go off on a wild tangent about his then-professor William Krystol (the conservative guru) giving him a B. Myles likes to say he's a libertarian, but he's not. I tell him he's a Mylsist, with his own unique political philosophy, as much deeply liberal as it is libertarian, yet even in small parts conservative. We agree about 70% of the time, but I deeply respect the other 30% because he puts SO much manically intricate thought into it -- no matter how off-the-Mylsian edge. He's decent, honest, fair, loud, warm-hearted, obnoxious, kind, smart, hilarious, loyal, open, friendly, a doting father, and a one-man circus.
(At parties, when he gets too-Mylesish, he's been known to excuse himself, find his ethereally sweet wife Elisabeth, and bring her over to say hello, knowing that people will figure that if a woman that nice married him, he's got to be okay.)
Some of you may even know of Myles. He wrote, directed and starred in a wonderful movie, 20 Dates, a fake mockumentary about a loud, warm-hearted, obnoxious, hilarious, friendly guy who sets out to find a girlfriend. It's so impeccably-done that most people insist it's a real documentary. It's not. (For inexplicable reasons, the studio, 20th Century-Fox, has not yet released it on DVD. Hopefully that will change.)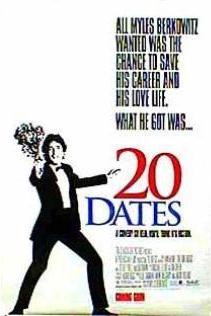 Anyway, now we move along in the tale.
A few years ago, Myles got heavier than he wanted to be, and was introduced by mutual friends to physical trainer Steven Kates, who has a degree in biology from UCLA. But it wasn't the physical training that intrigued Myles, or Kates's celebrity clients, but his theories on losing weight. Kates had noticed that his thin clients ate whatever foods they wanted -- just smaller amounts than other people. He'd developed a portion control system, of which Myles (being Myles) was highly skeptical... but (being Myles) he figured he'd try it -- and lost 46 pounds.
And so, Myles - as always, being Myles -- dove off the deep-end and suggested they develop a product that simplified Kates's program, and start up a small business. Although the two are totally opposite in most every way (Steven is quiet, focused and pensive), they blended well. And so, they created portion control measuring devices, standardized guidelines and a packaged system.
At the heart of their product was their overlapping experiences that it worked as a lifestyle change, rather than thinking of it as a diet. Diets, Kates insisted, are restrictive, and though some do bring about big and fast weight lost -- they are so restrictive that people can't stick to them. And ultimately lose all that "fast weight loss" right back. Instead, the two men created a program where people might lose weight much more slowly, but it was easy to stick with, so the weight loss would continue and (most importantly) stay off. It was about the long view, not instant gratification. As Myles puts it, "If someone told you that in six months you'd be 'just' 20 pounds lighter, would you be happy about that?" Or what about 30 pounds? That was the concept. Change the way you eat, lose weight, stick with it easily, keep it off.
And thus was Lifesize Portions born.
Little did they know that the first step was off a cliff. Ito hell. Anyone's who's created a start-up company knows the experience all too well.
Fund-raising, development, research, testing, more fund-raising, begging and pleading (lots of that), meetings, manufacturing, cajoling every friend they knew for favors (Myles somehow even got me to edit and rewrite the users guide... ), cajoling strangers for favors, fund-raising, self-promoting, website development, packaging, emptying personal savings, proselytizing, begging and, oh, yeah, fund-raising.
It required giving up a few things. Like sleep, spending money, memory, and having a life. (I'd get emails from Myles time-stamped 4:30 AM. I'd ask why he was up so early. He'd laugh sardonically, "I don't have time to sleep.") It got to the point that he lost chunks of his life: he'd mention a conversation we'd had the day before -- and I'd reply, "Er, Myles, that was six months ago."
But the two of them kept pounding the sidewalks, believing deeply in their product. They took a risk and got Colorado State University to do a limited study -- and the results came back that the test subjects actually did lose weight and (importantly) were keeping it off. They got on Home Shopping Network, and Canada's Shopping Channel -- all the time flying by the seat of their pants, pushing, struggling and praying that they'd actually have product to get to customers who bought it. They always did, but it was always a battle. (The phrase forever etched in my mind, "Can't talk now, I'm in hell..." should become their early ad line.)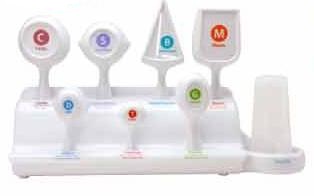 And no, getting their product actually on HSN, that wasn't the twist. That's coming. Just hold on.
For all the daily struggling for years, Myles and Steven kept pushing forward, not just for their near-evangelistic belief in their product, but also because the feedback from their earliest, albeit limited customers was always so positive.
But the struggles were pounding, crushing. Convoluted, bleak and draining, too. Life in the trenches for a start-up company is not for the faint of heart.
Which brings us to last week.
Last week, I was out of town on business, and got back this past Sunday. As maniacally swamped as he was -- besides which he and his wife were taking their five-year-old daughter to a local fair that afternoon - Myles nonetheless had insisted on picking me up at the airport. (Hey, I told you he was a great guy, and loyal.) Driving back, he chatted about my trip, and then asked if I'd seen his email. No, I hadn't -- it was an 11-hour flight.
"Oh, here, then. You'll want to see this." He reached into the backseat and grabbed a copy of Saturday's New York Times.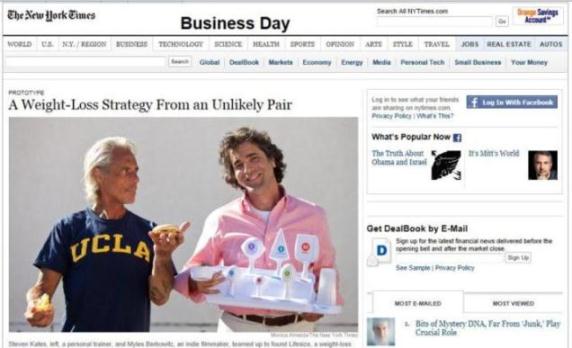 And that's Myles on the right, Steven on the left.
After all their efforts, pushing, struggling, sacrifices, risks, little successes, greater setbacks, hopes, help, and more -- they finally broke through and got the miracle.
And it's been a miracle. After years of giving up their lives and holding onto the edge by their fingertips, it's only been less than a week since the article appeared, and already they've been swamped by attention. Calls from national TV shows, requests from other newspapers and magazines, skyrocketing sales on their Lifesize website, and much more.
There's still long way to go before Lifesize Portions can even begin to establish itself. But it's nice to have a road ahead to travel on.
Just because you're good guys, just because you have a good product, just because you struggle and put in deeply long hours doesn't mean you'll succeed. Most don't. It just makes the "twists" all the sweeter when they happen.
Related