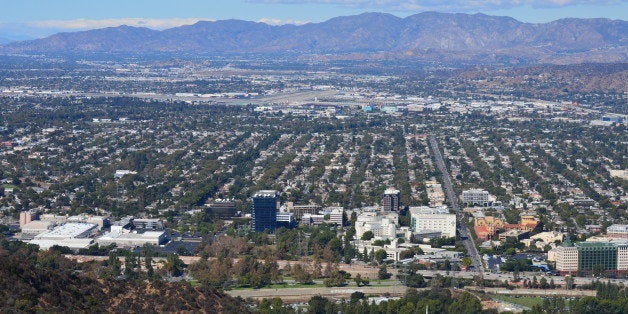 At first blush, Los Angeles is like a supermodel at a cocktail party -- foreboding and hard to approach. Its 468 square miles make it the sixth largest city in the continental United States. But live here long enough and you come to see L.A. the way natives like myself do -- as a catch-all for the 272 neighborhoods and municipalities within its borders. Whether you're new to the city or simply searching for a new apartment in another part of town, finding your bliss is as simple as remembering these five easy rules.
1. Choose Your Own Reality. One of the advantages of a sprawling metropolis is that somewhere there's a region that's right for you. Want a place that reminds you of your horse ranch back home in Texas but is still close enough to freeways and businesses? Settle near Burbank's Rancho Equestrian District. Are you an actor/waiter who prizes a walkable neighborhood with lots of coffeehouses, theatres, and Metro lines? NoHo has you covered. If you're a beach person who can't afford to live there, consider Mar Vista, Palms or Culver City -- all within biking distance of Ballona Creek, whose bike route is a straight shot to Marina Del Rey. They also straddle the Expo Line, due to reach Santa Monica in early 2016. Bottom line: Know thyself. What environment makes you most happy? Now find a way to live there. Once you do...
2. Make your hood your world. Los Angeles' downtown makes our city run, but unless you live there, it's largely irrelevant to our day-to-day lives. The happiest Angelenos are those who love the neighborhoods in which they reside. I've spent entire weekends never leaving my Los Feliz turf. After a morning hike in Griffith Park, I might stroll down to Yuca's for tacos, duck into Skylight Books and Half-Off Clothing Store, meet friends for Happy Hour at 1739 Public House, and catch a movie at the Los Feliz 3 -- with a quick jaunt across the street to House of Pies for dessert. Patronizing your neighborhood doesn't just lighten your environmental footprint, it's good for the local economy, beneficial to your health, and makes you feel connected to the city.
3. Lack of Affordability = Richer Quality of Life. Los Angeles regularly ranks as one of the most expensive cities in which to live, with a cost of living 30% higher than the U.S. average. My brother-in-law bought a 5-bedroom, 3,000-square foot house in Georgia for about the same price as a 700-square-foot, two-bedroom condo in the scary part of Pomona. But then I remember the dizzying array of cultural and ethnic choices my family gets to experience: Culinary adventures in Chinatown, Little Armenia, and Leimert Park; concerts at the Hollywood Bowl, Greek Theatre, and Walt Disney Concert Hall; hikes up to the Griffith Observatory and the Hollywood sign; visits to amusement parks, world-class museums, movie palaces, and inspiring old buildings. Most importantly, my children are being raised in a city defined by diversity and tolerance. You can't put a price on that.
4. Get Outside! New York transplants may bitch about our pizza and bagels when they arrive here, but you ever notice they never leave? Reason most commonly cited: Our weather. "It's paradise," says my friend Alan. Whenever his family endures another polar vortex back in Queens, he likes to torment them by posting selfies taken in brilliant sunshine. If we're going to be mired in a drought, we might as well make the best of it. Take a hike. Hit the beach. Mountain-bike Mandeville Canyon. Eat and shop al fresco. Our climate and geography are the envy of the nation - what are you doing to take advantage of them?
5. Go with the Flow. Look for ways to turn civic inconveniences into assets. Take traffic, something that affects us all. I once traveled from the Eastside to a job in Santa Monica. There was no escaping the sinister 10 Freeway. Eighteen months and 30 instructional CDs later, however, I had mastered enough Spanish to call myself an Intermediate Gringo. Nowadays, my commute is accompanied by my favorite podcasts. Another gig took me to Westchester for a year. Did you know the Westside enclave has its own Walk of Fame devoted to famous aviators? And one of the oldest and coolest used record stores? And a great Farmers Market? I made these and other discoveries simply by venturing out as much as possible at lunch time, allowing me to see Westchester as more than blurred drive-by on my way to LAX.
One last tip: John Hiatt once wrote a great song, "Learning How to Love You." It's about the effort it takes to really appreciate someone. If you ever find yourself demoralized by our namesake mistress -- Our Lady the Queen of the Angels -- it's worth humming.
Or just listen to it on the 10 Freeway.
Related
Popular in the Community