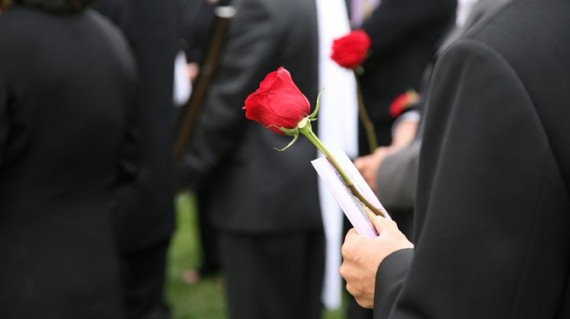 Funerals aren't cheap. You'll usually spend more than $7,000, and that's not counting what you or your family will pay for a cemetery plot, monument and flowers.
Few people want to think about death, let alone prepare for it, but a little planning can help your family members avoid impulsive decisions while they're grieving. Many people buy life insurance to ease the burden of final expenses. And making your final wishes known, writing a will and preplanning parts of your funeral can help you manage those expenses.
Funeral costs
The median cost of an adult funeral with viewing and burial was $7,181 in 2o14, and the median cost of an adult funeral with viewing and cremation was $6,078, according to the National Funeral Directors Association.
Consumers aren't required to buy funeral "packages," according to the Federal Trade Commission. That means that you can pick and choose from among most of the services and products that funeral homes offer. Knowing what goes into a typical funeral will help you decide what you do (and don't) want. And eliminating some services -- or choosing less expensive options -- will lower your costs.
Here are the largest costs associated with funerals, with median prices provided by the NFDA:
Basic services fee, $2,000. This covers services such as storing the body, obtaining permits and death certificates, planning the funeral and making third-party arrangements -- for example, with the cemetery. No matter what other line items you choose, this fee will be required by the funeral home.
Metal casket, $2,395. More than three-quarters of consumers choose a metal casket for burial, although they tend to be more expensive. But casket prices vary widely, and choosing a more economical one is a good way to trim funeral costs.
Federal law requires funeral homes to accept caskets and cremation urns bought elsewhere. Urns and caskets are available online, both at specialized funerary goods companies, such as SkyCaskets.com and BestPriceCaskets.com, and at major retailers such as Amazon, Wal-Mart and Costco, where prices range roughly from $900 to $4,000. Don't forget to factor in the cost of delivery, usually straight to the funeral home. For those truly planning ahead, you might be able to ship the casket to your home for free, although then you'd have to figure out a storage plan.
If you purchase your casket through a funeral home, be aware that the least expensive option might not be displayed. The Federal Trade Commission recommends asking for a price list.
Vault, $1,327. Cemeteries often require concrete burial vaults or grave liners, into which the casket will be lowered. As the casket deteriorates, these keep the ground above from caving in. Keep in mind that funeral homes might not display the least expensive burial vault options, either, so ask for a price list that covers them too.
Embalming and body preparation, $945. Embalming usually isn't medically or legally necessary, but many funeral homes require it if your family has opted for a public viewing.
You can decline other, related services, such as hairstyling and cosmetic application.
Use of facilities, $1,015. This assumes that the family is staging a viewing and/or the funeral ceremony itself at the funeral home. A growing number of people are declining public viewings, according to NFDA spokeswoman Jessica Koth.
Hearse and service car, $461. This includes transportation to and from the funeral and cemetery.
Burial vs. cremation
Cremation costs about $1,000 less than a funeral with burial, mainly because "cremation caskets" are generally much cheaper than standard ones. The median price is $1,000, but federal law states that less expensive options -- such as containers made of unfinished wood, fiberboard, pressed wood or cardboard -- must be available. These alternatives may cost as little as $55.
The median price of an urn is $280. If you don't want to use an urn, you can have the cremated remains sealed in a plastic bag and placed inside a box, rather than a decorative container. In addition, funeral homes and crematories are required to accept a container provided by the family.
However, cost is only one reason a growing number of people are choosing cremation. Many also cite environmental considerations, a shift in religious views and "a desire for less ritualized funerals," according to the NFDA.
The U.S. cremation rate has nearly doubled since 1999, when less than 25% of bodies were cremated. And cremations are likely to surpass burials this year, according to a July report from the NFDA.
Shop around
Does the idea of shopping around for funeral prices sound unseemly? It shouldn't, according to Joshua Slocum, executive director of a nonprofit advocacy group called Funeral Consumers Alliance. Comparing prices among homes is a great way to keep costs down.
According to the Federal Trade Commission, consumers have the right to:
Receive a written and itemized price list. You can pick one up in person or request one via mail. Some funeral homes post price lists online. You can also ask for prices by phone. You won't be required to provide your name, address or phone number.
View a casket price list in advance. Casket prices likely will be listed separately. The FTC suggests getting the prices before you see the caskets, since the least expensive options might not be displayed.
Get a written statement in advance of payment. This will explain exactly what you're buying and how much each product and service costs. The statement should also include an explanation of any extra charges that will be applied by the cemetery or crematory.
Whether preplanning your own funeral or arranging one for a loved one, consumers need to set a budget in advance, since many funeral homes ask for full payment upfront, Slocum says.
Clarify your wishes
Whatever funeral details you prefer, it's essential that you make your wishes clear in writing. Give your family members a written list of your plans, plus an explanation of any prepayment you've made, or any bank accounts or life insurance policies that they can use to fund the service. Include this information in your will too.
If you haven't written a will, do so immediately. You can get a legally valid online form for about $35 or a complete will for as little as $69 on sites like Nolo or LegalZoom. But these low-cost options may not be sufficient unless your estate is extremely simple, according to Consumer Reports. Some attorneys offer a flat rate for will preparation, usually starting at about $300.
Donna Freedman is a contributing writer at NerdWallet, a personal finance website.

More from NerdWallet:
Related
Popular in the Community