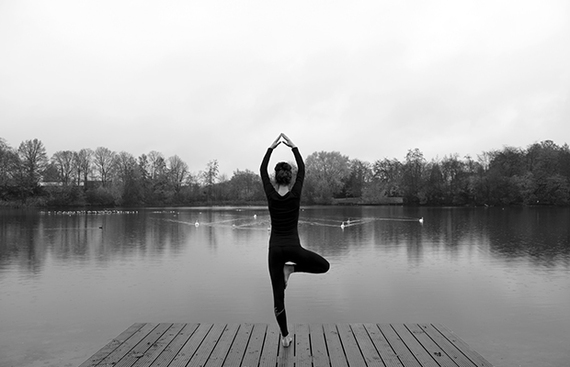 Every September, hotels ramp up their wellness offerings to honor National Yoga Month. While a discounted yoga package with your stay is nice, the beauty of yoga is that you can do it anytime, anywhere. As celebrity yoga instructor Rodney Yee once said: "The most important pieces of equipment you need for doing yoga are your body and your mind," which accompany you wherever you go.
Here's how to maintain your yoga practice for (mostly) free while traveling year-round, around the world.
Stay at hotels that offer free yoga
Kimpton offers free yoga classes at a number of its properties, including San Diego's Hotel Solamar. Take advantage of the last week of its National Yoga Month "Vino & Vinyasa" deal, a partnership with Lululemon that includes $3 glasses of wine after class. The hotel offers poolside yoga on the roof every Sunday year-round.
For yoga in a surreal setting, Post Ranch Inn in Big Sur offers complimentary morning sessions in a yurt on the property's meadow (while you're there, take part in Tai Chi and visit the onsite shaman). The outdoor yoga deck at Parrot Cay by COMO in Turks and Caicos overlooks treetops, cliffs, and the ocean. Twice a week, the Sawgrass Marriott Golf Resort & Spa in Ponte Vedra, Florida hosts sunrise yoga, followed by breakfast, on the property's private beach and sunset yoga in the garden beneath Spanish moss trees (both are free).
The Peninsula Chicago includes complimentary yoga classes and workout gear to borrow, so you can save the extra space in your luggage, too. Red Mountain Resort in Utah includes unlimited yoga, along with three meals per day and access to dozens of activities for exploring the surrounding rock formations, as a part of its all-inclusive rate. At Aspen's Sky Hotel, start your Saturday with "Thug Yoga," at which you'll flow to hip-hop music on the pool deck; afterward beer from Aspen Brewing Co. is served (a suggested $10 donation).
Keep an eye out for yoga amenities
In addition to yoga classes at EVEN hotels, the guestrooms will feature an In-Room Training Zone, which includes a foam roller, yoga mat, yoga block, core exercise ball, and a mounted fitness wall with resistance bands. Kimpton's Portland property, River Place Hotel, includes free yoga mats in guestrooms, too. Guests who book one of the Marmara Park Avenue's 11 Murphy bed rooms can transform their space into their own private yoga studio any time of day by folding the bed into the wall.
Famous badass yogi Tara Stiles brings her NYC studio (where one session will cost you $25) to the television set at W Hotels. These gratis videos include four exclusive classes for recovery, jet-lag, and re-energizing and are available in every W guestroom around the world. At the end of this month, EDITION hotels will be rolling out their own in-room video series, Yoga For Bad People. Available on demand in all of their properties (New York, London, and Miami), there are 20- and 40-minute classes; poses can be modified to suit your level.
Don't leave home without these yoga travel essentials
The Sona fitness tracker for yoga and meditation. Fitness trackers like FitBit help you hold yourself accountable for staying active by recording your steps and heart rate. But these fall short when it comes to your yoga routine. Enter the new Sona wrist tracker: In addition to tracking your steps, Sona measures the variability between heart beats for insight into your autonomic nervous system. Based on your data, the device creates guided breathing sessions -- a pulsing icon tells you when to breath in or out -- to "train your resilience to stress." It also takes into account how your body responds to activity throughout the day and will automatically note when you're being active, including during your vinyasa flow.
An app to act as your instructor. Yoga Studio guides you through 65 yoga and meditation sessions (via HD video) and has a library of more than 280 poses with instructions, which you can use to create your own classes and sync them to your calendar. Pocket Yoga has 27 classes of varying duration and difficulty, along with a pose dictionary and a guide for proper alignment.
A carry-on that fits your yoga mat. Part of the trouble with maintaining your yoga practice while traveling is transporting your mat. If you're not staying at a hotel that supplies them, try the Aurorae backpack ($35), which straps your yoga mat (we love this easy-to-pack lightweight mat from Prana, $65) on top of a standard-size backpack that has compartments for your cellphone and other devices. In addition to the adjustable straps to hold your mat, the Lolë Deena Tote (on sale for $77) has a laptop pocket, a detachable makeup case, and a waterproof pocket to keep used gym clothes separate from other belongings. Both bags can be used without the yoga mat attachment.
More from ShermansTravel:
Related