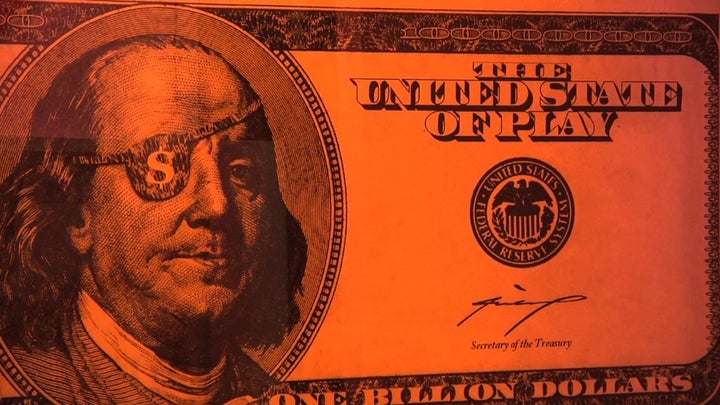 A glass of champagne being forced into hand and fistfuls of dollar notes - albeit fakes - everywhere I turn, you'd think that I was well on my way to making my billions. A few more images of characters wielding guns and quotes such as "Closer to God in Heels" spattered over well-known celebs' chests. Later, we at Crane.tv meet the man behind it all. Graffiti artist Max Wiedemann's latest works at the GG Gallery, West London, explores "the dependent relationship between pop culture, media and consumerism." Gallery Director, Fraser Lee Scott believes that the exhibition is proof that Pop Art and the notions and themes expressed through it are advancing and transforming in time with the modern age.
Like many Pop Artists, Wiedemann examines the effects of grand industry against society and vice-versa. Yet he also talks of wanting to capture the current spirit as well as the daring, provocative side of life. Sex appeal, vanity, the rich and famous, defaced brands, seduction of status symbols and the idea of world domination are all topics repeatedly raised, embraced, posed as questions. By taking art and turning it into media, and turning media into medium does he take the canvas and bring it out to the masses. Having never set foot within the walls of an art academy it's inspirational to see the works of a street artist with such a seductive, sensationalist and sarcastic style so interconnected with people's identity and their evolution. Through the irony and humour you see one man's insights into our culture translated into a defined artistic language. More from you Max please.. and--excuse me--a top up of champagne.
Crane.tv now available for Nokia devices from the
REAL LIFE. REAL NEWS. REAL VOICES.
Help us tell more of the stories that matter from voices that too often remain unheard.