Why confine the classic flavors of fresh basil, tomato, mozzarella, and olive oil to the plate when you can also enjoy them in a martini glass? With the arrival of spring, imbibers looking for a seasonally inspired cocktail might want to try a Caprese Martini. Gracy Ramirez, Head Bartender at Los Angeles restaurant Dominick's, is a big proponent of this Italian-influenced libation and has created her own special version of the drink.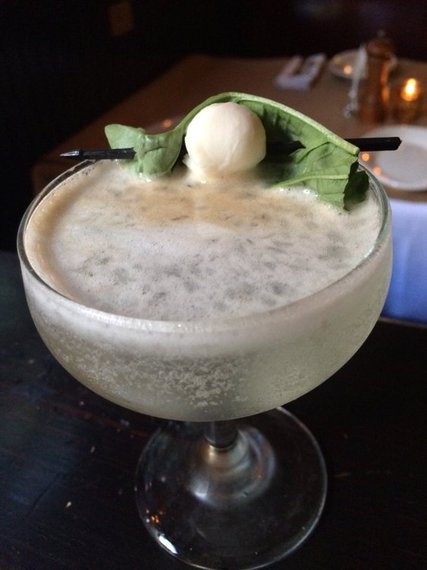 Dominick's Caprese Martini
Dating back to 1948, Dominick's was a hangout for Frank Sinatra and the rest of the Rat Pack. Historic but not old-fashioned, its old-school red leather booths and tree-studded patio continue to beckon to diners and drinkers seeking classic cocktails and updated Italian dishes. I recently chatted with Gracy about the Caprese Martini ("It's a collaborative effort inspired by one of the first cocktails I ever mixed at an Italian restaurant in San Diego") and the other cocktails at Dominick's.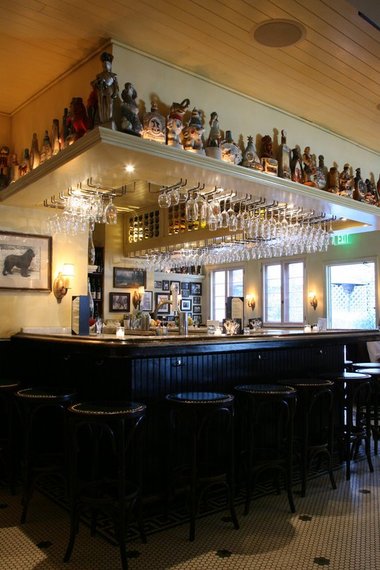 What are the most popular drinks at Dominick's?

Our clients love the martini. We like to stick to the classics but push the envelope a bit. We also sell a lot of Old Fashioneds, Moscow Mules, and Manhattans. A lot of drinks that aren't too fruit-forward.
What new drinks are you doing for spring? Have you devised the new menu yet?

I'm still working out the spring menu and getting inspired at the farmers' market. We're working with ingredients like blood oranges and cucumbers and lavender. I'm using lavender to make lavender simple syrup. With that syrup, along with gin and Lillet, we're doing a play on the classic Vesper. I'm also working at making oleo-saccharum, which is used in (alcoholic) punches. I'm working on a bitter blood-orange margarita. I'm juicing entire blood oranges, the pip and all, and adding agave or honey or sugar.
Can I share your Caprese Martini recipe?

Of course!
Dom's Caprese Martini
Courtesy of Gracy Ramirez, Head Bartender
1 1/2 oz. olive oil-infused Green Mark Vodka
1/2 oz. Dolin Dry Vermouth
1 oz. tomato water (recipe below)
2 atomized sprays of Aged Balsamic Vinegar
Olive Oil Fat-Wash Vodka: 1 bottle of Green Mark to one cup of quality extra-virgin olive oil (we use Nick Sciabica & Sons EVOO). Pour vodka and olive oil into a container with some room at the top. Let sit at room temp for 48 hours. Freeze overnight. Freezing the concoction will cause the fats to solidify. Discard the fat and you thus remove all the caloric and EVOO content, leaving you with a clean and beautiful, no-fat-added EVOO Vodka.
Tomato water: Juice fresh tomatoes (we use Roma). Five lbs. of tomatoes yields about 35 oz. of juice (or about one quart). Then transfer the juice into a saucepan and add a large handful of fresh basil leafs, 2 tbsp. red wine vinegar, 4 tbsp. of sugar & pinch of salt. Bring it to a high boil and strain out the remaining solids to get a beautiful clarified juice. Add to vodka and vermouth and shake hard for 10 seconds to create a lovely white foam head. Spray cocktail twice with atomized aged balsamic vinegar. Garnish with basil -- to set off aromas at the first sip of the martini -- along with a mini mozzarella ball to bite into as you enjoy this savory beverage.