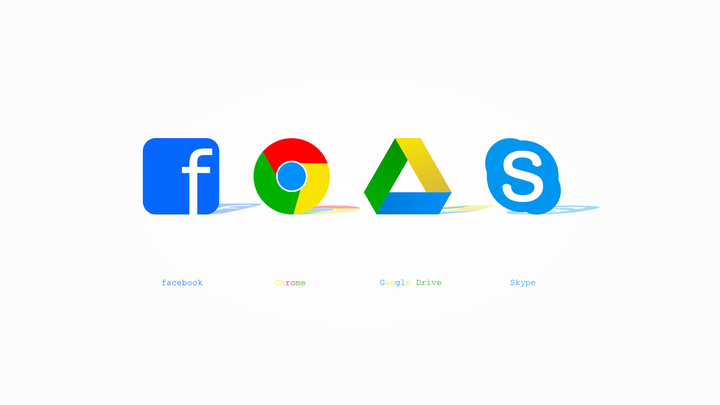 Words of warning: The method described below has the potential of saving thousands of dollars for your business. Proceed with caution!
One developer, 24 hours and a goal set in stone are all it takes to make a custom CRM. Surprisingly enough we had everything else straight under our poking noses.
Why reinvent the bicycle?
A wise man once said that all of the greater things are already invented. We only recycle or polish them even further for a more sophisticated shine.
I don't know about the wise man, but we gave every CRM out there a shot from HubSpot to Bitrix to Salesforce and beyond. None of them had the functionality fit for our precise needs. At least from the box they didn't. The amount of required customization rocketed to absurd at some points.
Obviously, every mass-market system is rather generic because it is generally tailored for and served to a broader audience. Sure, all the cool kids in the block allow customization to a certain degree. Some are better than others at meeting particular business needs. Alas, all of them are mediocre at best.
Bells and whistles make popular CRM's tolerable. Given the lack of alternatives, they are used by the wider majority of businesses. Majority isn't everyone though. We, for once, needed more.
So, yeah, lack of customization and personality in CRM apps are basically why you still need to reinvent the wheels.
Our pain
"If something is repetitive enough to irritate you – automate it!" - Olga S. Developer at QArea
We are in the market of software development outsourcing for 17 years. While the age works well as one of our advantages in the pre-sales stage of lead nurturing, it is also the scourge of both Sales and Marketing departments. We've done one too many projects in our time.
Am I saying experience is bad? No, I certainly am not. Proving it to others, on the other hand, is a pain in the… neck.
Our problem lies in the following: we know how to make all kinds of houses. We've had the experience and fitting projects to back the claim. But it's just too darn hard to look for a fitting one in a bottomless pit of cases.
Is it that much of a deal, really?
Yes, it is. An efficient relevant case study can make or break a multi-million deal! That's why our CEO Max loves to say that any proof of any talent has to be relevant. Then and only then can it afford being functional.
If a lead that enters our system requests a Magento-based e-commerce store we are to show him how we previously handled Magento-based e-commerce stores, not the ones powered by Drupal (it has a handy commerce module) or Zend or any other framework of that nature.
Imagine you are one of the little pigs from the fairy-tale and you need a house of bricks. You are looking for a vendor capable of building one from scratch. Once you look through fitting candidates, some show exceptional skill with bricks and cement while others also build homes but from sticks and clay or whatever else.
A sticks and stones one may even be better in particular elements – it's light, easy to deploy and can hit the market ASAP while later patches and updates can still amplify it's stability.
Will you go for it? Nope, as you still need a house made of brick. You will choose a company that showed relevancy (ready solutions) over proof of talent (capability of building a home).
"Any proof of any talent has to be relevant first and only that can it afford being functional" – Max Garkavtsev, CEO at QArea
How'd we do it?
We needed an efficient system to manage our impressive portfolio. Not a single CRM we tried was kind enough to offer features even relatively close to what we needed.
A pain pushes forward though. It cares little about caused discomfort until you treat it, cure it! We had to think outside the box.
Google is what Olga, one of our developers came up with. All of their cloud services are easily maintainable and even a slight pinch of Google Apps Script can perform miracles.
In short, we are empowered to easily generate beautiful case studies in pre-set templates of well-designed corporate forms from a single database within a few clicks. Here's how it works: A Sales manager opens a Google Sheet with extended functionality and clicks a custom button.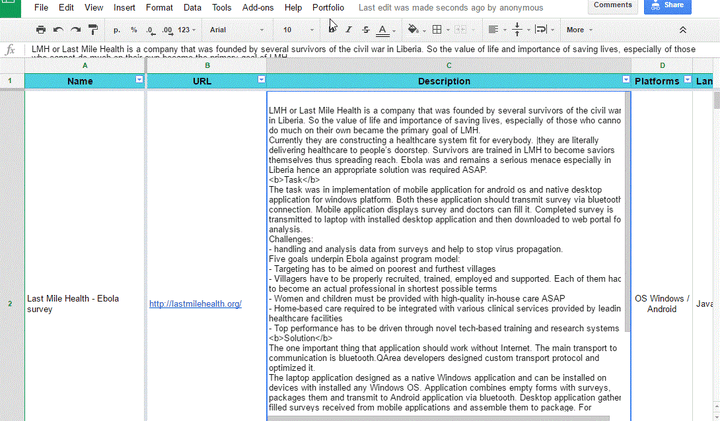 Then the manager can sort out all of the projects according to categories, technologies, platforms and whatnot.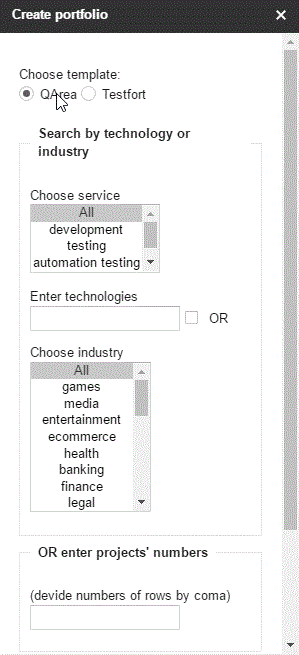 That's it, magic is done. And so is a neat, tidy custom portfolio in a juicy, pre-designed corporate wrapping.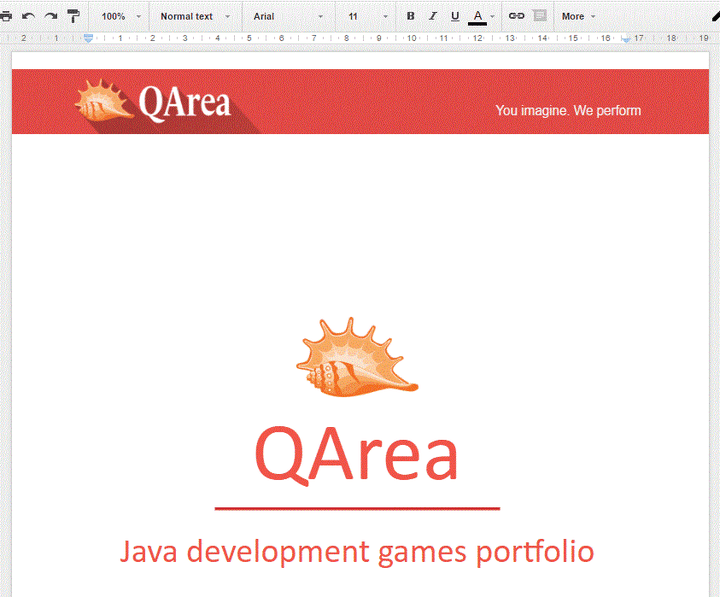 Relevant cases are stuck together;
No clutter, irrelevant content or projects with signed NDA's are shown to the lead;
A fancy pre-designed portfolio sheet is available within a couple of clicks. It both looks and feels amazing.
This is only the feature we needed at the moment. Actual possibilities are limitless, once you put your mind to it.
Help from Google
Tons and more of resources are scattered around you. They are free and commonly available. They do not require integration or special training. They are the things we use in our daily lives without even imagining the depths of hidden potential.
We basically combined the power of well-established Google services with their inner power via Google App Script. A few pinches of code here and a series of manipulations there and we made a database of projects, all stored with appropriate tags and descriptions, plus a set-up and pre-designed presentation to serve as a container.
HTML, CSS and jQuery were used for establishment of the front-end of our mini CRM and AppScript was used to maintain the back-end.
Google's services we used in development:
Drive Service –Template manipulations, storage and updates of all previously created case studies and portfolio items.
New Beginnings
We just made a custom, fully operational CRM within mere hours, without that much input and whatnot. How awesome is that? Alas, the Holy Grail is still far. The CMS is far from perfect – merely a tool for enhanced, automated processes.
We don't like to stop on the achieved. Given our own approach worked better for our needs we have decided to create our own, 100% customizable ERP with embedded CMS functionality. We chose Odoo as our primary platform and created additional functionality for it to fit into every single business process going on in QArea.
Surprisingly that worked well enough for some of our leading clients to request the same service. This simple life hack with AppScript opened an entirely new niche of business for our company – a niche we excel in even today.
Popular in the Community