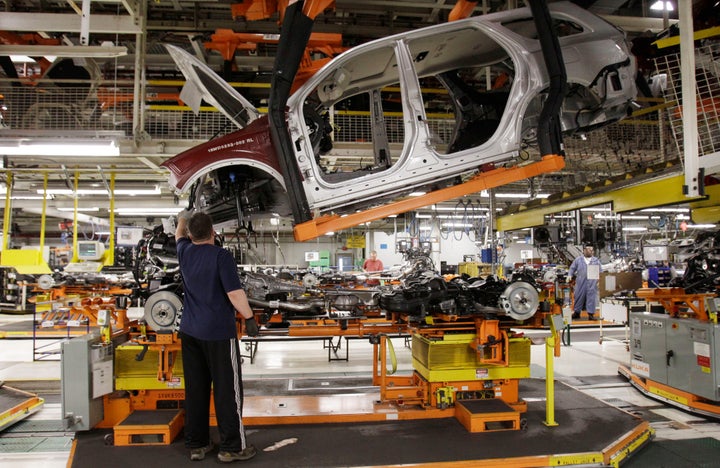 It's a glimmer of good economic news in a dismal economy. In Friday's New York Times, columnist Paul Krugman notes that "manufacturing is one of the bright spots of a generally disappointing recovery, and there are signs -- preliminary, but hopeful, nonetheless -- that a sustained comeback may be under way."
Krugman rightly points out that the emerging recovery in U.S. manufacturing wouldn't have taken root if the Obama administration had caved to conservative ideologues. But the truth is that this country has barely begun to do the urgently needed work of rewiring the economy to support manufacturing and the jobs that it brings. Just as important, it needs to nurture those jobs in the metropolitan areas where the majority of workers already live, in places they can commute to without spending $50 on a tank of gas.
A recent study co-authored by the Pratt Center and the Brookings Institution identified urban manufacturers as critical to our nation's economic recovery but often overlooked in the policy debate. Urban manufacturers tend to be small companies that produce very high value, design-oriented products. Their size and their location in cities keeps them directly in touch with their customers so they can identify and respond to the latest trends and demands in the market. Their urban location also allows them to draw on a highly skilled and versatile workforce.
We are seeing a resurgence in a range of sectors, from food to fashion to furniture, where innovation in design creates products that can capture the consumers' attention. There is also growing opportunity around green manufacturing where both business and retail consumers prefer locally made products that don't have to be trucked into cities, which use recycled materials and renewable energy (there is more than 80 million square feet of industrial roof space available in New York City for solar), and whose workers can take mass transit to their jobs.
To capitalize on the opportunities presented by urban manufacturing, the federal government needs to restructure its financing programs to facilitate the modernization of older industrial buildings which were built for the larger companies that are now disappearing and adapt them to use by smaller companies that rent their space. Similarly, highways, rail and port facilities that led to the growth of cities as centers of production need reinvestment.
City governments need to use zoning and other land use tools to preserve space for manufacturing. These tools include nonprofit organizations such as the Brooklyn Navy Yard to upgrade and manage buildings, and provide the green infrastructure of energy, recycling, technology and marketing assistance that small companies depend on to grow.
Krugman is completely correct in pointing out the anti-business impacts of much of the right-wing agenda. The attack on health care reform and other safety net provisions could shift costs onto U.S. businesses and undermine their competitiveness against companies in countries where the government provides health care. Similarly, trade policy needs to reinforce economic development goals by preventing the importation of products made in countries with weak environmental, safety and labor standards. Fair trade policies are essential to effective domestic economic policies.
I have met with well over 1,000 business owners during my career in economic development and I can count on one hand the number of times a manufacturer has said that cutting taxes would lead to business and job growth.
Business and job growth come from having a skilled workforce, a modern infrastructure to transport goods, a commitment to ongoing improvement such as through energy efficiency and waste reduction, and a stable supply of appropriate space. Critical to all these factors are public partners that work with businesses to create a competitive business environment.