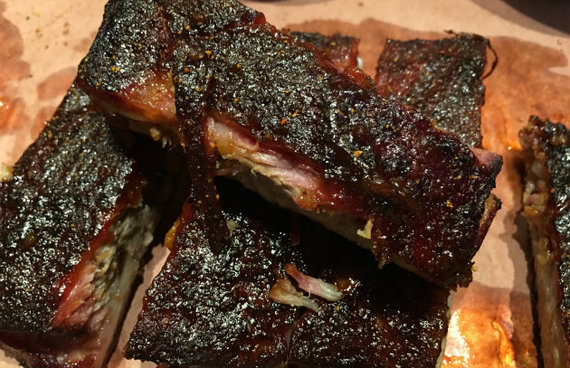 Ribs--crusty with spices, fragrant with wood smoke, sizzling with fat and caramelized sauce--invoke the spirit of barbecue like no other meat. Plus, they are unabashedly fun to eat, channeling through our DNA the same hand-to-mouth pleasure our cave-dwelling ancestors experienced after they embraced the power of live-fire cooking.
Bet you could go for a slab right now. But wait--it's a weeknight. And ribs take hours and hours to cook, right?
Yes and no. If you're a devotee of the enormously popular 3-2-1 method of cooking ribs, then yes, they will take 6 hours to cook: 3 hours exposed to smoke and 225 to 250 degree temperatures; 2 hours enclosed in a sealed foil package, usually with liquid (a braising technique derisively known as the "Texas Crutch"); and 1 hour unwrapped over higher heat with a basting of sauce.
What results is preternaturally tender meat--some people (especially if they're trained Kansas City Barbecue Society judges) might even call it mushy--that releases its hold on bone with the slightest tug of the teeth.
But it's possible to put perfectly cooked bones on the table in 2 hours or less. You no longer have to eat at midnight or wait for weekends or vacation days to enjoy these meaty staves.
For my money, baby back ribs cooked faster over higher heat are superior to long-cooked ribs using the 3-2-1 or similar methods (don't get me started on preboiling ribs), or low and slow from start to finish. They're simply more interesting, with better bark, juicier meat, deeper and more complex flavors, and contrasting textures. Of course, you can still employ all the same taste-enhancing techniques, including wood smoke, dry rubs, marinades, slathers (wet rubs), mops, and sauces. Note: spareribs require low and slow smoking to tenderize the tough connective tissue.
The direct grilling method: Cooking ribs directly over glowing embers or on a gas-fired grill may not be the first technique that comes to mind for most American pit masters. But in Mexico, Italy, Japan, Korea, and Argentina, ribs are routinely grilled right over the fire.
Of course, you cannot just throw any slab of ribs over a raging fire and expect the best. You must pick a rib properly suited to direct grilling, such as a tender rack like baby back pork ribs; country-style pork ribs; cross-cut beef short ribs (also known as flanken, Argentinean- or Korean-style short ribs); veal ribs; and lamb ribs.
For most ribs that are direct grilled, you'll need to work over a medium fire and have a fire-free safety zone where you can move the ribs in case of flare-ups.
SIGN UP for Steven Raichlen's UP IN SMOKE newsletter to learn more about barbecue!
Steven Raichlen is the author of the Barbecue! Bible cookbook series and the host of Project Smoke on public television. His web site is BarbecueBible.com.