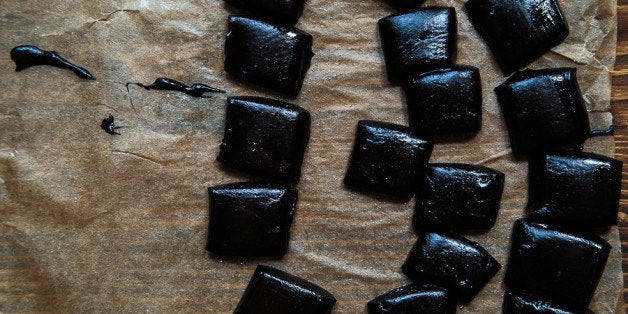 It's always more fun to DIY. Every week, we'll spare you a trip to the grocery store and show you how to make small batches of great foods at home.
Today: Christina Lane from Dessert For Two makes a homemade version of a controversial candy that will convert you to the dark side.
Black licorice can be a polarizing issue in the candy store. Some people seek it out exclusively and prefer their entire bag of jelly beans to be black. Others will crinkle their nose at the mention of the word "licorice" and keep their distance. But in my opinion, that just means more for us!
Even if you think you're a card-carrying member of the Licorice Haters Club, I beg you to try homemade licorice. It's soft, chewy, and the anise flavor is much more subtle than it is in the commercial versions. Dare I say that it's delicious enough to make a convert out of you?
More: Can't get enough chewy candy? Here's more.
The base of black licorice consists of several different forms sugar: granulated sugar, dark corn syrup, sweetened condensed milk, and molasses. If you prefer a stronger black licorice flavor, use blackstrap molasses. If you're easing into the Licorice Lovers Club, go ahead and use plain baking molasses.
4 tablespoons unsalted butter, plus extra for greasing the pan
1/4 cup sweetened condensed milk

2 tablespoons molasses (blackstrap or regular)


6 tablespoons whole-wheat flour

1/2 teaspoon black food gel
3/4 tablespoon anise extract (use up to 1 tablespoon for a stronger flavor)
Line a 9 x 5 x 3-inch loaf pan with parchment paper, leaving excess paper to form handles for easy removal. Grease the parchment paper with extra butter.
Clip a candy thermometer to the side of a heavy 2-quart saucepan. Ensure the gauge is not resting directly on the bottom of the pan. Add the butter, sugar, corn syrup, condensed milk, molasses, and salt. Turn the heat to medium and bring the mixture to a gentle boil. Stir frequently to prevent scorching in the corners.
Once the mixture reaches 240° F, remove it from the heat, and immediately stir in the flour and the black food gel. Once these are fully incorporated, stir in the anise extract.
Pour the mixture into the buttered loaf pan, and let it set in the fridge for 30 minutes.
Remove the licorice from the pan, and either dice it into squares or slice it into ropes and twist them.
This article originally appeared on Food52.com: How To Make Black Licorice From Scratch
Food52 is a community for people who love food and cooking. Follow them at Food52.com -- and check out their kitchen and home shop, Provisions.