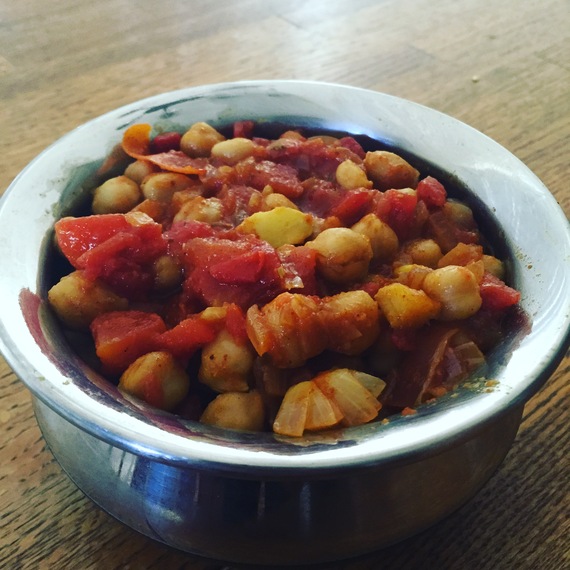 Chana Masala is an amazing dish that was created in Punjab, a location in Northern India.

This delicious, healthy and easy to make recipe only takes twelve minutes to make.
Ingredients:
1 chopped red onion
1 tablespoon Ginger
1 tablespoon Garlic
2 Cans Garbanzo Beans
1/2 Can unsalted tomatoes
Spices:
2 teaspoons red chili powder
2 teaspoons garam masala
1 teaspoon turmeric
1 teaspoon cumin seeds
1 teaspoon coriander powder
1 teaspoon salt
1. Place medium-size pot on stove and put temperature on medium.
2. Add 2-3 tablespoons of olive oil once pot becomes hot.
3. Add chopped red onions, garlic and ginger.
4. Let it simmer for 3-5 minutes.
5. Add the spices.
6. Let the spices simmer with the onions, garlic and ginger for 2-4 minutes.
7. Add 2 cans of garbanzo beans and mix together.
8. Add 1/2 can of tomatoes.
9. Add 1/2 cup of water.
10. Close pot and cook for 10 minutes.
11. Serve and enjoy.