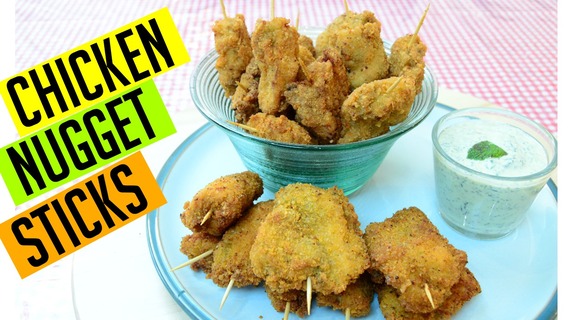 Chicken Nugget Sticks is very popular fried snack, especially as a Ramadan recipe. Just a few simple ingredients, and you can make this delicious awesomeness in very little time. Kids love this after school, or its great for parties or picnics and goes nicely with Samosas or Spring Rolls
A chicken nugget is a chicken product made from either meat slurry or chicken breasts cut to shape, breaded or battered, then deep-fried or baked.
This is so easy to make, you just need a few ingredients which are:
550g chicken fillet cut into cubes, so they go on cocktail sticks.
Fresh mint leaves.
Fresh coriander.
Fresh green chillies, and you can add this according to your taste.
2 tblspns of thick cream.
1 tspn cumin powder.
Few cloves of garlic.
Salt to taste
Few eggs for dipping
And finally breadcrumbs.
I upload weekly recipes so you might as well subscribe!
This channel is for anyone who loves food and and how to cook from student's to someone preparing for marriage or even if you are just in need of some inspiration!

I live in Leicester, England and have learnt from the the best Chefs, who have taught me everything from savouries , delicious, tasty mouth watering home made good food, snacks to sweet dishes, desserts and more!