Everyone has their favorite type of chocolate chip cookies -- some people prefer chewy cookies, others thin and crispy and there are those who like their cookies puffy and cakey. But oftentimes when you make a recipe for chocolate chip cookies, you never know what the results will be -- you may end up with a batch of disappointing cookies. Unless you test every single chocolate chip cookie recipe in the world, you'll never find the one that you like the best. That is, unless, you know how to adapt a basic chocolate chip cookie recipe with a few tweaks, giving you your favorite kind of cookie. Our guide, below, gives you ways to adapt a standard chocolate chip cookie recipe to get the texture you want.
It's all about making cookies that will spread thin. Be sure to space the batter far apart on the baking sheet to leave some room for the cookies to spread. Remove them from the oven once the edges are brown but the centers are still soft.
Use all butter (no shortening).
Add more liquid than your recipe calls for, about 1 to 2 tablespoons water, milk or cream.
Use all-purpose flour (it's low in protein).
Use brown sugar instead of white.
Work with room temperature ingredients.
It's all about making cookies that will stay high and spread the least. Use an ice cream scoop to divide the batter and create mounds on the baking sheet.
Switch to shortening or margarine instead of butter.
Add another egg, which will bind the batter and help keep the batter from spreading.
Switch to cake flour.
Switch from baking soda to baking powder.
Work with pre-chilled ingredients and refrigerate the dough before baking.
To make chewy cookies, you want to produce gluten, which can be achieved by combining liquid, in this case melted butter, with high-protein flour.
Use melted butter.
Switch to bread flour (it's high in protein).
Use brown sugar instead of white.
When a recipe calls for 1 egg, add an egg yolk for every egg.
Click through the gallery below to see our chocolate chip recipes and watch a video from Alton Brown on how to achieve all three types of chocolate chip cookies.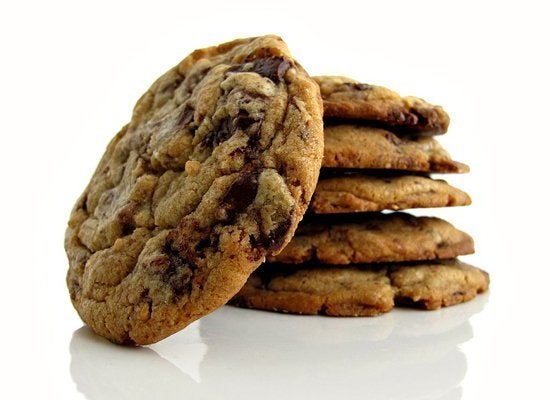 Chocolate Chip Cookies
Related