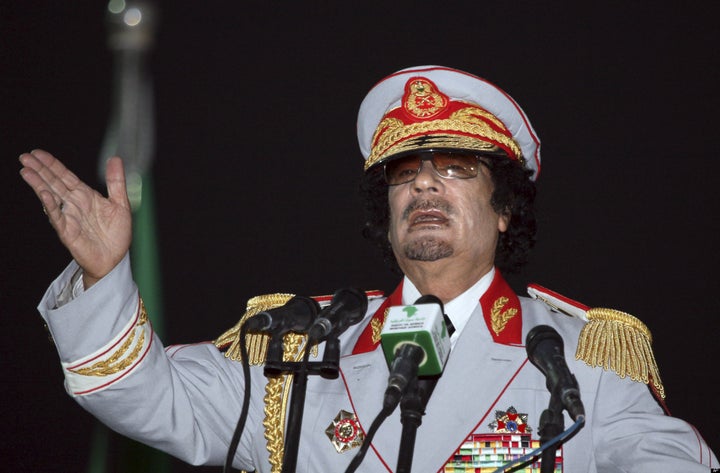 The Monitor Group did not return phone calls left at its Boston offices Monday. But Monitor describes, in a series of documents published by the National Conference of the Libyan Opposition in 2009, an "action plan" to "introduce and bring to Libya a meticulously selected group of independent and objective experts" who would be invited to Libya, meet senior officials, hold lectures, attend workshops, and write articles that would more positively portray Libya and its controversial ruler.

A 2007 Monitor memo named among the prominent figures it had recruited to travel to Libya and meet with Qadhafi "as part of the Project to Enhance the Profile of Libya and Muammar Qadhafi" Perle, historian Francis Fukuyama, Princeton Middle East scholar Bernard Lewis, famous Nixon interviewer David Frost, and MIT media lab founder Nicholas Negroponte, the brother of former deputy secretary of state and director of national intelligence John Negroponte.

"At a critical time when the United States was debating its recognition of Libya, Monitor met with senior officials in the United States government to share its perspectives on Libya," the company's 2007 Phase I executive summary states. "In coordination with the client Monitor briefed officials and various agencies of the United States government. Monitor continues to advocate on Libya's behalf with a range of leading individuals. Many of these individuals have indicated a willingness to engage with Libya and visit in the future."
Apparently, one of the Monitor Group's brilliant ideas was to publish "a book about Libya based on a series of conversations between Muammar Gaddafi and 'renowned expert visitors', including Richard Perle and 'Lord Anthony Giddens' [sic]." Said book would cost just shy of $3 million to produce. It's of particular interest to Miles considering the people who devised this plan figured that this tome would be reviewed by the London Review.
Muammar Qadhafi is, and has been for decades, an important actor on the world-stage. Qadhafi has played a major role not only in Libya, but in the Middle East, the Arab and Islamic worlds, as well as in Africa. He has been a notable and newsworthy person during all this time--one of the most recognizable individuals on the planet. In addition to being a man of action, Qadhafi has also been a man of ideas. He has made significant efforts to think through many of the critical political and philosophical issues of the day, and to publish his thinking to a broader audience. As is the case of many individuals who are prominent actors in the world, Qadhafi is well known but is poorly understood, particularly in the West. It is important that he be better understood, particularly so that the West gains a more accurate and balanced understanding of his actions and ideas. Increased understanding will further a more open dialogue with benefit to all the parties involved.
The game plan to help transform Gadhafi in the eyes of the world from universally reviled psycho-despot to "man of action ... man of ideas" was to provide "the definitive text for the international community on the political philosophy of Muammar Qadhafi." This would be achieved by facilitating "direct conversations" between Gadhafi and visiting "experts." As Monitor lays out, said experts would come from all points on the ideological spectrum, from dyed-in-the-wool neoconservatives to prominent figures on the Democratic left:
The project will include further visits of key experts for direct conversations with Muammar Qadhafi. For example:

• Benjamin Barber will return to clarify several questions from previous conversations with Muammar Qadhafi, including the problems with the Western term 'civil society' which suggests a separate, autonomous sphere separate from the sovereignty of the people.

• Lord Anthony Giddens will visit to deepen understanding of the merits and problems of direct democracy vs. representative democracy

• Frank Fukuyama remains very enthusiastic about the project and could be invited for a future visit to talk further about the challenges of direct democracy and Libya's approach.

• We will also arrange additional visits by new experts. We have had positive preliminary conversations with Professor Cass Sunstein (Constitutional Advisor to Barack Obama) and others.
The book was to be authored by Monitor Chairman Mark Fuller and former research fellow Bruce Allyn, "with the aim of selling approximately 50,000 copies." Monitor hoped to avoid the mistakes made in the publication of My Vision, which was deemed by The Monitor Group to have been "poorly written," with a "tone [that] was sufficiently sycophantic that even the most sympathetic reader would have questioned its credibility."
Smart move! Wouldn't want to make Gadhafi come off as too amazing, you know?
Livingston put a lot on their plate. Plans included the fostering of improved U.S.-Libya relations, expanded trade, increased "security cooperation" and "enhanced business activity and economic development." One of the "special projects" involved marking the occasion of the 40th anniversary of the 1969 Revolution that brought Gadhafi to power -- Livingston aimed to "bring positive attention to the new and evolving Libya and to mark the importance of this milestone."
As Rozen points out, the Livingston Group canceled their contract with the Libyan government in 2009, and for good reason: "the hero's welcome Libyan leaders gave for the convicted Lockerbie bomber [Abdelbeset Ali Mohmed al Megrahi] upon his release in August 2009 from a Scottish prison on humanitarian grounds." That certainly would have made that 40th-anniversary celebration of Gadhafi's reign awfully awkward.
[Would you like to follow me on Twitter? Because why not? Also, please send tips to tv@huffingtonpost.com -- learn more about our media monitoring project here.]
Related
Popular in the Community