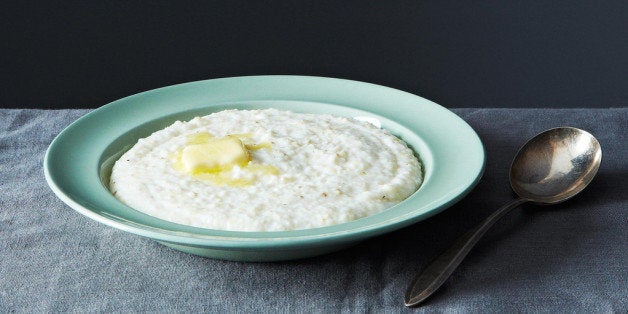 Here at Food52, we love recipes -- but do we always use them? Of course not. Because once you realize you don't always need a recipe, you'll make your favorite dishes a lot more often.
Grits, much like porridge, are the ultimate comfort food. Most Southerners love grits, and I am no exception. The keys to a savory and delicious bowl of grits are simple: use whole grain grits that taste like corn; use plenty of liquid to ensure the grains cook until they are smooth; and lastly, slowly cook grits for a long period of time -- 45 to 60 minutes.
The best grits are made from stone-ground whole grain corn kernels -- including the outside husk (the bran), the nutritious tissue within the kernel (the endosperm), and the oily embryo of the seed kernel where good fats and flavor reside (the germ). Shelf-stable grits, quick grits, and instant grits have had their bran and germ removed, and their flavor suffers for it.
Stone-ground grits are found online and in gourmet markets. Bob's Red Mill is a perfectly acceptable, high-quality substitution -- its germ is still intact, and it's readily available nation-wide.
How to Make Grits Without a Recipe
1. The ratio you need to remember for stone-ground grits is 4:1. It's 4 cups of liquid to 1 cup of stone-ground grits. You can use all water, or a combination of stock, water, and milk.
Use all water when you want the flavor of the corn to dominate. Use stock when you want to amp up the savory profile. If serving the grits with a dish that contains beef, chicken, or seafood, it's nice to layer the flavors by using the corresponding stock. My preferred combination is half milk, half water to let the corn shine through.
2. Start by bringing your liquids and 1 teaspoon of coarse kosher salt per cup of grits to a boil over high heat -- it's best to use a heavy-bottomed pot to prevent scorching.
3. Whisk in the grits, decrease the heat to low, and simmer, making sure to whisk occasionally, until the grits are creamy and thick, 45 to 60 minutes.
4. To finish grits, a bit of butter may be added. You may also add a bit of heavy cream or grated cheese to add to the luxurious mouthfeel.
5. Always taste and adjust for seasoning with salt and pepper, then serve warm.
Food52 is a community for people who love food and cooking. Follow them at Food52.com -- and check out their new kitchen and home shop, Provisions.
Related