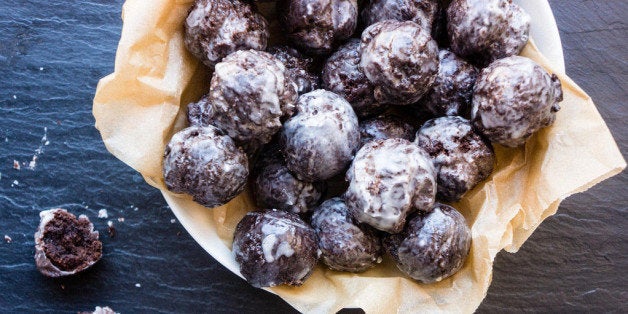 It's always more fun to DIY. Every week, we'll spare you a trip to the grocery store and show you how to make small batches of great foods at home.
Today: Grab a tall glass of milk and get ready to dunk a few homemade chocolate "munchkins". Samantha Seneviratne of Love, Cake is explaining the controversey behind donut holes and sharing her recipe for a from-scratch version.
There was a time in my life when I was at war with chocolate "munchkins". As the story goes, the donut hole was invented when savvy donut makers realized that they could cook and sell the little nubbin they punched out of the center of their classic-shaped pastries. Genius! A sweet little snack. Who could say no? Me. I had to. I was sixteen and working at the counter of a local donut shop.
Don't get me wrong: I loved a good "munchkin". But enjoying one would have been a betrayal -- donut treason. The name of my shop was The Whole Donut. Can you guess what was special about The Whole Donut? They sold the "the whole donut" and I was part of the team. Indulging in a competitor's donut hole would have been wholly disloyal.
Fortunately, I'm still up to my elbows in donuts in my current job, but the hole-y war is over. So I'm making up for lost time with this homemade version.
Makes 2 to 3 dozen donuts
2 tablespoons unsalted butter
1 1/2 ounces unsweetened chocolate
1/4 cup plus 2 tablespoons Dutch-process cocoa powder
1/4 cup plus 2 tablespoons sugar
3/4 teaspoon baking powder
1 tablespoon pure vanilla extract
2 cups confectioners' sugar
2 teaspoons pure vanilla extract
Prepare the dough: In a medium heatproof bowl, melt the butter and the chocolate together over a pot of barely simmering water. Remove the pot from the heat and let it cool slightly. In a large bowl, whisk together the flour, cocoa, sugar, baking powder, baking soda, and salt.
Add the buttermilk and vanilla to the butter mixture and stir to combine. Stir in the egg. Add the wet ingredients to the dry ingredients and stir with a wooden spoon until the mixture is combined. Transfer the dough to a piece of plastic wrap, wrap it well, and let it rest for 30 minutes in the refrigerator.
Fry the donuts: In a heavy pot with a candy thermometer attached, heat 3 inches of oil to 360° F. Meanwhile, scoop the dough into 1-tablespoon balls. (A mini ice cream scoop is a great tool for this.) Roll each ball into a neat circle between the palms of your hands.
Use a spider or a slotted spoon to gently lower the dough balls into the oil, 4 at a time. You can add a few more balls depending on the size of your pot, but don't crowd the pan. Adjust the flame so that the temperature remains between 350° F and 360° F at all times.
Cook the dough until it's puffed and cooked through, 2 to 3 minutes. (Color isn't a good indicator of doneness, so feel free to open up the first or second donut to make sure it's cooked through.) Use a slotted spoon to transfer the donuts to a paper towel-lined baking sheet. Repeat with the remaining dough.
Prepare the glaze: In a small bowl, whisk together the confectioners' sugar, milk, and vanilla until smooth. The glaze should be about the consistency of heavy cream. Add a little bit of water if necessary. Dip each donut into the glaze, using a fork to cover it, then lift it out of the bowl and gently tap it against the edges to remove excess glaze.
Transfer the glazed donuts to a rack set in a rimmed baking sheet and repeat this process until you've coated all of them. Let stand until the glaze is no longer wet.
Photos by Samantha Seneviratne
Food52 is a community for people who love food and cooking. Follow them at Food52.com -- and check out their kitchen and home shop, Provisions.
Related