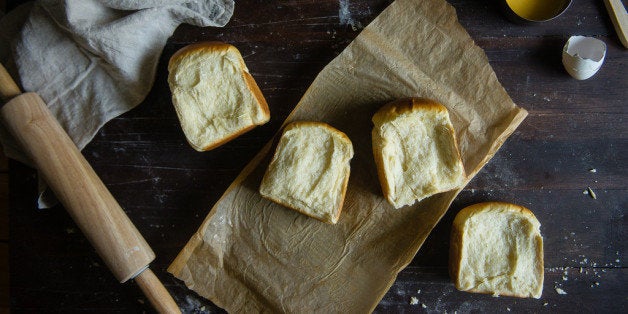 It's always more fun to DIY. Every week, we'll spare you a trip to the grocery store and show you how to make small batches of great foods at home.
Today: You don't have to go all the way across the Pacific in search of the fluffiest, lightest, tallest bread of your life; Cynthia from Two Red Bowls is showing you how to do it in your own kitchen.
When I first set out to make Hokkaido milk bread from scratch, I was nervous. These sky-high, snow-white loaves are the cornerstone of any respectable Asian bakery -- feathery soft yet rich and decadent, with wisps of bread that pull away in sheets when you separate its parts. For me, it was practically legendary.
To add to the mythos surrounding this lofty bread, I couldn't find much in my research on traditional ways to make it, or even on its origins. Most recipes appeared to use tangzhong, a type of roux-like paste designed to give bread a finer crumb and a softer, fluffier texture. And many of them lead back to an recipe by Christine Ho, which is in turn based on a cookbook called 65 Degrees C by Yvonne Chen.
In the end, I tested three different recipes, and the one that won my heart was indeed the one I adapted from Christine's. It was a dream to knead, shape, and bake, and the bread was just like I'd imagined: sweet, fragrant, and pillowy-soft. It's good enough to eat plain and even better in sandwiches, but in my opinion, it's best when toasted, lightly buttered, and smothered in sweetened condensed milk -- the milk toast of my dreams.
This recipe yields one loaf made in a 9- x 4- x 4-inch pan. Taller loaf pans are ideal -- I used a Pullman without the lid. For those using the metric system or a bread machine, feel free to check out Christine's original recipe hers will also yield two smaller loaves or one 13 x 4 loaf instead of one 9 x 4.
2 tablespoons bread flour
1 1/2 teaspoons active dry yeast
2 3/4 cups (about 350 grams) bread flour
1/4 cup heavy whipping cream
1 tablespoon sweetened condensed milk or milk powder (optional)
A splash of milk (optional)
In a small saucepan, whisk together 6 tablespoons of water and 2 tablespoons of bread flour until no lumps remain. Heat the mixture over medium-low heat, whisking constantly. It should thicken to a gel-like consistency after just a few minutes.
As soon as lines appear in the mixture when it's stirred, remove it from the heat and transfer it to a small, clean bowl. Let it cool to room temperature.
Next, heat the milk briefly to just above room temperature, about 110° F or lukewarm to the touch (I do this simply by microwaving it for 10 to 15 seconds). Sprinkle the yeast over the milk and set it aside for 5 to 10 minutes for the yeast to activate (you'll see the milk start to foam).
In the meantime, sift together the bread flour, salt, and sugar in a large bowl. In a smaller bowl or a measuring cup, whisk together the tangzhong, cream, condensed milk (or milk powder), and one egg.
Add the foamy yeast mixture to the wet ingredients, then make a well in the dry ingredients and pour in all of the wet ingredients. Stir with a wooden spoon until the mixture forms into a loose, shaggy dough, then switch to using your hands.
Knead for 4 to 5 minutes, or until the dough forms a semi-smooth ball. The dough will be quite sticky -- sprinkle flour over your hands and the dough as is necessary while you knead, but try to avoid over-flouring. (One tablespoon of flour should be enough.)
Add the butter to the dough, one tablespoon at a time, kneading after each addition. Add the second tablespoon of butter only after the first has been evenly incorporated.
The dough will be slippery and messy at this point, but just keep kneading (actually, it's oddly satisfying) and it should eventually form a soft and pliable dough that's easy to work with. Knead for an additional 4 to 5 minutes, or until the dough becomes smooth and elastic.
Place the dough in a large bowl with plenty of room and cover it with plastic wrap or a damp towel. Let it proof for 1 to 2 hours, or until well doubled.
Alternatively, you can let the dough proof overnight in the refrigerator, which I prefer. It gives the gluten extra time to develop, and yields a better flavor, in my opinion. Plus, dividing the labor over two days makes the process much more manageable. The dough should be fine for up to 24 hours.
Once the dough is doubled, turn it out and punch it down. Divide it into three or four equal pieces. For each piece, roll the dough out to a long oval. Fold the oval into thirds widthwise (as shown below), then flatten again. Roll the dough up lengthwise, then place into the loaf pan. Repeat with the remaining pieces.
Let the dough proof again until it's doubled, another hour or so. After about 40 minutes, preheat the oven to 350° F. When the dough seems ready, test it by pressing it gently with one finger; when the indentation bounces back slowly but remains visible, the dough is ready to bake.
Whisk an egg with a splash of milk and brush the egg wash over the dough.
Bake for about 30 minutes, or until golden-brown on top. When it's done, the bread will sound hollow when tapped.
Let it cool briefly, then slice and enjoy it fresh, or toast thick pieces and slather them with sweetened condensed milk.
Photos by Cynthia of Two Red Bowls
Food52 is a community for people who love food and cooking. Follow them at Food52.com -- and check out their kitchen and home shop, Provisions.