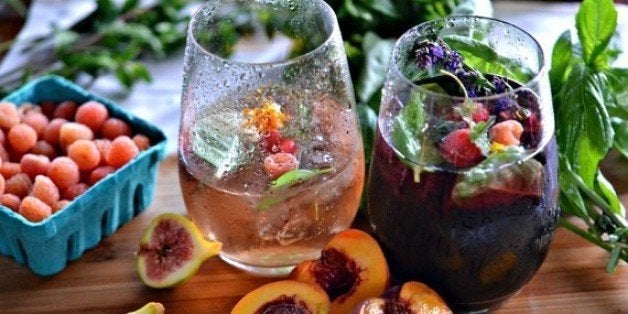 Sangria is synonymous with backyard parties in summertime weather and perfect for weekend barbecues. If you haven't had sangria before, open up your thirsty palate. Traditional Spanish Sangria is an iced wine cocktail made in a pitcher, adding apples, oranges, lemons, limes, and sometimes a splash of either brandy, Cointreau, or triple sec. To refresh the typical sangria recipe, I'm juicing it up with a California twist using fresh fruits and herbs.
A trip to my local farmers' market sets me off on a sangria making adventure. I'm wandering through the market stalls, gawking at blue punnets full of toppling blackberries and red raspberries. Berries always look pretty in a cocktail glass, so I buy some. At the next stall, I'm seduced by the aromatic scents of basil and lemon verbena. The market vendor hands me flowering hyssop, as he's sold out of the borage flowers I asked for. The blossoms are bright periwinkle fading into violet blue. A handful of lemon verbena and basil intoxicates my senses with their fragrance. I fill up my canvas bag with bouquets of herbs and edible flowers. A fig vendor hands me tastes of fresh strawberry figs, tearing one in half with his hands. I eat each one he gives me, marveling at the flavor and texture. I take home everything I can fit into my bag and probably more than I'll need.
Traditional sangria made with fresh fruit juice becomes something altogether marvelous. I've chosen tangerines and peaches to juice for these two recipes, but you can add your own choice of fruit if you'd like, such as oranges. There are no steadfast rules when it comes to making Sangria.
Sangria made with white wine or champagne it is called Sangria Blanco, so you can wear your summery whites without concern. Rioja is the red wine that is used in classic sangria.
Once home from the market, I spread out my bounty. Since I prefer champagne rather than red or white wine, I pop a bottle of bubbly open. Ice cubes clatter into the glass. I place a leaf of lemon verbena inside, then a tiny strawberry. I blend up some fresh fruit juice and add a little bit to my glass, then pour in some champagne. Once garnished with fresh fruit slices, herbs and edible flowers, it's ready for serving.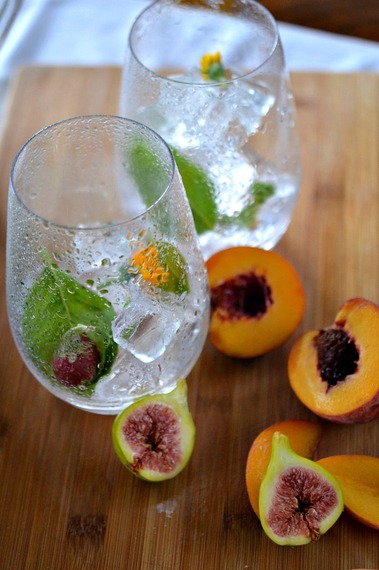 My glass is bountiful with raspberries, blackberries, little wild strawberries, edible flowers and a lemon verbena leaf. I also added a touch of pear-flavored balsamic into the glass. I'm completely addicted to good balsamic crème so I cannot help but add it to my drink.
The possibilities are endless when matching a wine with one of the juices. It can even be served as a mocktail using sparkling water rather than champagne. Pour it all over ice, add in a few garnishes and you've got sensual gratification.
Depending on what's in season at your local farmers' market, you can add your own touch to these sangria recipes. I hope it inspires you.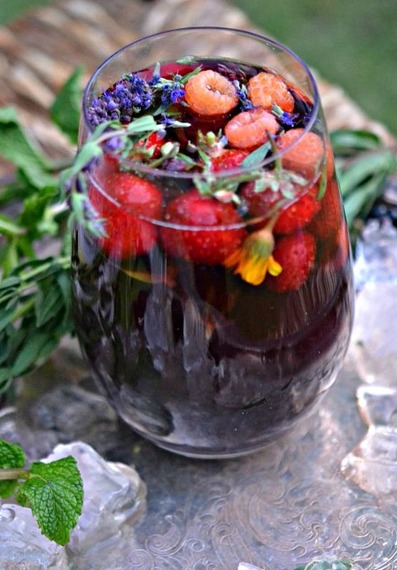 How to make your own juicy Sangria:
1) Begin with wine or champagne. White wine, Rosé and champagne shows off the fruits in your glass. Red wine (Rioja) is the classic choice. If non-alcoholic, choose sparkling water.
2) Blend up some juice. If you have a juicer, make your favorite blend.
3) Add fresh fruits sliced up pretty for your glass. Bright colors make it sparkle.
4) Garnish with edible flowers and/or herbs like lemon verbena, basil, mint.
Try these two recipes to get your Sangria pitchers started: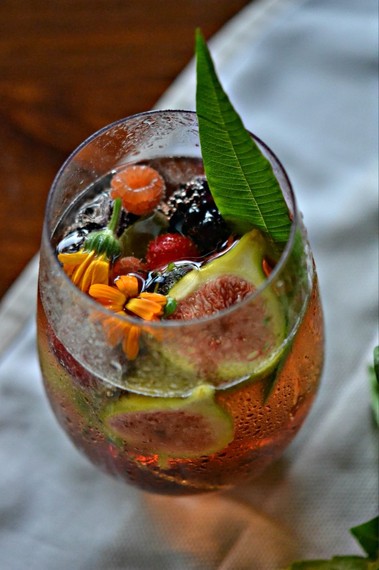 CALIFORNIA GARDEN SANGRIA
This sparkling sangria uses champagne, fresh tangerine and peach juice, Meyer lemon slices, and fragrant orange blossom water. All pair perfectly in combination with fresh juice. Coconut water lends a refreshing flavor to this drink. Just a drizzle of balsamic crème and you are barefoot in your own garden of delight. Garnish with jasmine flowers for that California breeze.
Ingredients:
3 peaches, sliced
1 Meyer lemon, sliced
1 cup ice
1/2 cup fresh tangerine juice
2 tablespoons orange blossom water (optional)
1/2 cup coconut water, fresh or bottled
4 cups champagne, or as needed
1 tablespoon balsamic crème (to taste)

garnish with fresh fruit/herbs/edible flowers
wild strawberries
figs, halved
raspberries
blackberries
peaches, sliced
Meyer lemon, sliced
edible flowers
lemon verbena
mint
basil
hyssop
jasmine flowers
ice for glasses, as needed

Directions:
1) In a blender, place ice, fresh peaches, tangerine juice and coconut water. Blend.
2) In a glass, place ample amounts of figs, blackberries, strawberries and other fruits.
3) Pour champagne halfway into glass.
4) Strain the peach juice into a measuring cup.
5) Pour blended and strained peach juice mixture into each glass of champagne.
6) Dash of balsamic per glass as desired. (optional)
7) Garnish with more halved figs, strawberries, blackberries, if you like, as well as the finishing touches of edible flowers and herbs such as lemon verbena, basil and mint, as desired and serve.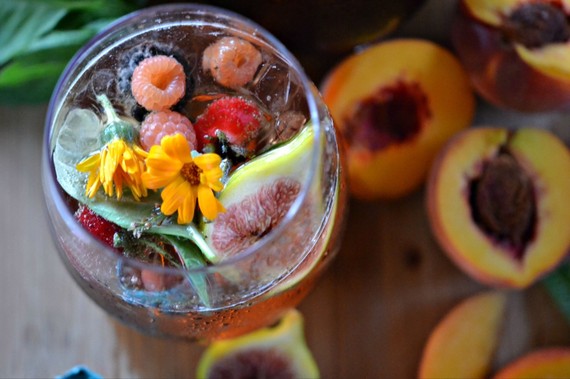 Here's a Sangria-inspired Bellini recipe. Keep this drink simple with fresh peaches and oranges. It is just as intoxicating without the alcohol as a blended mocktail. The scent of orange blossom is truly a pleasure. Coconut water, fresh peaches and juicy oranges over ice, garnished delicately with a few raspberries and/or strawberry. This looks so luxurious. If you want to add champagne and Aperol, it makes a lovely cocktail addition. Leave unadorned and non-alcoholic for the naked juice version that can only be suggestive of Aphrodite on the half shell, wearing nothing but sea foam and flowers.
Ingredients:
3 peaches, sliced
1 orange, sliced
1 cup ice
1/2 cup tangerine juice
3 tablespoons or just a splash of orange blossom water (found in Mediterranean markets)
1/2 cup coconut water, fresh or bottled
two sprigs of fresh mint, leaves
4 cups champagne, or as needed

Directions:
1.) In a blender, place ice, fresh peaches, tangerine juice, mint, orange blossom and coconut water. Blend.
2.) In a glass, place ample amounts of ice cubes.
3.) Pour the juice mixture over ice.
4.) Garnish with raspberries, strawberries, blackberries, edible flowers, and other fruits and herbs as desired.
Serve and enjoy.