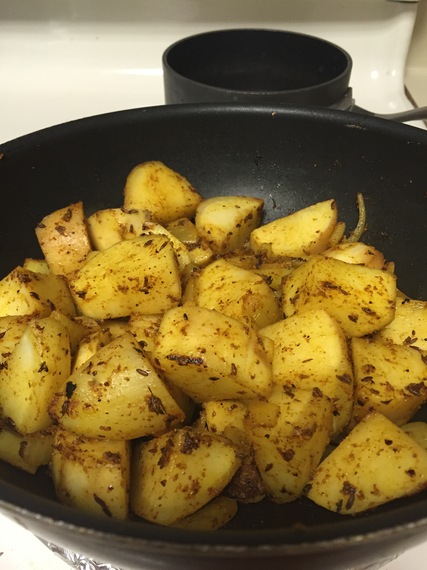 Madras Potatoes comes from the Southern part of India in a town called Madras. In 1996 Madras became Chennai and has a population of around 4 million people. Madras is mainly vegetarian and this dish is lovely with rice or bread.
4 Potatoes
1 teaspoon Turmeric
1 teaspoon Red Chili Powder
1 teaspoon Salt
1. Peel, wash and cut four potatoes and put inside bowl.
2. Fill medium-sized pot half-way with water.
3. Put pot on stove on high heat and wait for it to boil.
4. When the boiling begins put potatoes in the pot one at a time and turn the heat down to medium. Let potatoes boil for about 20 minutes.
5. After 20 minutes take a knife and see if you can cut through one of the potatoes. If you can then the potatoes are done. If you can't cut through the potatoes then boil for a few more minutes.
6. Drain the potatoes and put them in the side bowl.
7. Add 1 teaspoon turmeric, red chili powder and salt to potatoes and mix.
8. Cover the bowl with a paper towel and put the potatoes in the fridge for 20 minutes. The potatoes get a nice crunchy flavor by keeping them in the fridge.
9. After 20 minutes take the potatoes out of the fridge.
10. Take a medium-sized skillet and put on stove on medium heat.
11.. After 2 minutes add 3 tablespoons of olive oil.
12. Add the potatoes to the skillet and low fry for 8-10 minutes.
13. Enjoy!