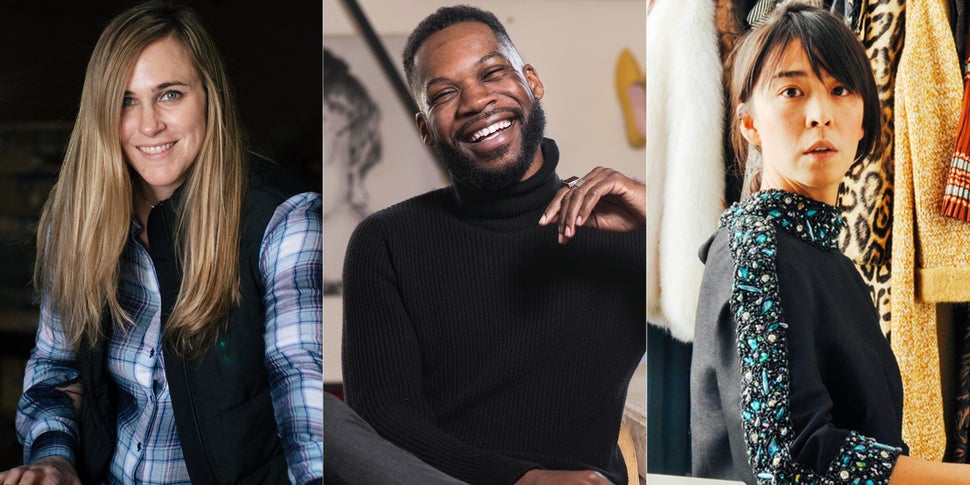 For more than a decade, makers have turned to Etsy to transform their ideas, crafts and hobbies into profitable businesses.
The online marketplace, which launched in 2005, is one of the best-known platforms for independent sellers on the internet. As of December 2017, there were 1.9 million active sellers on Etsy dealing with 33.4 million active buyers. The company reported $1 billion in gross merchandise sales in the fourth quarter of last year.
The thought of turning an Etsy shop into a full-time business might seem like a dream ― you get to work from wherever you like, selling goods you made or collected, and you have millions of potential customers right at your fingertips.
We talked to three people to find out what life is really like as a moneymaking Etsy-preneur. Remember that the platform has been integral to their success, so they don't have a lot of negative things to say about it. And their particular situations aren't necessarily the norm, but they show the potential of the online marketplace.
Read their stories below.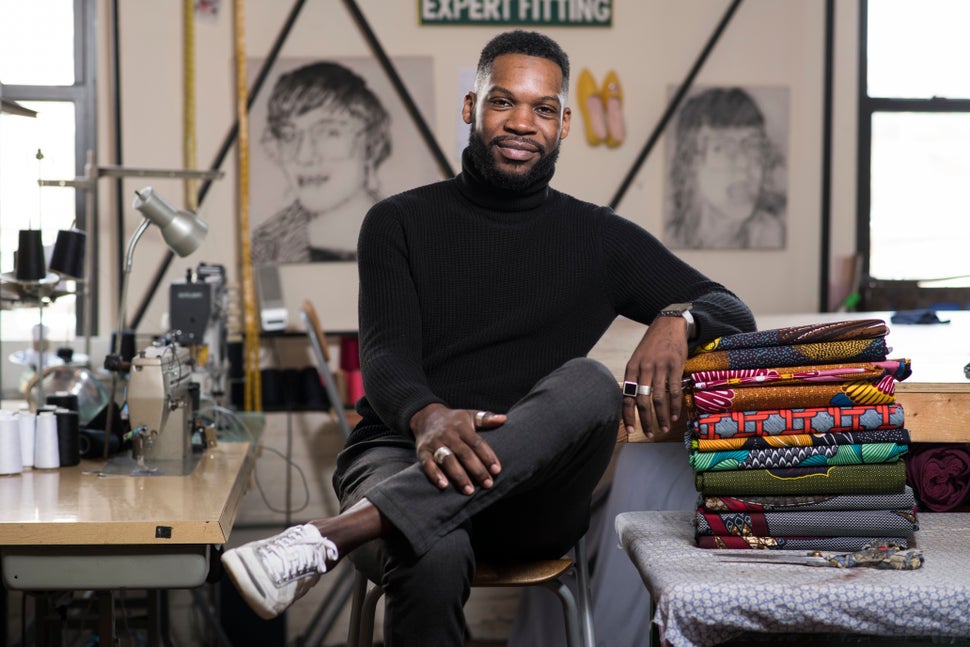 In 2012, Reuben Reuel was laid off from his job at a bedding company. The then-26-year-old gave himself two options for moving forward: work for another company or work for himself. At first, he found a job with a new employer, but that only lasted about two weeks. Reuel said he cried every day knowing he wasn't doing what he really wanted to be doing.
He decided to try option two, which meant starting his own fashion line, Demestik. His brand uses fabrics with traditional African wax block prints ― which he often sources in New York City ― to create modern womenswear that's manufactured in the United States.
Reuel's Etsy store has a five-star rating, compiled from more than 950 customer reviews, and has logged more than 5,000 sales. He has designed garments worn by the likes of Beyoncé and singer-actress Jill Scott, among other notable women.
The designer, now 33, declined to share his annual income, but said he's able to fully support himself and pay all his bills ― which include rent for an apartment and a separate studio in Brooklyn ― with the money he makes from Demestik. Reuel also has a separate website for Demestik now, though when he launched the brand, Etsy was his main sales outlet.
It all started with his first collection ― a line of two shirts and four dresses. He posted them on Etsy at a friend's suggestion. He said he was open to seeing "what it's all about."
Today, Reuel smiles just thinking about his first sale. "I know exactly who bought from me my first sale. I actually posted it on my Facebook page when it happened," he said.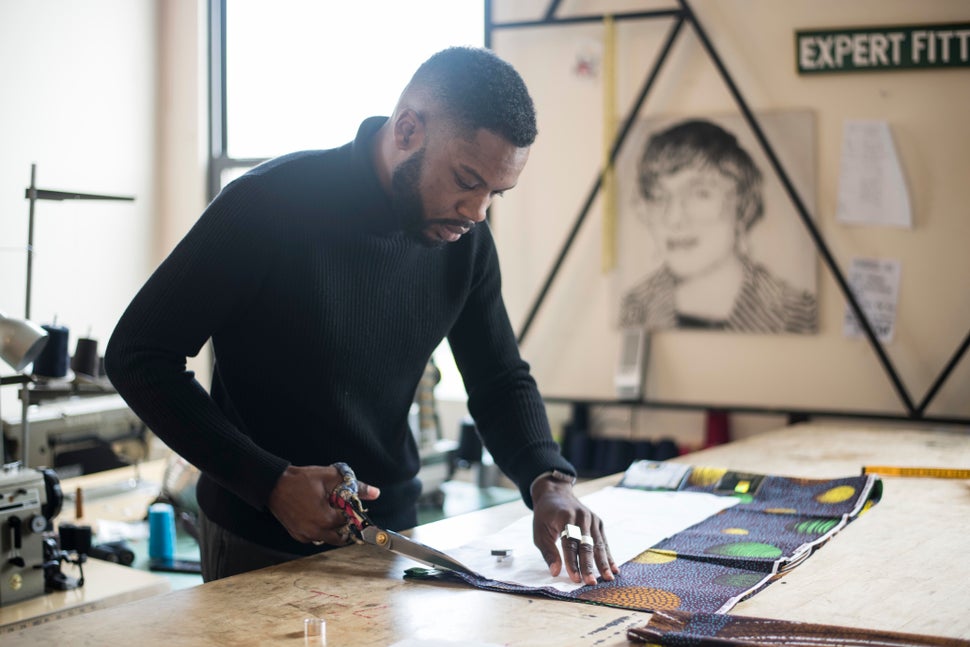 "Etsy has this really cute thing where, if you have your volume on on your phone, when you get a sale, it makes a cha-ching noise. I had my ringer on and all of a sudden I heard 'Cha-ching!' and I was like, 'What is that?' It was my first sale," he said. "I felt validated, like, OK, what I've created means something to someone. There is a woman who actually wants to wear this specific dress."
Joining Etsy was easy, Reuel said, for a number of reasons: "It was easy to connect with people, easy to sell, easy to reach out to different people from a marketing standpoint. You're connected not only to the U.S. but other sellers from across the world."
That connection is important to him. Through his Etsy shop, Reuel said he's gained a faithful following and even become friends with some of his repeat customers.
"Now that we have social media and everyone's giving their life story on social media ― celebrities, designers, musicians, everyone ― it does feel good to know where [products are] coming from. It does feel good to know who it's going to. And the connections that I've made with people [are] really a great thing to have, [instead of] just selling to a store and not even knowing who the woman that's wearing your clothing is."
Among those women who do wear Reuel's clothes are also singer Michelle Williams and Mindy Kaling, who purchased items directly through the Etsy store. ("I was like, 'What the heck is this?! Why?'" he said, laughing.)
Before he started Demestik, Reuel said he was receiving less than $400 a week on unemployment. He called his foray into entrepreneurship "a faith journey."
"Every day's a challenge. You never know when you're going to get an order," he said, noting there are days when he gets none and others when three or four will go through. "It's always a gamble in a way, but I knew there was a market for my product. I think that's the major key that keeps me going."
Reuel said he's been more successful financially working for himself than he was at any job in the past. He's also been able to employ other people, something he considers "so rewarding."
"I hired myself and it was one of the best decisions I've made," he said.
He has no plans to leave Etsy anytime soon, but admitted he has thought of shutting down his shop on the platform. Ultimately though, he decided it was "wiser to keep it open."
"I think it's where I'll stay because, again, I'm able to reach a wider range of shoppers and customers without really having to do marketing," he said. "Because I'm not trying to appear as a fashion designer who's doing Fashion Week and all those things, the platform doesn't really deter my customers from shopping with me."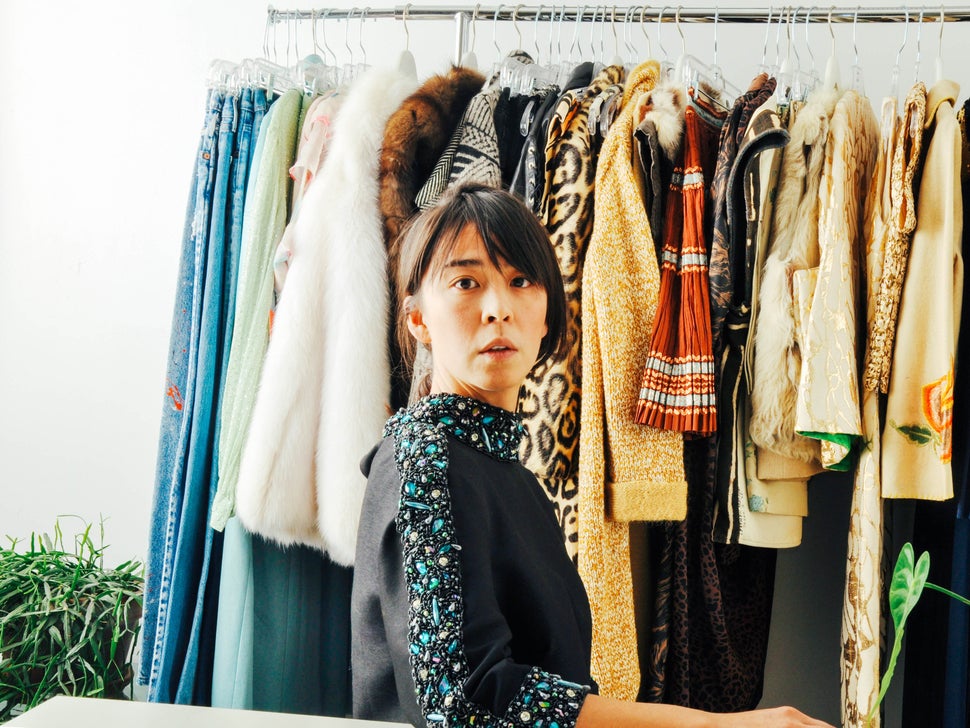 When Amy Yee, the Brooklyn, New York-based founder of Maeven Vintage, first started using eBay to sell vintage goods, it was a side hustle that kept her busy beyond her 9-to-5 job. But around 2008, following the financial crisis ― "a good time to quit your job and try something new," she quipped ― Yee decided to explore other avenues.
That's when she discovered Etsy and ran with it.
"It was a YSL black shirt dress," she said of the first item she sold. "I put the listing up and it sold right away. It was so exciting to me that I described the item, priced it, and it flew off the shelf."
Maeven Vintage has a five-star rating (averaged from more than 1,500 reviews) on the platform and more than 3,500 sales. Yee, 37, declined to disclose her income to HuffPost, but said that she's able to take a full-time salary.
For Yee, being successful means "making matches with vintage finds and customers."
"I was hooked from that first sale, and I just kept listing," she said. "People thought I was crazy. It doesn't sound so far-fetched to say you're going to be a seller on Etsy [now]. People didn't even really know about the marketplace 10 years ago."
But she said she's turned Maeven into something that can sustain her financially. Besides the Etsy outlet, Yee also has a separate website for Maeven. The amount of money she makes through the Etsy shop, she said, is "proportional to how much time and effort" she devotes to it.
In the earlier stages of building the business, Yee recalls selling merchandise out of the apartment she shared with her now-husband.
"At one point, [he] said to me, 'I'm living in a clothing store' ― and he was right," she said. "We had clothing racks all around the apartment."
Eventually, her business was doing well enough that she could afford to rent a studio in Brooklyn. It was then, she said, that she started taking things more seriously and treating her former side hustle like a real business.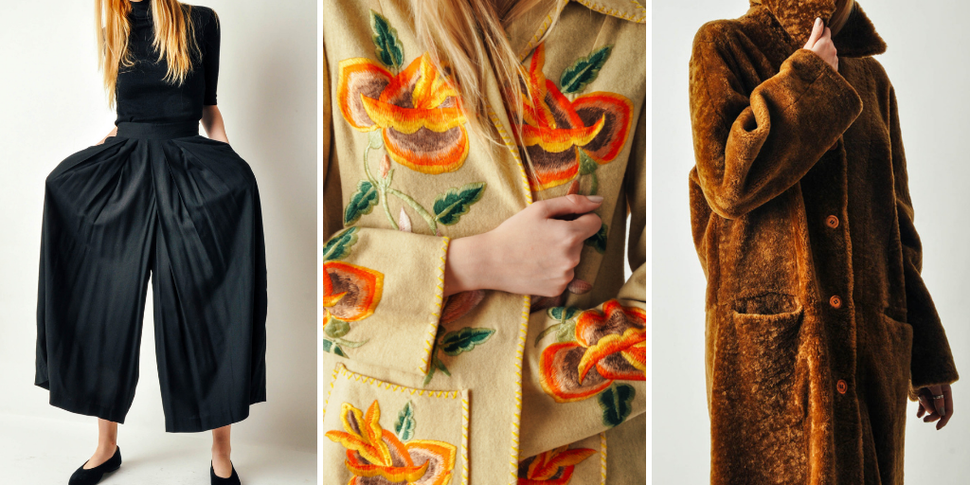 But Etsy was where she learned how to be a vintage dealer. On the platform, she could easily track what types of things were selling and how much they were selling for, which helped her understand what her customers wanted. Thanks to the marketplace's backend tools, she said she could see where her customers were based and which keywords they used to find her.
"Selling on Etsy gave me more information to continue growing my business, and that's why I opened up my separate website," Yee said. "I started selling in person, I did trade shows, I did markets, I did some wholesale to larger stores, but I don't think I could have done any of that had I not learned what I learned on Etsy and knew that it was sustainable as a full-time job."
Running an online shop has its challenges. Being part of a community that exists on the internet also means you're part of what Yee called "the feedback system" ― that is, the ability of customers to leave instant reviews. She said she's thought about whether "a couple bad eggs could ruin it for me or take away my business."
"That's true for anyone online," Yee added. "You for sure have to be aware of your reputation."
A benefit of being on Etsy, though, is that she can quickly connect with customers if there's an issue with a purchase or they have any other questions. As a seller, Yee said, "you want to be given the chance to make something right if you've genuinely made a mistake, because mistakes can happen."
Etsy also offers room for growth and flexibility, Yee said, so that individuals can create their own brands on their own terms. And everyone, she added, has "equal footing."
"Somebody who has five listings will be featured the same way as somebody who has a thousand listings," she said. "I think that's the beauty of being able to sell in a marketplace like Etsy."
For the foreseeable future at least, Yee said she plans to keep selling on Etsy.
"As long as I'm selling vintage, I'll be on Etsy," she said. "It's where my customers are and it's been one of my most successful selling platforms."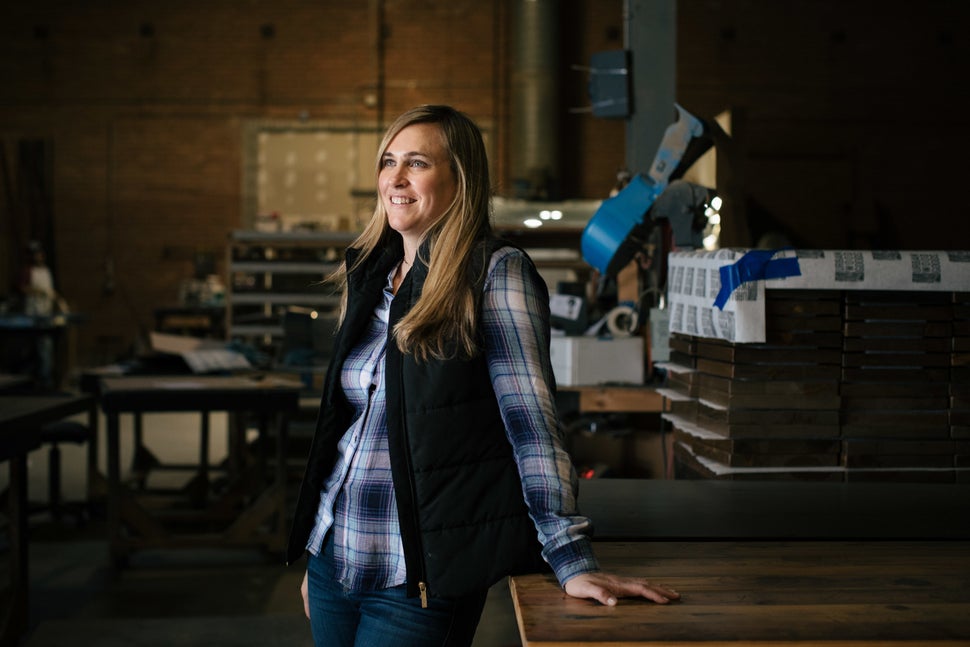 When former art teacher Erin True discovered Etsy, she was "blown away."
"You could type something in and then find the most unique, cool [items]," she said.
True, the founder of Illinois-based furniture company Urban Wood Goods, started selling on Etsy in 2010. She listed a single bench created with reclaimed wood after reading a magazine article on the topic.
"I had never heard of reclaimed wood before," she said. "I was really intrigued by this idea. The photo I saw was this amazing piece of wood ― I was like, 'Whoa, I gotta get my hands on something like that.'"
Now, she's running a business that employs 19 full-time workers (aside from herself) and has seen roughly 20 to 30 percent growth year over year, she said. Her Etsy shop has a five-star rating, calculated from more than 450 reviews, and more than 3,200 sales.
While Etsy was initially True's main avenue for selling, her products are now listed on sites like Wayfair and Houzz and on her own brand website. Still, she said that more people look at her offerings on Etsy than the other platforms.
It all began with what she called her "wild goose chase" to find the reclaimed wood she needed to recreate that bench she'd seen in the magazine. Eventually, she wound up at a barn that she found online, about an hour outside of Chicago. There, she purchased her first pieces of this raw material. The man who owned the property let her choose the pieces she wanted, which True said made her feel like a kid in a candy store.
She transformed that wood into a bench and set it up in her house. Visitors would see it and compliment her, True said. That sparked a little curiosity: "I said, 'If all these people coming into my home seem to like this bench I made, is it crazy to think I could make benches and sell them on the internet and ship them across the country?'"
When she told her family about her plans to open up a shop online, they were a little unsure of how she was going to pull it off. But she dived in.
Two days after she put that first bench on Etsy, it sold for $250 to someone in Detroit.
"I was super excited and then super panicked, because I was like, 'This is a problem. Number one, I just sold my favorite thing in my house. Number two, I have to deliver this to them somehow or ship it to them.' I know that sounds silly, but it was a real predicament," True recalled. "If you're just a regular person, you're not used to shipping FedEx or UPS. And it was a different time. Shipments are common now. Furniture wasn't something you bought online [then]."
Being on Etsy allowed True, like Yee and Reuel, to connect with the community of buyers looking for unique and/or handmade items.
"When you have 100,000 people looking at your product, you can make a successful business," she said. "I think one of the biggest challenges is having people that will look ― just the eyes on what you're doing. … We get four times the traffic on Etsy than we do anywhere else. Even selling on a behemoth like Wayfair or Houzz, the sales we can generate from Etsy are crazy compared to any of them. I think it has to do with the community."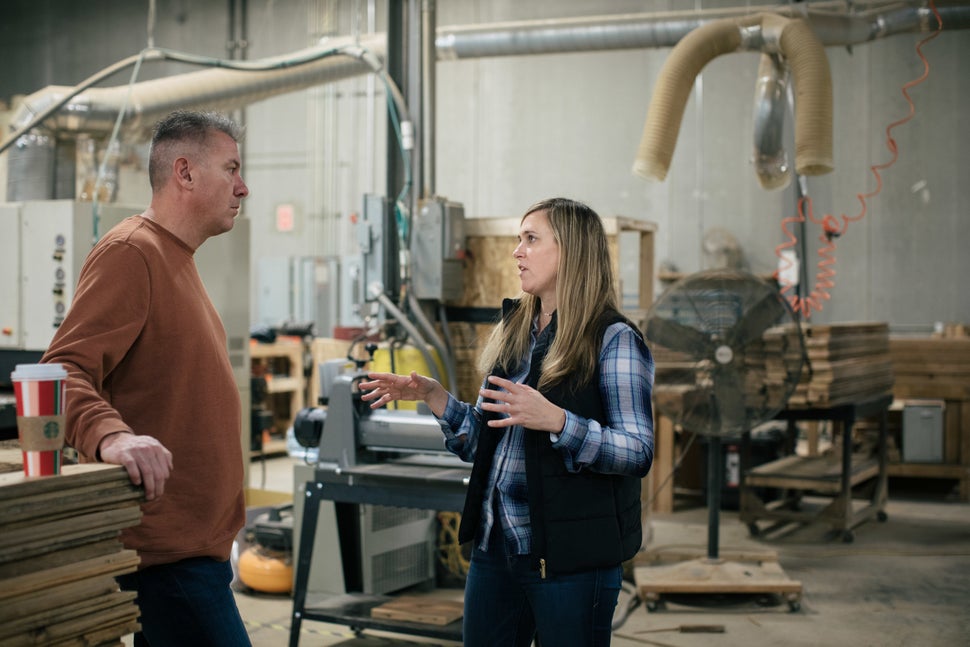 Right from the get-go, Urban Wood Goods was profitable, True said.
"I want to say my first year in business the revenue was probably $35,000, and then it jumped to $635,000 the next year," she said. "It was very drastic. And that's not all Etsy sales, but most of it was as a result of Etsy."
In those early days, True said the pace at which orders were coming in was "amazing" and it seemed like her company was the company for furniture-making on Etsy. Now, there are plenty of competitors ― "hundreds of thousands of people trying to do the same thing you're doing" ― but she said she doesn't worry about them "because you can't."
When she started, True was doing everything on her own. In 2011, her second year on Etsy, she was able to hire her first employee, which she considered a major turning point for Urban Wood Goods. Now, those 19 employees include another designer, a bookkeeper and two sales people.
"I started this business in 2010 and it's 2018. I kind of pinch myself," True said. "You never want it to go away, the demand for what you're doing. Along the line, people have told me this is a fad ― you get nervous about that. But it continues to resonate with people and people continue to want something unique and special and made for them."
That last thought could be the credo of all Etsy sellers striving after their dream online.
This is part of our five-story series spotlighting the current state of retail in America.
Support HuffPost
A No-B.S. Guide To Life
Before You Go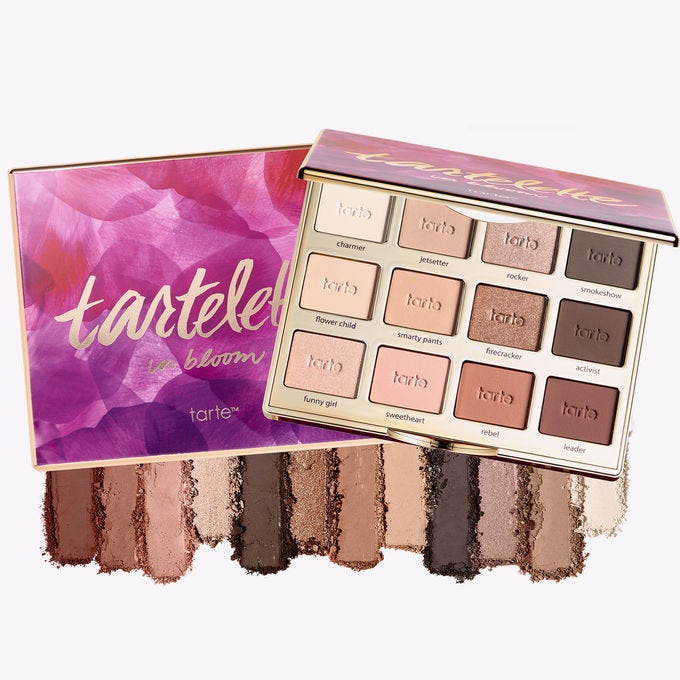 Beauty For A Good Cause
Popular in the Community