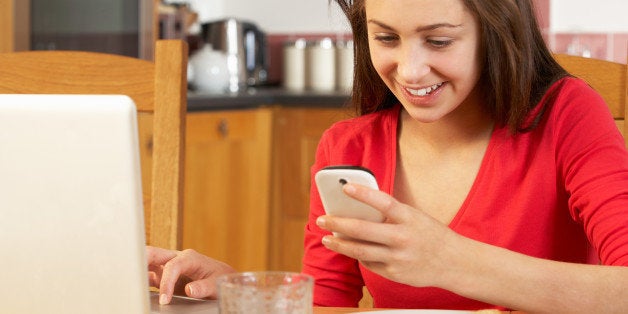 At first glance Emma Johnson looks like a normal high school student. She loves the Kardashians, hanging out with friends, and tweeting about the latest fashion trends just like everyone else! What you wouldn't know from first glance is that this 17-year-old is actually a teen mogul. Emma is already a published author and on the fast track to turning her one-year-old jewelry business into a six figure money-maker by the end of 2014.
I first met Emma at her mom's Spark and Hustle conference when we were just 14. Emma's mom, Tory Johnson became my very first mentor when I first started my business and over the years I've that the opportunity to spend some time with Emma as well. It's so fun to watch each other grow up and evolve, so this is an especially exciting blog post for me to write.
I'm still in awe from the amazing interview I conducted with Emma. She gave such practical yet profound advice and I think you are all going to love this edition of How to Make Money Under 20.
EmJohn is a cool jewelry and accessories line that celebrates and encourages everyday fun. EmJohn was born out of an ongoing argument at home about whether or not college was worth it. Would it be better to invest $250,000 in going to college or starting a business? Emma decided to change up the debate by doing both -- starting a business and then using it to pre-pay for college. That's where the EmJohn College Challenge started. All profits from EmJohn jewelry go straight to Emma's college fund.
The EmJohn College Challenge also doubles as a genius marketing strategy. Emma crafted a brand story in a way that people can relate to and incentivizes them to want to support EmJohn. Not only are you buying a cute charm bracelet, but you're also helping Emma pay for college. We all have a story, but most of us aren't taught how to turn our personal journeys into engaging narratives. Just look at TOMS, Whole Foods, Starbucks, etc. What do they all have in common? They all have powerful stories.
Emma could have started anything to raise money for college, so why sell jewelry? When I asked Emma this question, here's what she said, "I started by making stuff for myself and posting photos. At the time I hadn't even thought of starting a business. But when people asked where they could buy what I was wearing, I realized, duh, there's money to be made!"
Sometimes you see the demand then create the supply. Emma also credited her mom's Good Morning America segments where she would help her curate businesses and products to feature during her weekly deals segments, while noticing how well jewelry sold. That paired with her love of fashion really drove her to start the jewelry line. I think it's especially important to point out that Emma chose something that she truly loved and was passionate about when she decided on her business idea.
So she chose something she loved, created a powerful message, but where did she get the money to start it all? She didn't. EmJohn's first products were silk wrist ties that she cut from her grandfather's old ties who had recently passed away, and various charms that she already owned. A sweet sentiment that also meant no start-up costs! A few months ago she started making her bracelets out of beads and custom EmJohn lucite charms -- all funded by her initial sales.
But how did she get the word out and market her new business? Emma credits her success to social networking. "Social media is gigantic. @EmJohnJewelry has less than 2,000 followers on Instagram but it has accounted for half of our sales," she said. Emma also practices a lot of muscle marketing. She's scheduled pop-up shops and charm parties every day this summer, got her line into a few retail stores, and even sent a bracelet to Katherine Schwarzenegger, who posted a pic online giving EmJohn a ton of online orders.
If you've ever seen an EmJohn bracelet, you understand how adorable they are, so I also asked Emma if she's bias to any specific brands. One interesting one she mentioned was Kings of Cole, which was started by Elana Brynes who went to college at Boston University. I'm just wondering if this was any hint about her own future college plans... ;)
In closing I want to leave you with Emma's advice for those of you interested in or exploring the idea of starting your own business, because it literally could not be more perfect:
"Ask for help, especially through Twitter and Instagram where you can reach anyone. Ask for feedback from customers. Ask storeowners to take a chance on you. Be willing to listen. Know that it's harder than you imagine it'll be, but it's also more fun. Just start -- now. Get moving, get selling. The sooner you make money, the more doors will open for you to grow."
Related
Popular in the Community