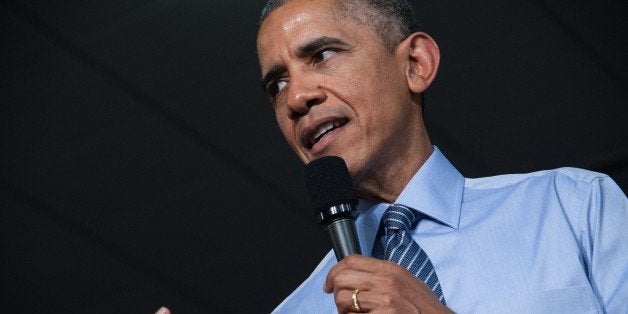 President Obama's proposal for tuition-free community college is an ambitious idea rooted in an important but often-forgotten principle: Education is a boon to our entire economy and way of life, as well as an individual benefit.
But amid the political debate over the proposal's merits and cost, we must also consider the important question of how to actually make it successful.
A lot is at stake. Among students who enroll in community college, only about 60 percent come back for their second year and only about 30 percent earn an Associate degree within three years. Without a degree, those students -- or the taxpayers -- are left with all of the debt and none of the benefits of education.
For some, money and time are the biggest hurdles. But for many others, navigating the maze of courses and programs to reach a degree is daunting or even impossible. They need more than free tuition.
That's the lesson of the University of Delaware's Parallel Program.
Launched in 1966, the Parallel Program was a partnership between UD and Delaware Technical Community College. The idea was that students could follow a parallel path of inexpensive UD core courses taught by UD faculty at Delaware Tech campuses, then finish their bachelor's degree on UD's main Newark campus.
But the thing about parallel lines, as any 4th grade geometry student can tell you, is that they never meet.
Students took courses that didn't result in any degree. When they tried to make the leap from a Delaware Tech campus to UD, they often faltered and failed.
So a decade ago, UD -- under my astute predecessor, Dr. David Roselle -- wisely replaced the Parallel Program with the new Associate in Arts Program for students who need extra academic or financial support to succeed in college. It's UD courses taught by UD faculty in small classes in Delaware Tech's buildings throughout the state. Students receive an AA in University Studies by earning 60 credits in the core courses we require of all undergraduates, then transition to UD's main campus to earn their bachelor's degree.
Note that word "transition." AA students don't transfer to UD; they're already ID-carrying UD students who can use the library, join student organizations, catch a football game, study abroad and do essentially everything a traditional student can do.
It's a community college embedded within UD. It's a full Bachelor's degree sequence; it just starts at a different location.
And it's working. More than 80 percent of our new AA students return for their second year, and more than 72 percent earn their Associate degrees within three years. Nearly all transition to the main campus to earn their Bachelor's degrees.
The secret sauce in this recipe isn't much of a secret. We're giving students a lot of support and guidance, the kind of help we've long known works best.
We practice "intrusive" advising, closely monitoring AA students' grades, attendance and participation to head off potential problems. Many AA students come from low-income and/or first-generation families, so strong advisement is critical to their success.
In addition to faculty advisers, we have four full-time academic advisers for AA's 800 students. That ratio is less than half the median of 441 students per adviser at two-year institutions nationwide, according to a 2013 report by the National Academic Advising Association.
The additional attention isn't free, of course. We spend roughly $300 per AA student annually on advisement services. But it's an investment that pays off with high retention and graduation rates.
The AA First Year Experience seminar is tailored to their needs, too, by focusing on study skills, time management, tutoring and support services. In their sophomore year, students are introduced to main-campus faculty and advisers to chart their transition. A few weeks before they arrive on the main campus, we bring them together for Transitions Day, when staff and former AA students offer advice on making that leap.
From the moment students are admitted, it's a comprehensive program dedicated to get them their Bachelor's degree.
It's also affordable for students. AA tuition this year is just $3,620, about a third what it is for main-campus Delaware students. For most students, tuition is covered by federal Pell grants or Delaware's scholarship program, Student Excellence Equals Degree, or SEED. Begun in 2005, SEED is similar to scholarship programs in many other states and to President Obama's latest proposal.
Yes, AA tuition covers only a portion of UD's true cost of providing an undergraduate education. But that's true for the tuition paid by all students, which is lowered by state appropriations, endowment earnings, scholarships and other financial supports.
AA students tell us they enjoy the smaller classes and individual attention from professors and advisers. They appreciate having the time to improve their academic skills. The program is supportive enough to ensure success, they say, but rigorous enough that it doesn't feel like 13th grade of high school.
In the global knowledge economy, our nation's prosperity depends on providing a high-quality education to everyone. Tuition-free community college may be the best way to get more students to the starting line.
But we must also chart a smooth, seamless educational path for students because our real job is getting them across the finish line.
REAL LIFE. REAL NEWS. REAL VOICES.
Help us tell more of the stories that matter from voices that too often remain unheard.