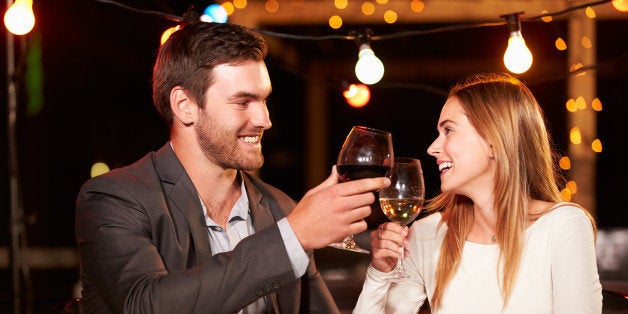 In the flurry of New Year's resolutions that so many of us inevitably make, maybe you succumbed to "Dating Sunday" and took the plunge of signing up for an online dating site. Match.com says the Sunday after New Year's Day is the busiest day of the year, with a 60 percent spike in new members between Christmas and Valentine's Day.
But even more than most resolutions, this one might be quick to be broken.
For good reason--as common as online dating has become, there's a lot of negativity surrounding it still: It seems like everyone on there is married (thank you, Ashley Madison), or just trying to hook up (thank you, Tinder), or trying to con you or kill you or sell you into slavery (thank you, entire Internet).
And there are plenty of other horror stories--the players and sexters and clingers and weirdos. There's the awkwardness, the rudeness, the disappointments. Many who sign onto a dating site lose interest and motivation long before their subscription has expired.
I tried online dating three separate times over a period of a few years, and each time wound up hiding my profile in discouragement or disgust just a couple of months in.
I was badly burned out on the format, but, as a self-employed writer and editor who mostly lived in a cave with only my computer for company, it wasn't like my path was crossing with a whole bunch of eligible single men. Not seeing any other options, though, eventually I reluctantly decided to try again.
But in this final try at Internet dating, I made one crucial change:
This time I enlisted help.
Several of my girlfriends had been down the same road, trying Internet dating with varying degrees of success, and they offered to be my "dating buddies": a panel of advisers who would help me with everything from how to present myself in my profile and pics, to "vetting" the men who contacted me, to pep talks (and consolation calls!) before and after in-person dates.
My friends checked out the men who were contacting me. "This one's cropped a girl out of the pic--next!" one would decree, or, "I know you want someone tall"--I'm six feet--"but this guy's only an inch shorter than you are, and he loves to read and travel, just like you--why not consider him?"
When we finally picked likely prospects together, I would let one of them know when I had an in-person date so someone had the man's contact info and my last-known whereabouts...just in case he was a psycho killer.
I also called debriefed with them after--and when I had dates like the one where a guy told me about his four ex-wives within the first ten minutes, or talked on his cell phone for literally half the date, or blatantly checked out another woman's boobs, rehashing my travails with my gal pals made them seem hilarious rather than simply discouraging.
There are plenty of articles and even TV shows like TLC's Love at First Swipe that teach you to create a snazzy profile, but don't address the big-picture challenges of online dating: reentering the dating market when you're over 40, whether it's ever okay to lie/stretch the truth in your profile, what "subtext" reveals in your own profile and others', etc.
And though there are services and people you can hire to help you with those aspects of dating--online and otherwise, it's not always affordable or feasible for everyone to hire a pro.
For me, sharing the experience with my friends made it less lonely, less daunting--and a whole lot more fun.
And when I finally met the man I wound up marrying--who I probably wouldn't have met any other way--I had dear friends to celebrate it with who were there from the very beginning. (One of our very first dates involved him facing a gauntlet of these six women over cocktails, every one of them meticulously checking him out.)
It took kissing a lot of virtual frogs to get to my prince--and it also took a village. Without the input, advice, sympathy, and encouragement of my friends, I might still be clicking around and bemoaning the uselessness of online dating.
So this year I'm proposing that if you're one of the almost 50 million singles who try online dating, you do things a little differently: Date by committee.
If you've wanted to try online dating and hesitated--or you have tried before and hated it--maybe 2016 is the year to grab your own "dating buddy" and take the plunge.
Phoebe Fox is the author of The Breakup Doctor and Bedside Manners, part of the Breakup Doctor series (from Henery Press). Heart Conditions, book three of the series, will be released February 2016. You can find her at www.phoebefoxauthor.com, and on Twitter and Facebook.
Calling all HuffPost superfans!
Sign up for membership to become a founding member and help shape HuffPost's next chapter