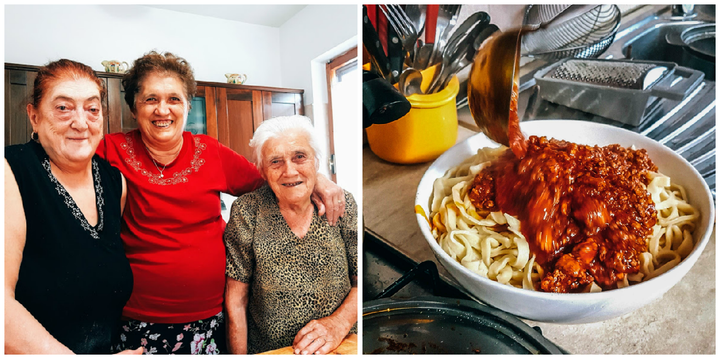 Long before ragù was a ubiquitous brand of spaghetti sauce in a jar, it was ―and is ― the basis for untold volumes of Italian goodness, from tagliatelle al ragù to lasagna to gnocchi to supplì, deep-fried rice balls stuffed with meat sauce whose mere existence is perhaps proof that a higher power actually exists.
In Italy, a good pasta with ragù is the go-to meal in home kitchens and trattorias. It is as essential as an asthmatic's inhaler or a reformed smoker's vape pen: there are always the makings for it close at hand, a pot of it already bubbling on the stove on Sunday morning, or a mason jar of it being pulled from the freezer.
It gets sent back to college with students going home after a long weekend, and it accompanies families in the bag of groceries toted on a beach vacation. No ragù? No party.
Even if you've long-ago abandoned the jars of store-bought sauce in favor of a DIY concoction, chances are your attempts at ragù are a pathetic stab in the heart of Italian tradition and an offense to the sensibilities of nonnas everywhere, who would find your pasta sauce at best insipid, at worst a cruel corruption of all that is pure and good about ragù.
Our health-conscious ways are mostly what's standing between us and a good ragù, but, as all Italian mothers and grandmothers know, a little fat and cholesterol never killed anyone. So we asked three nonnas, all of whom have been making ragù for decades, to show us how it's done.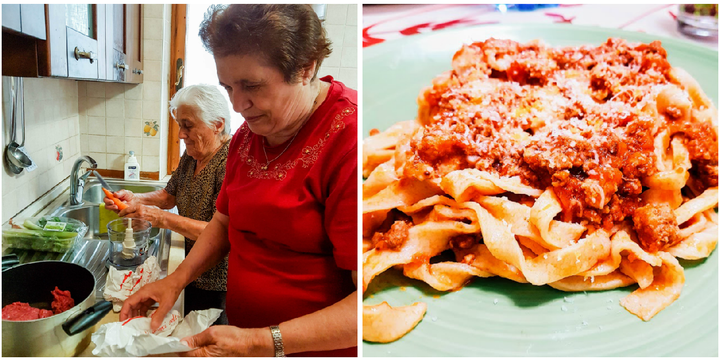 Franca, 73, her aunt Elide, 94, and her sister-in-law Graziella, 71, gathered in Franca's humble little kitchen in Allerona, a hill town of around 400 residents in Umbria, central Italy. The kitchen's peeling formica, stained tablecloth and battered pots and pans provided a backdrop for a rousing discussion about what goes into a good ragù. The conversation went something like this:
Franca: A pound of beef. A third of a pound of pork.
Elide: Or sausage. Sausage is good too.
Franca: I use ground pork.
Elide: Ivana (her 60-something daughter) prefers mine with sausage.
Graziella: Basta, that there's a lot of meat. The more meat the better.
Graziella: A drop of wine, of course. You need red wine.
Franca: No wine. I never add wine.
(Franca is overruled and they decide to add the wine.)
Graziella: Open that fucking wine and give me a half a glass. The doctor told me I can't smoke and I can't drink, what the fuck am I supposed to do?!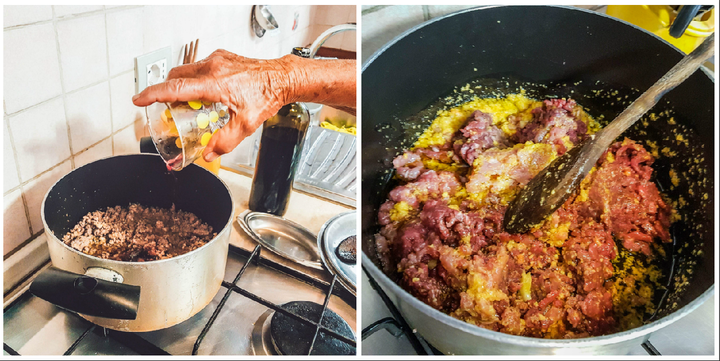 The recipe for a time-tested ragù goes something like this:
1 pound of beef, ground at home with a meat grinder or pre-ground
1/3 pound of ground pork or sausage (not smoked or spicy)
1 carrot
1 small-medium white onion
1 stalk of celery
1/2 cup of good quality olive oil
~24 ounces of crushed tomatoes, such as Pomi brand or similar
Salt and pepper to taste
1/2 cup of red wine (optional)
1 to 2 cloves of garlic, cut into large pieces (optional)
Blitz the carrot, onion and celery in a food processor until it is almost puréed. Simmer for a few minutes in a little bit of olive oil. As aromas start to release, add the ground meat and seasonings.
As meat starts to brown and release its fat, add tomatoes, olive oil, wine and garlic (if used).
Bring everything to a boil, then reduce heat to a bubbling simmer. Cook covered at this heat for at least two hours, adjusting salt and pepper and stirring occasionally.
This hearty sauce is best served with an equally hearty pasta, such as homemade (if you've got a nonna handy) or fresh tagliatelle or gnocchi. Italians never rinse cooked pasta and they never serve sauce over the pasta: It's always completely mixed together so that the sauce clings to every strand.
Later, when the sauce is on the stove and Graziella is on her second glass of wine ...
Graziella: It needs salt, and some pizzico (spiciness). Add pepperoncino (cracked red pepper).
Franca: Pepperoncino doesn't go in ragù!
Graziella: Who the fuck says so?
By the time the sauce has cooked for a few hours, its aroma permeates the whole house and wafts into the front yard. An orangey-red slick of oil and beef and pork fat sits at the top of the simmer, to be stirred in before serving.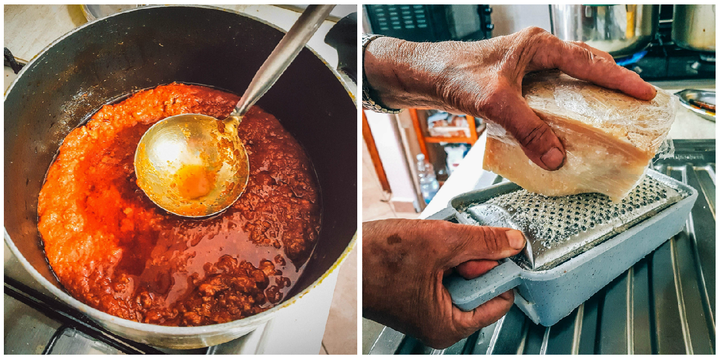 Fat really is the vehicle in this sauce: It doesn't evaporate during slow cooking, it emulsifies the sauce, absorbs the flavors of the other ingredients, and it clings to and soaks into the pasta or other starch with which it comes into contact.
Now is not the time to be fat- or calorie-conscious. Make a real ragù with the real ingredients, and surrender to its glistening fat and oil. You can have a salad next time.
Franca: My father lived to 103, and the doctor never told him to eat less meat and olive oil.