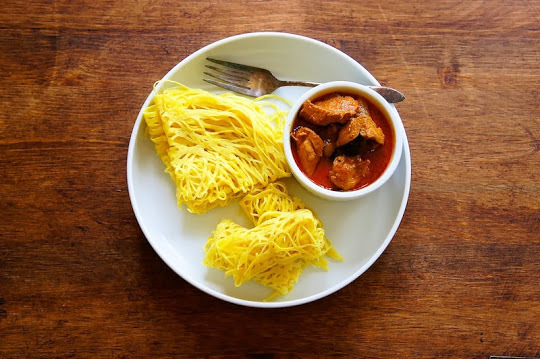 Roti Jala or Net Pancake is a popular Malaysian tea time snack served with curry dishes. However, to make this light pancake you will need to use a special mold. The traditional mold, made of brass, had three spouts, sadly, it is very to hard to find these days. I did have plastic mold though it wasn't very user-friendly, but don't fret, I have a perfect solution to this, and it involves using any water bottle, and nailing three holes onto the cap. Once you have the water bottle all you have to do is fill it with batter, apply a gentle squeeze on the bottle, and let your"artsy skill" swirl into a net-like pancake. I am sure you'll prefer this foolproof method since it's simple, quick, and clean.
200 g All-Purpose Flour
2 Large Eggs
2 tsp Vegetable Oil
1 tsp Sea Salt
1/2 tsp Ground Turmeric
200 ml Water
200 ml Coconut Milk
10" non-stick pan
Oil for brushing
Combine all the ingredients and whisk until the batter is free of lumps. Strain the batter.
Fill the bottle with half of the batter, lightly oil the pan with vegetable oil. Gently squeeze the bottle and make some swirl around the pan. When the batter is set, fold them in any shape of your choice. Serve warm with curry dishes.
Makes 20 pieces of Roti Jala