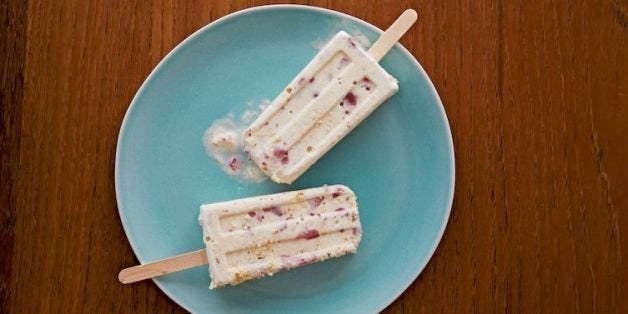 Today: Pay no mind to the jingle of the ice cream truck -- we're satisfying our strawberry shortcake ice cream cravings at home. (With just three ingredients!)
There was always that one kid, the iconoclast among all of us tasting our first bit of autonomy, who went for the Strawberry Shortcake bars. My friend Andrea steered clear of them because they were her sister's thing. "Both the Chocolate Eclair and the Strawberry Shortcake bars were kind of the crème de la crème of the ice cream truck," Andrea recalled, "something we were only allowed to get occasionally, unlike a lowly, less expensive popsicle." She added: "I mostly think of them as the alternative to the chocolate version, and because they are intimately bound up in my childhood sense of choosing different things than my sister did, I also think of them as the Kerry doll to the Chrissy doll."
Makes 2 1/2 cups of ice cream or six 4-ounce ice cream pops.
1 cup yellow cake crumbs (about 2 cupcakes or 1/4 of a loaf pound cake)
1 1/2 cup finely diced strawberries
1 pint premium vanilla ice cream
Photo by James Ransom. Excerpted from the book Treat Yourself: 70 Classic Snacks You Loved as a Kid (and Still Love Today) by Jennifer Steinhauer. Reprinted by permission of Clarkson Potter Publishers. All rights reserved.
Food52 is a community for people who love food and cooking. Follow them at Food52.com -- and check out their new kitchen and home shop, Provisions.