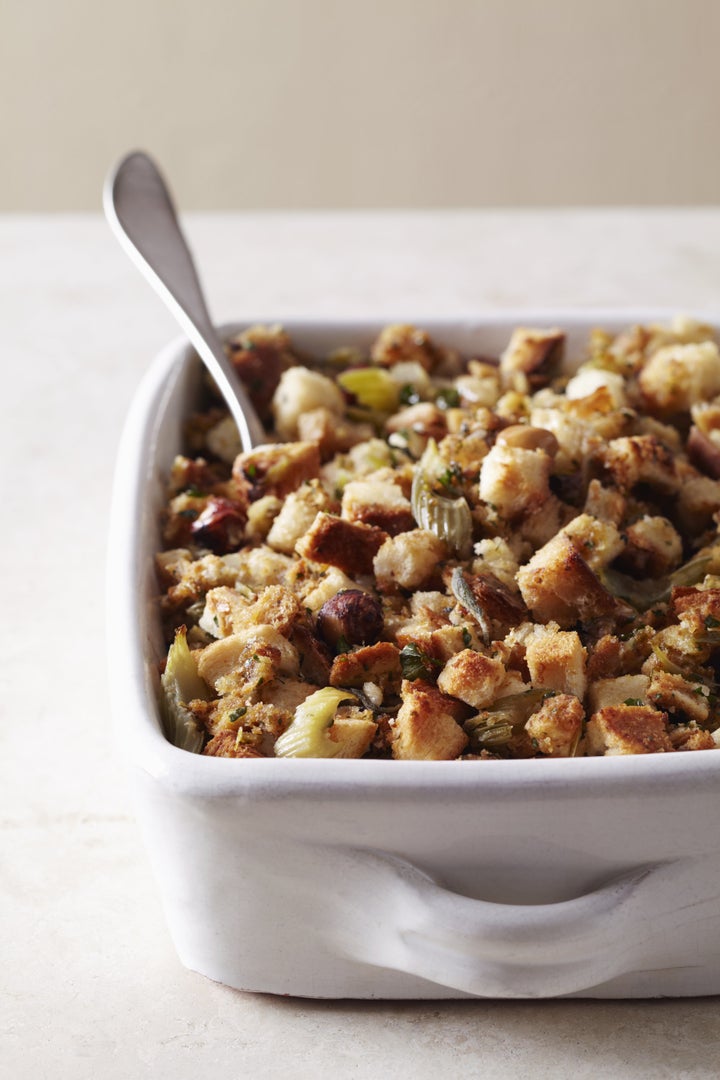 No Thanksgiving spread is complete without good stuffing, but if you're feeling overwhelmed about cooking it all, Bon Appetit's definitive "Stuffing Matrix" is here to make it a little easier.
Once you know the basics, you can easily design your own from scratch: Here's how.
Choose your bread, add some textural contrasts (dried cherries, toasted hazelnuts), throw in some meat and aromatic herbs or vegetables -- your guests will be amazed by your one-of-a-kind stuffing.
"Mix and match however you like," Bon Appetit's editors encourage. "You can't mess up these combinations."
Once you know the basics (see the recipe below), you'll see how simple it really is -- You officially have no excuse to use a boxed mix this year.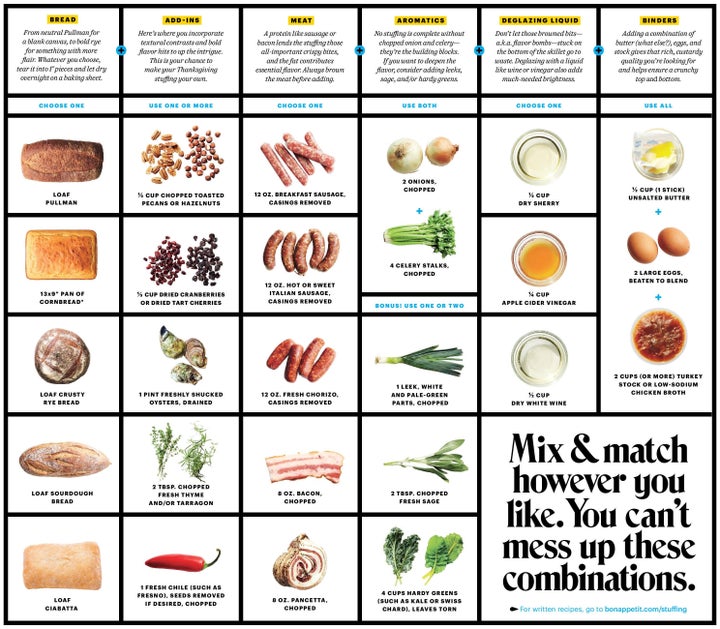 Start with Bon Appetit's recipe for basic stuffing, which serves 8, republished with permission:
Preheat oven to 350°. Butter a shallow 3-qt. baking dish and a sheet of foil. Place bread and any add-ins in a very large bowl.
Heat 3 Tbsp. olive oil in a large skillet over medium. Cook meat, breaking up into small pieces if needed, until browned and cooked through, 7-10 minutes. Using a slotted spoon, transfer to bowl with bread mixture.
Add onions, celery, and any bonus aromatics to same skillet; season with salt and pepper and cook, stirring often, until onions are softened and browned around the edges, 10-12 minutes. Scrape aromatics into bowl with bread mixture.
Return skillet to medium heat and pour in deglazing liquid; cook, scraping up any browned bits, until almost all liquid has evaporated. Add 1/2 cup butter and cook, stirring, until melted. Drizzle over bread mixture. Whisk eggs and 2 cups stock in a medium bowl and add to bread mixture. Season with salt and pepper and toss until combined, adding more stock ¼-cupful at a time as needed to ensure bread is fully hydrated.
Transfer stuffing to prepared baking dish and dot with 4 Tbsp. unsalted butter, cut into small pieces. Cover with foil, buttered side down, crimping edges to seal. Bake until a paring knife inserted into the center comes out hot, 30-35 minutes. Remove foil and increase oven temperature to 450°. Bake until top is well browned, 20-25 minutes. Let sit 10 minutes before serving.