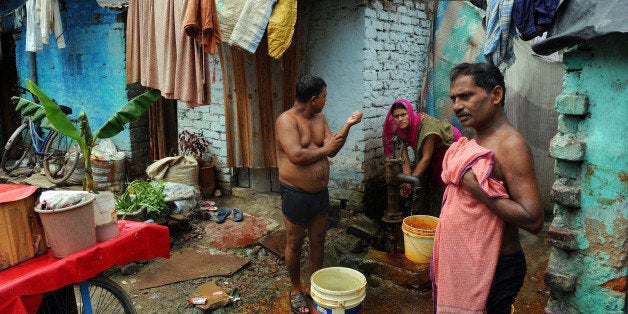 How do you make drugs work on people who don't take them? How do you help people decide whether to buy more medicine or better clothes? That was part of the puzzle my team members and I were trying to solve as part of this year's Hult Prize Competition, the largest student competition in the world. What really made me commit to the competition was the fact that Hult Prize was renowned for providing a platform that identifies and launches disruptive and catalytic social ventures that aim to solve the planet's most pressing challenges. The 2014 Hult Prize focused on an important question: "Can we build a social healthcare enterprise that serves the needs of 25 million slum-dwellers suffering from chronic diseases by 2019?"
The interesting thing about the Hult Prize Competition is that the organizers don't simply ask you to change the world. Instead, they provide you with the most updated research on a topic and ask you to think about practical ways to address a massive problem. The document that was provided as part of this year's challenge is one of the most updated and relevant research papers on the topic of chronic diseases in urban slums.
When the President's Challenge came out in September last year, it seemed like a large enough problem to think about, and I was intrinsically motivated to take on the challenge, just like other members in my team. My journey with the team on this project started eight months ago. Although the members of my team come from diverse backgrounds, we shared a common interest in making a difference in the healthcare industry. When we first white-boarded our solution, that study room had all of our 46 years of collective work experience, and it felt good. While the discussion helped in understanding different perspectives and ideas, we were still far from what we thought could be a winning solution. Each person would delve deeper into the topic and come up with research, analysis and a new solution almost every day. It was tedious and yet fun. After spending a lot of time discussing various options, we knew we had to zero down on one solution.
People in slums lacked access to effective healthcare, and we, as a social enterprise pledged to provide healthcare, focusing on Non-Communicable Diseases (NCDs), that is affordable, accessible and accurate. After several meetings, we were all convinced that preventive compliance/adherence was going to be our point of intervention. It felt like our "aha" moment. Slum-dwellers suffering from NCDs currently don't take medication regularly. If they do take medicines periodically as prescribed by a doctor, the problem is solved. And we as a social enterprise were going to get them to do exactly that. While there is some merit to that line of thought, this solution seems trivial on hindsight. After speaking to several experts in the healthcare space, and specifically after our third visit to a slum in Hyderabad, we realized that pushing for compliance wasn't going to be enough.
We went back to basics to understand chronic disease and how people living in urban slums made decisions pertaining to healthcare. The mentorship received from professors at ISB and from Dr. Balaji of HMRI was invaluable in finalizing our solution. After several weeks, we hit upon what we now believe is a good way forward. Our target population needed someone who was willing to diagnose, treat and manage their chronic disease -- in some sense -- someone who could handhold them through the disease cycle.
The above insights set the tone for our project over the next few months. Our deliberations (including mapping of the NCD value chain at least 300 times on a whiteboard) led to the conclusion that we had to provide an end-to-end solution without our customers feeling the pinch in their pockets -- it had to be the 'Right-sized' solution (as Dr. Balaji from HMRI put it) -- and thus 'NanoHealth' was born. A multi-parameter, point-of-care device designed by one of our team members is going to help us diagnose patients in the slums. I thought that creating a partner-network to deliver healthcare at the patient's doorstep would be our biggest challenge. But our initial studies indicate that our business processes based on robust technology and local people will ensure acceptance in various countries and is a scalable solution.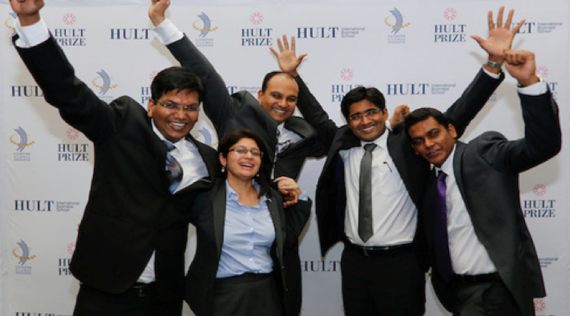 Ahish, Aditi, Pranay, Manish and Ram at the Hult Prize Regional Finals
Dr. Ashish Bondia, a primary physician with clinical experience helped the team understand the medical imperatives at each step of the solution. Manish Ranjan, with experience in designing business processes for large multinational companies, used his business process and IT experience in designing our end-to-end efficient healthcare programs. Pranav Maranganty, with his experience in product development, offered to design and lead the development of a point of care device for screening of the slum-dwellers. Aditi Vaish, a marketing and communications expert, designed our communication plan ensuring that the local health network can be leveraged effectively, a key factor for quick scalability of the enterprise. With my background in finance, I tried to ensure that the business plan was financially viable and self-sustainable.
Competing in the Regional Finals at Sao Paulo and interacting with over 30 teams who've been thinking about the same problem was an enriching experience for me personally. The judges were very candid and had specific feedback for our enterprise, and my teammates and I are thankful for that. We felt really lucky to watch the Corinthians vs. Sao Paulo football match that weekend despite a favelado (slum-dweller in Portuguese) snatching tickets from one of our team members. It was adventurous and fun.
The support and encouragement provided by our Dean, faculty and people in the administration at the Indian School of Business is noteworthy. I'd like to thank them on behalf of our team. The pilot projects that we intend to undertake over the next few months will definitely be a great learning experience. The NanoHealth team will use the HultPrize Incubator in Boston to further refine our business concept and plan, and I am eagerly looking forward to the competition in September! Go NanoHealth!
This post was produced by The Huffington Post and the Hult Prize, where teams of college and university entrepreneurs compete for $1,000,000 in funding for compelling social business ideas. The posts are written by the "Big 6" competition finalists. To learn more about the 2014 Hult Prize, please visit here. Read all posts in the series here.
Related
Popular in the Community