Whether it's the first or fifth child, waiting for that little bundle of joy is a very exciting time for expectant parents. Ensuring that your little girl or boy has a joyful, cozy, and -- most importantly -- safe space to come home to is obviously of chief concern as they prepare for the arrival. That's why it's good to be mindful of everything from the paint on the wall to their favorite toys, because toxic chemicals may be present. For this reason, many parents today are taking a closer look at how they build their nurseries.
Babies and children are especially susceptible to the adverse effects of chemicals found in household products such as cleaners, plastics, and personal care items, according to the Physicians for Social Responsibility. Some chemicals can cause damage to a child's developing brain, mimic or block hormones, and cause a frightening list of serious disease. Small children are more susceptible to chemicals for a number of reasons, including their proximity to toxins on the ground, weaker immune systems, and smaller bodies that receive bigger proportions of toxins compared to adults.
Clothing and Blankets
Believe it or not, some clothing has been found to be made with traces of toxic metals and formaldehyde. Definitely not what you want being absorbed into your newborn's bloodstream. Instead, put some organic cotton clothing and blankets on your baby registry. Organic cotton is grown without the use of toxic pesticides or fertilizers and the methods used to grow organic cotton have a lower environmental impact than conventional growing methods, so it's a double win!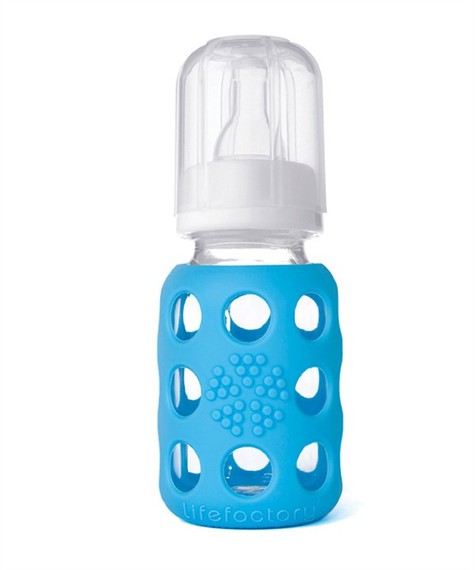 Feeding and Nursing Items
From the 1960s up until the FDA ban in 2012, the toxic chemical bisphenol-A (BPA) was used to make many hard plastic baby bottles and cups for toddlers. This chemical, which has been linked to numerous health concerns, can leach into food and drink when heated or after being used for a period of time. Although it's now banned for these uses, some companies are now replacing it with BPS, which has also been linked to health concerns. You can avoid the plastic problem altogether by using glass baby bottles and sippy cups. Medical-grade silicone is made without BPA and is a good toxin-free substitute for nipples. Another important action to consider is to throw away older bottles and avoid plastics with the plastic code #7 on the bottom.
Playtime
Again, try to avoid plastics because of chemicals often used to make them can be toxic. Choose natural materials like unpainted wooden toys and organic cotton cloth or plush toys. Shopping for natural toys is just as fun and will help your children avoid chemicals like lead and BPA sometimes found in toys.
There are lots of other ways that you can reduce your baby's exposure to toxic chemicals. Here is an expanded list for parents, friends, and family members who wants to learn more.