Sublime is the word that comes to mind when I think about Pão de Queijo, a Brazilian bread made from polvilho flour that happens to be utterly delicious and gluten free.
While traveling in Brazil recently, I stayed on a fifth generation coffee farm three hours outside of São Paulo called Fazenda Recanto, where these were baked fresh every day. Despite the fact that I was surrounded by more than 400 acres of colorful, budding coffee trees and some of the world's best beans, this bread captured a disproportionate amount of my attention.
Below is Maria Selma's family recipe and it's surprisingly easy to make with a couple of pro-tips: After adding the hot liquid to the flour, make sure the blend is cool enough to not cook the eggs when all is combined. Also, use the savory/sour kind of polvilho flour (there's a sweet variety, too) and ingredients can be found at Whole Foods, as well as Asian or Mexican markets. Extra dough can be stored in the freezer and popped in the oven for a little slice of heaven at any time.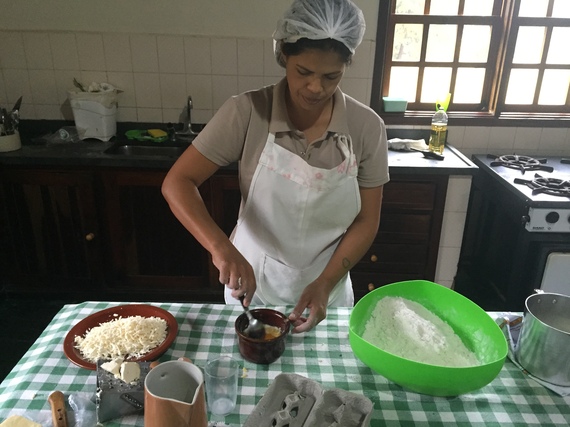 Photo: Stephanie Keller

Ingredients:
- 1 cup of water
- 2 cups of milk
- 1 cup oil
- 1 cup corn flakes
- 2 tablespoons of salt
- 1 bag (about 8 cups) of savory polvilho flour
- Big plateful of cheese - A bag of five cheese Italian blend or half mozzarella/half Parmesan works well
- 2 eggs
1. Bring oil, water and 1 cup of milk to a boil.
2. Pour the bag of flour (about 8 cups) and salt into a large mixing bowl and use a spoon to mix in hot liquid ingredients. Let it cool from hot to warm before adding the eggs. Mixing can be done with hands or electronic mixer at medium speed.
3. In a separate bowl, combine the corn flakes into 1 cup of milk and soak until blended. Pour it, along with the 2 eggs, into the large mixing bowl.
4. Add a heaping plateful of cheese into the mixing bowl and fold in with hands or mixer in until blended.
5. Put oil on hands so dough doesn't stick and roll it into 1.5 inch balls. Place into a baking pan and put it in the oven for 30 minutes at 350 degrees.