Buying new sandals and flip flops is a summer ritual. Every summer designers such as Stuart Wietzman, Zara, Saint Laurent, Robert Clergerie, Kenneth Cole, Calvin Klein and shoe manufactures like Nine West, Forever 21, Rocket Dog, Chinese Laundry come up with sexy footwear to make your feet look great. It's every women's dream to wear the sandals and flip flops they love in their shoe closet without walking in pain. The number one complaint I hear in my practice during the summer is, "I need more arch support in my sandals and flip flops and I do not know what to do". However, designing a shoe product with an arch support is not the first thing on the designer's minds when they are launching their summer collection. "Sexy" and "hot" are the optimum words to describe their designs not orthopedic or supportive!
Most sandals and flip flops have very little arch support or none at all. Sandals and flip flops are usually composed of a flat foot bed either made of leather or a rubber composite and these materials can be very hard and uncomfortable on your feet. Wearing this type of foot wear can cause arch cramps, burning on the balls of the feet, pain in the great toe joint, calluses on the tips of the toes, heel pain or developing rough dry cracked callused heels called skin fissures. The triggers that can cause these problems are standing in long lines on hard surfaces, walking all day in the heat, shopping for hours or sightseeing on summer trips.
Friction can cause burning on the balls of your feet, calluses and also skin fissures in the back of the heel. When walking in backless foot wear such as sandals or flip flops your heel slides side to side creating friction and your toes have a tendency to grab the ground. This can form a buildup of hard thick dry skin known as callous tissue. Over time this tissue eventually can crack causing the heel to become very painful or the tips of your toes to get inflamed. The balls of your feet can also start to burn because of the front part of your foot sliding and grinding into the hard insole of the shoe. This area can also for form painful callous tissue.
The lack of arch support in sandals and flip flops can cause discomfort in the great toe joint and arch cramps. Without the proper arch support in your shoes the great toe joint is not supported and can cause joint pain when walking. Flat feet can also trigger foot and toe problems when walking in summer footwear without adequate support. The muscles in the arch of your foot get tired, cramp and fatigue eventually going into spasm.
Finding summer footwear with a good arch support is not an easy task for even the most sophisticated shopper. The best way to find the newest, hottest and most supportive foot products is to let your fingers do the walking and search the internet. There are companies that specialize in making arch products that can help solve these foot problems. The products are designed to stick into the arch of any sandal or flip flop. These products are usually made out of a durable foam material that can last for months or longer depending on how often you wear the footwear. Typing in key words such as orthotics, arch supports, arch supports for sandals or flip flops is the only way to find these specialized products. Once you discover these types of products and place them in your summer footwear even the most uncomfortable pair of sandals or flip flops in your closet can become comfortable and supportive.
"And she walked happily ever after"®.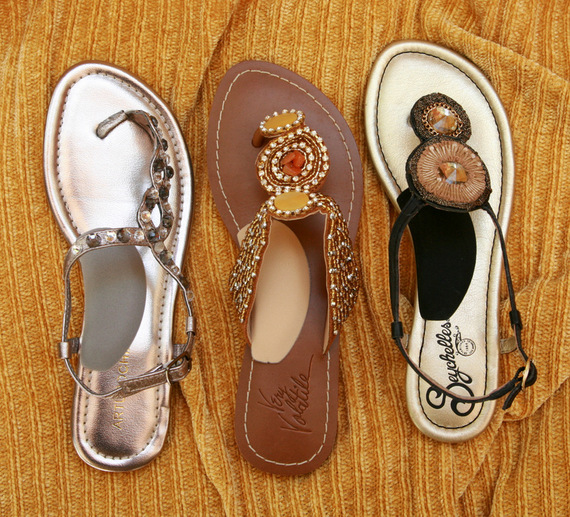 Related