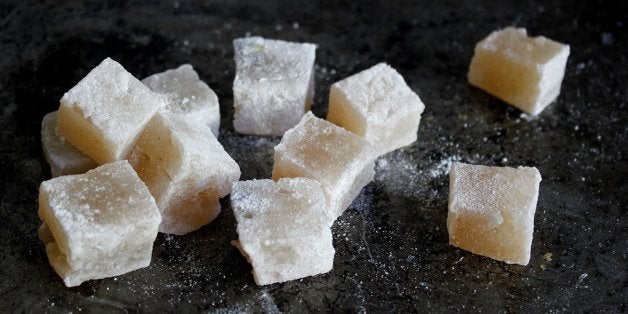 It's always more fun to DIY. Every week, we'll spare you a trip to the grocery store and show you how to make small batches of great foods at home.
Today: Turkish delight doesn't have to be chalky and neon-colored. Sophia Real from Real Simple Food makes candy that tastes like it came straight from Istanbul.
Until my first trip to Turkey six years ago, I thought that Turkish delight only came in a lurid shade of pink with a flavor reminiscent of hotel soap bars (I blame Cadbury's Turkish delight-filled chocolate bars for that misunderstanding). Once in Istanbul, I quickly learned that Turkish delight comes in a myriad of colors, shapes, and (delicious) flavors.
In Istanbul we tried many different types of Turkish delight: bright pink cubes of pomegranate studded with pistachios and rolled in crushed rose petals; white, chocolate-filled rolls that reminded me of soft Italian turrón; and tiny rainbow-colored cubes that were flavored with orange or rose blossom water or mastic and dusted with a mix of powdered sugar and cornstarch.
The flavors of these little morsels were delicate and well-balanced, and their consistency was a far cry from the tough, gelatinous versions of Turkish delight I had tried before. My homemade candies were softer with quite a bit of give, yet retained some chewiness. And they were sweet, but not overwhelmingly so.
While you can easily find Turkish delight outside of Turkey, it's not always easy to find real Turkish delight (instead of the brightly colored, gelatine-set cubes full of artificial flavors and colors that are often sold under the same name). Luckily, you can make the real deal at home. I will be honest: Making Turkish Delight is a labor of love; it requires one's undivided attention at the stove to stir the mixture for the better part of an hour.
Yet the recipe itself is simple enough (provided you correctly follow the various steps) and requires only a handful of ingredients, most of which you will likely already have in your pantry. Besides, one batch yields enough Turkish delight to feed a small army and keeps well, making up for the somewhat lengthy preparation.
Makes 40 to 50 small pieces of Turkish delight
500 milliliters water, divided
100 grams cornstarch, divided
1/2 teaspoon baking powder
1 teaspoon orange blossom water
In a medium saucepan, combine 150 milliliters of the water with the sugar and heat until the mixture reaches 240° F (115° C).
Next, mix 75 grams of the cornstarch with the baking powder in a separate large saucepan, then whisk in the remaining 350 milliliters of water. Briefly bring the cornstarch mixture to a boil -- just long enough so that the mixture thickens to the consistency of mashed potatoes.
Take the cornstarch mixture off the heat and pour in the sugar syrup a little bit at a time, mixing to incorporate. (I find that using a handheld whisk makes this a lot easier and helps to ensure there are no lumps in the mixture.)
Return the mixture to the heat and briefly bring it to a boil before turning the temperature to low.
Let the mixture simmer for about 45 minutes, whisking frequently all the while. By the end of the 45 minutes, the mixture should have thickened considerably and turned light amber in color. Stir in the orange blossom water, cinnamon, and pistachios.
Mix the remaining 25 grams of cornstarch with the powdered sugar, then line a sheet pan with parchment paper and dust it with about 1/3 of this enrobing mixture. Pour the hot mixture onto the prepared sheet pan and gently shake the pan to evenly distribute it.
Leave the Turkish delight to dry overnight. Use a sharp knife (oiled with a neutral-tasting oil like sunflower oil to prevent the candy from sticking) to cut the Turkish delight into small 1/2-inch cubes, and leave to dry for another day. Dust with the remaining enrobing mixture before storing the Turkish delight in an airtight box. It will keep for at least 2 weeks.
This article originally appeared on Food52.com: How to Make Turkish Delight
Food52 is a community for people who love food and cooking. Follow them at Food52.com -- and check out their kitchen and home shop, Provisions.