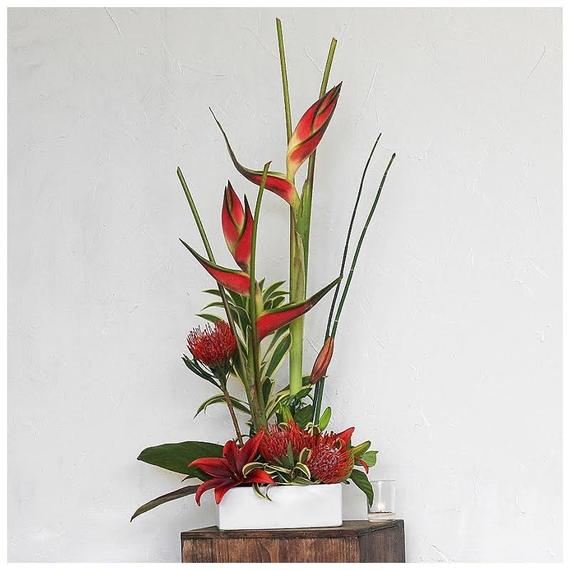 Image by Bella Calla
We all buy flowers hoping they'll last as long as possible... and sometimes we get lucky with arrangements that look great two weeks later! But it's not all up to chance. Here are some great tips to ensuring that your flowers stay fresh longer, as well as long-lasting flower varietals that will make your job easy.
1. Keep the water CLEAN!
This is the most crucial tip. If you change the water in the arrangement daily or every other day, it will last much longer than if you let it get swampy. Bacteria is the enemy! Florists change the water in their coolers quite often, and that keeps the flowers fresher.
Forget all the aspirins, sugar, pennies, and bleach... just pull the flowers up, rinse the vase, refill and give the bottoms a fresh cut. They'll stay fresh much longer. If your arrangement is in foam, fill that container every day so they have plenty of fresh water to drink.
2. Choose long lasting blooms!
People hear long lasting and the first flower they think of (often with a sneer) is the carnation. Of course, carnations are extremely long-living blooms, but there are many high-end, trendy flowers that also last for weeks.
Alstroemeria: Also known as Peruvian lily. These blooms come in tons of color palettes, from fall to spring to winter whites, and they last for a couple of weeks easily. They are unscented, so they are great on dinner tables (no more smelly flowers). Another plus? They're cheap!
Calla Lilies: These gorgeous blooms come in many colors and are very hardy. They'll often last nearly two weeks as long as they're fresh when you buy them. They have a sleek, modern feel.
Chrysanthemums: There are hundreds of varieties of mums - from daisy mums (which look like Shasta daisies but last for weeks), to football mums (huge, fluffy blooms that are great in romantic arrangements), to spider mums (which come in fun colors like lime green and have funky texture), these are great long lasting flowers - and relatively affordable!
Leucadendron: These come in gorgeous colors - mostly fall tones. The red "Safari Sunset" variety is particularly beautiful, and perfect for the holidays. Additionally, they dry well for later use in an arrangement or wreath!
Tropical flowers: Ginger, heliconia, tropical fleur, pincushion protea, banksia, and others feature bright colors and unique textures. You typically find these in higher-end flower shops, and they are typically more pricey, but they make a huge impact in an arrangement.

Image by Bella Calla
3. Buy quality from a florist - not a grocery store!
A good rule of thumb: the fresher the flowers, the longer they'll last. Many grocery stores hold flowers in coolers and distributions centers for up to two weeks at a time, meaning those blooms are likely to fade quickly. A local florist will always have the freshest product. Though you may pay a bit more to support local business, you'll get more bang for your buck with fresher, longer-lasting flowers that will make you smile for weeks!