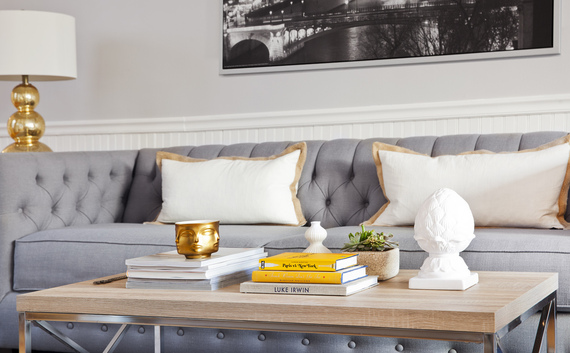 Buying a room full of pricey furniture and accessories does not guarantee that it will look elegant and high-end. And styling a space on a tight budget doesn't mean that it will look cheap. Instead, achieving a rich, refined look is all about adding key pieces and using some styling tricks. Check out our designer tips for creating an expensive look no matter what your budget.
1. Declutter.
Before you do anything else, clean up and purge any nonessential items. There are certainly exceptions to the rule, but in general, less is more. For example, it looks more deliberate and thoughtful to display a few special pieces, like a vase and a sculptural object, than covering the surface of your coffee table with a bunch of tchotchkes.
2. Add trays.
Instead of displaying books, objects, or floral arrangements directly on a console or coffee table, style them in a tray. Whether it's acrylic, metallic or glass, trays help create a more refined look.
3. Get a lush throw blanket.
Even if you don't have a high-end sofa, draping a luxurious throw blanket over it instantly elevates the piece. Think faux fur, cashmere, a heavy knit of contrasting texture. The throw doesn't have to be expensive, it just has to look and feel rich.
4. Hang drapes.
Flanking your windows with a set of drapes makes them look bigger, and it makes the room look more polished and grand. Just make sure that the drapes extend from floor to ceiling-curtains that only cover the window have the opposite of your intended effect.
5. Keep frames consistent.
When you hang a gallery wall or a series of images, using matching frames-like all white wood or silver-creates a more upscale look. And, if you're matting the frames, you should choose the same color for these, too.
6. Go beyond basic throw pillows.
A quick, easy way to make your sofa look more sophisticated is by adding some luxe throw pillows. Instead of plain, solid cotton fabrics, look for tailored details, rich fabrics, and details like embroidery. Also, switch up the sizes and shapes so that they're not all exactly the same, like a larger square pillow with a low rectangular pillow.
7. Update your lampshades.
You don't need to buy all new lamps to achieve a more high-end effect, but you might want to replace the shades. Swapping out tapered lamp shades for light, crisp drum shades will make your space look fresh and modern, and sticking with a uniform style throughout looks clean and consistent. For an additional, rich detail, add a finial to the top of your lamps.
8. Rethink lighting.
If the only light source in your room is an overhead fixture, you're sabotaging your space. Instead, layer your lighting. Try options like a pair of matching lamps on a console table or flanking your sofa, sconces or overhead lights highlighting art, a floor lamp by an armchair, and a striking chandelier. No matter what you choose, just make sure to illuminate your room from various heights and angles with warm, layered lighting.
Related