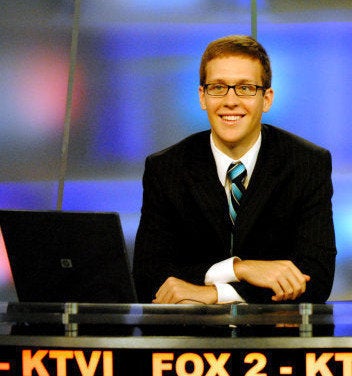 "This is insane," the now Internet-famous
told me Friday evening.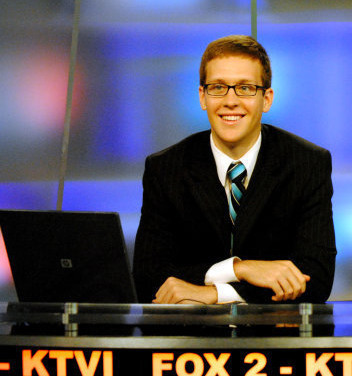 Did he have any indication this would happen?
"You never have any idea what's going to be viral and what's not," Spurlock said. "You have videos like this little kid biting his finger, and millions are in love with it; no one can predict that."
He admits his resume isn't quite on the scale of "Charlie bit my finger," but as someone who tracks viral memes and the real-time Web as part of my job, I can say that he's absolutely right virality is difficult to predict. That's the beautiful thing about it and what makes the Internet so random and fun.
The viral creation started in the simplest of ways: Spurlock was about to apply to some jobs, and one night, he decided to hop on Illustrator for a bit and doodle. "A couple hours later, I went to bed, and in the morning, I decided it wasn't entirely useless," he said.
This guy isn't your average doodler though. Spurlock says he has a "true love for infographics," and his portfolio certainly proves that. For someone who wants to pursue journalistic visualizations for a career, what better way to show that than a resume built out of infographics?
One of the most interesting things about his viral resume, it got a facelift after he spoke to a friend who is a designer and recommended changing the color scheme. The original creation was multi-colored (view it below), which Spurlock says may have too closely resembled a bag of Skittles.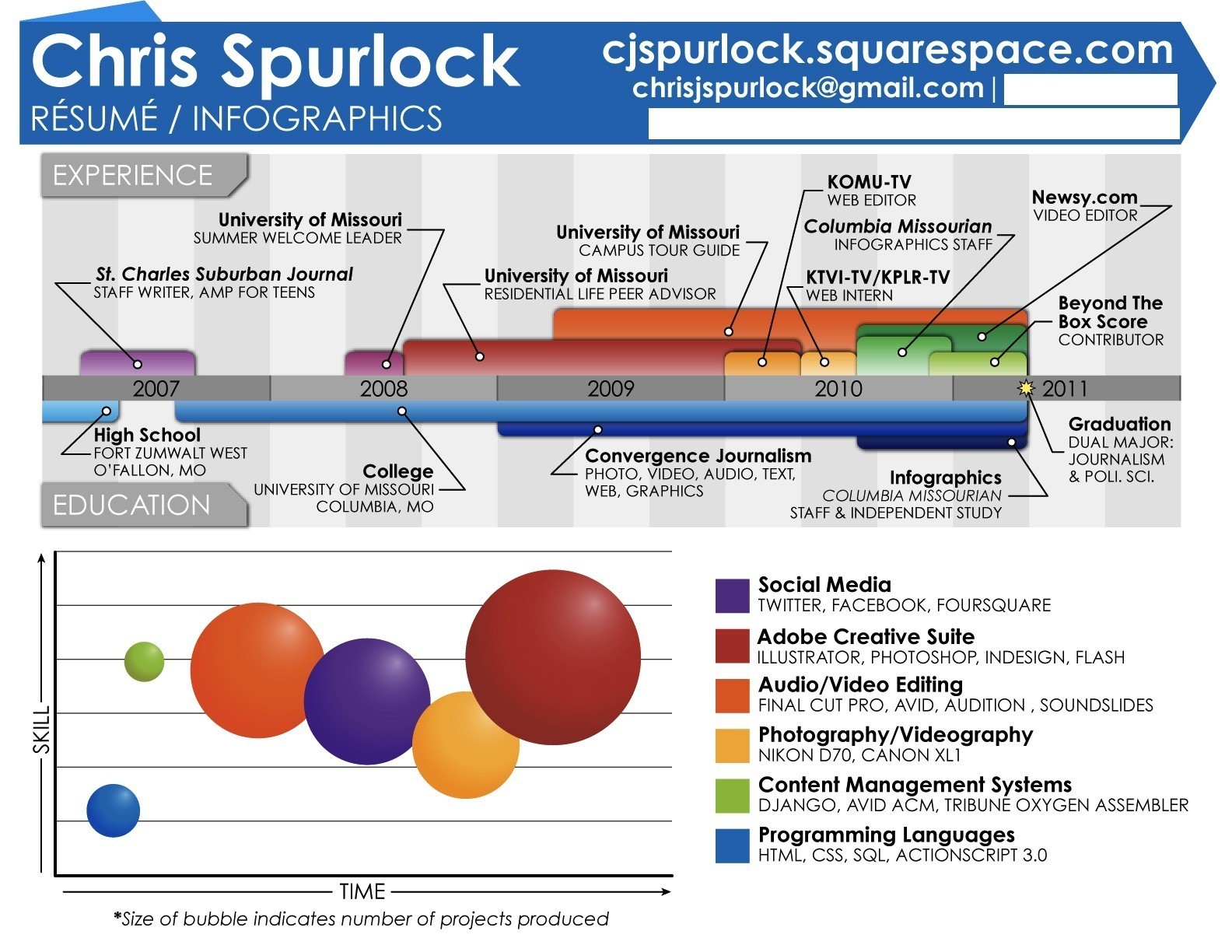 Spurlock's self-criticism aside, I'd say the colored version is pretty awesome... you can view his "final version" (with a blue color scheme) here.
The college senior and St. Louis area native plans to graduate in May, and he is indeed actively seeking a job post-graduation. Any employer looking to add to its design team or with interest in infographics or visual journalism would be wise to give Spurlock a close look.
For job seekers seeking to repeat his success of having their own resume go viral, or just looking for some advice from the brains behind this resume, here's Spurlock's advice (paraphrased):
(1) MAKE IT YOU: You have to put a little bit of yourself into everything you produce. Listen to professors, people giving feedback, but at the end of the day you have to live with the work you produce.
(2) CONSIDER WHERE YOU'RE APPLYING: A resume like that isn't for everyone and not for every position even, but be creative and if they don't like it, you probably wouldn't want to work there anyway.
(3) HAVE FUN: At the end of the day, I was just doodling on my laptop, it's something I enjoy. Have a fun feel to it and don't take yourself too seriously, but also do it in a way so you're seen as professional.
(4) SHARE WITH OTHERS: Don't be afraid to push your work out there before it's finished. It's a great way to get feedback and there's no harm in asking for help.
(5) REACT TO CONSTRUCTIVE CRITICISM: Whether you're 20 or 75, you always have something to learn. Even though criticism is hard to hear, there's always something to make it better. See what people think to do just that.
And that last piece of advice is really key. As his piece has gone viral, with hundreds of tweets, Facebook shares, and Facebook "likes," and several thousand pageviews, Spurlock has gotten no shortage of criticism. He's taken that in stride.
"At first I told myself I wouldn't go through it all," he said of the criticism. "But then I thought, that's the only way you can improve yourself. That's when you can learn more about yourself, looking past that excitement and taking in that constructive criticism."
Smart guy. He will find a job, and soon, I'm sure.
Popular in the Community