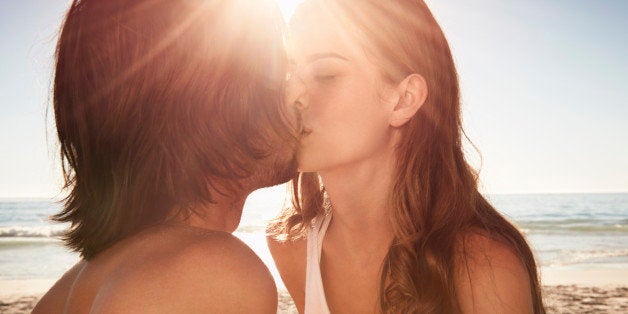 As the summer starts winding down, you may be thinking, "Is my summer fling the real thing?" If you think your hot-weather hookup has post-summer potential, be honest about how you feel. It's better to know if the feeling's mutual and not play an endless guessing game with, "He loves me, he loves me not."
If it's the real deal you don't have to rush it, just take the next steps in the relationship and see where (and how) it goes. Here are some great tips to help you make your summer love last:
Do the love litmus test.
This is to see whether it was the moonlight and margaritas that swept you two off your feet and into each other's arms, or if it really is something more. Once life kicks back in, it's important to make sure your relationship can pass every day challenges as well. So spend a weekend as a regular couple. Run errands, do grocery shopping, or clean the bathroom together (kidding, but you get the idea). Spend real time together and get real because let's face it, every day is not going to be like that 24 hour marathon of hotel and hot tub sex you had in Cabo.
Keep the passion.
With that being said, you still want to keep your relationship fresh and not get stuck in a rut of Chinese takeout and Netflix. Relationship ruts are easy to fall into, but hard to climb out of. Ditch the bedroom boredom and heat things up. Plan a romantic weekend getaway. You'll keep that summer flame burning strong by keeping the fire in your relationship.
Keep being interested in each other.
I once had this romantic night at a beach house where we drank wine, ate popcorn, and talked until 3:00 a.m. So how about a date-night-in with cocktails and conversation? Good communication is essential in maintaining a great relationship. The more you dig in and get to know each other, the more meaningful your relationship will be. And, by discovering each other's likes and dislikes you'll develop a closer bond.
Keep experiencing new things together.
During your fun vacay you were fearless and freewheeling. Don't lose that summer spontaneity. Change things up every once in a while. Introduce your partner to something you enjoy like hiking, baseball games, or ballroom dancing (heck, why not?), and vise versa. Be open to try it at least once. If you do, you may discover a great, new activity that you both love.
Give each other some space.
This is important because romantic bliss can be all-consuming. You may be on that high of feel-good emotions, but don't go drowning in your sea of love. Keep pursuing your own desires. That means hanging out with your friends, hitting the gym, or trying something new without your new love watching. This keeps you rooted in your own life as opposed to getting lost or caught up in someone else's.

Stay positive.
Keeping a positive attitude is the key to happiness. The truth is, there's only one person you can rely on to make you happy: you. So take charge of your own happiness. It's much more empowering than expecting someone else to do it for you. Sure there will inevitably be challenges that come up, but by staying positive you will be able to handle them.
So if you want to make your summer love last through the seasons, be confident in yourself, curious in the relationship, and know that things will inevitably change, so be flexible as well. Enjoy this fun "getting to know you" process and you may find lasting love.
Related
Popular in the Community