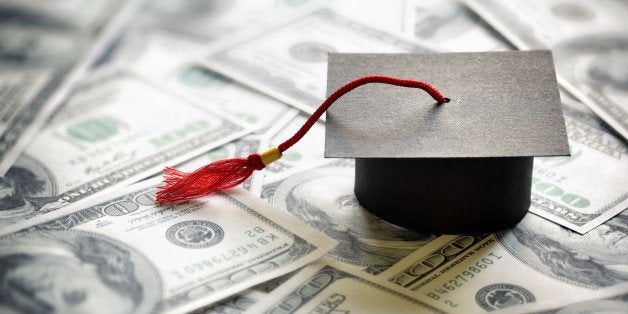 As a student or even as a post-grad, student loan debt can take over your life and affect your performance academically or in the workplace. For students, juggling their personal finances can be equally tricky as most college-aged kids are getting their first exposure to "the real world" and learning how to make their dollar stretch. Here is some advice and best practices for college students and recent grads who feel like they're being crushed by their personal and student loan debt.

Tip 1: Manage your money WISELY so you don't graduate with more debt than you would have otherwise. And technology can help you do it!

The graduating class of 2016 has an on-average debt-load of over $37,000, and many owe ever more. Shockingly, according to a joint survey between CreditCards.com and my non-profit the 1,000 Dreams Fund, conducted by Toluna Quicksurveys.com, over 40% of students don't know how much debt they are in. And over 30% don't know how much credit card debt, according to the same survey. It is likely the same situation for Gen Z and young Millennial men. Don't let that be you.
Tip 1: Manage your money WISELY so you don't graduate with more debt than you would have otherwise. And technology can help you do it!

It's absolutely critical to set a budget at the start so you don't find yourself running out of money at month's end and having to cover your gap with a credit card that will charge you 16-17% interest rates on average. And lucky for students and parents, it is it way easier to track your money with financial tools and apps like the one provided by Mint. This nifty app allows students to create any number of budgets with can be as specific as coffee, movie or party money. And as many students are using credit cards for the first time, this app has a feature that allows that you never spend more than you can pay back.
Tip 2: Scholarships! Scholarships! Scholarships!

Almost $3 billion in scholarships get left on the table each year. And frankly, it's not surprising. It's hard to find those opportunities, with many of them being specifically targeted to a particular region or school.

You must fill out the FASFA financial aid form to see what you are qualified for from the government, and for those in most need, a large portion of that should be in grant-aid and not loans, which are required to be paid in full after graduation.

Once you know what the government can do to support your education, it's now time to peruse those scholarship - free money that can help cover any gaps in your semester budget. Start with your high school college guidance counselor or contact the college or university you will be attending to get connected with funding opportunities best suited to you. Also reach out to your hometown community foundation which often maintains 100's of unclaimed scholarship opportunities.

Scholarships like the 1,000 Dreams Fund are also out there, and online resources like Scholarships.com can help you find them!

Tip 3: On-campus jobs make good money and career sense.

We highly recommend looking into work-study programs on campus. These on-campus gigs generally pay well and plug you into the university system which can be immensely helpful with career networking. You can also target the work to your particular area of study or career interest, and some even allow you to do homework during those quiet hours when nothing is happening. How many employers let you do that?!

Tip 4: Look for VALUE colleges (for high school students who are determining what universities/colleges they are targeting)

If you're in the process of applying to colleges, try to figure out which schools provide the best value for your dollar in terms of job placement. In fact, MONEY Magazine just released their annual Best Value College rankings, which provides great insight. Interested in journalism? That nearby state school may be better at placing journalists into good paying jobs than an expensive private school. Thinking about graduate school? Save that top tier school for after you've graduated and had a chance to work, allowing you save some money for the pricier option.

Tip 5: Be focused and try hard to get 'er -- college -- done in 4 years

With the high cost of college these days, it's no longer cool to be that six-year senior. Plus many of your friends will likely have graduated, and that can be lonely. Be focused, and make sure you are completely all degree requirements before your senior year. Your academic advisor or on-campus mentor can help you figure that out!
REAL LIFE. REAL NEWS. REAL VOICES.
Help us tell more of the stories that matter from voices that too often remain unheard.