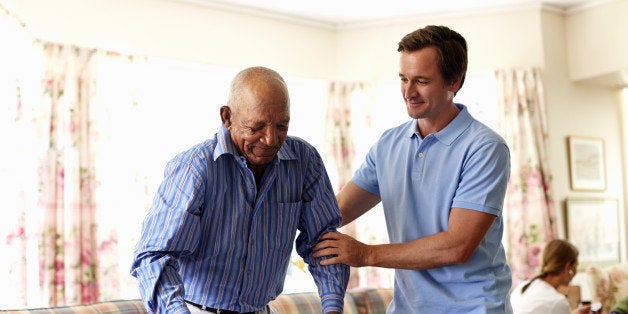 In retirement, you may encounter expanding healthcare needs or even experience a life-changing disability. When trying to cover these health costs, you may realize that health insurance and Medicare fall short when it comes to providing ongoing, long-term care. For instance, if you don't need the care of a doctor, but need custodial care for daily living activities, such as bathing, dressing or eating, those costs are never reimbursed by traditional health insurance or government programs.
According to the U.S. Department of Health and Human Services at longtermcare.gov, 70 percent of people over the age of 65 will require long-term care. The price tag for these services can reach far beyond the average senior citizen's income. In 2010, the average daily cost of care for an adult ranged from $67 for a day care facility to $229 for a private room in a nursing home.
What is Long-Term Care Insurance?
Long-term care (LTC) insurance policies were created to pay for daily care expenses. They reimburse you for a pre-selected daily amount of care either in your home or in a nursing facility. The cost of a LTC policy depends on several factors such as your age when you purchase the policy, the daily coverage amount, the number of years of coverage and any optional benefits you choose.

While having LTC insurance sounds like the perfect solution for getting the care you need, the reality is, there are challenges with these policies. One problem is getting the coverage to begin with. If you're in poor health or are already receiving long-term care services, you can be turned down. Unlike regular health insurance, which can't be denied to those with pre-existing health conditions, most LTC policies require medical underwriting.
Another problem is the availability of long-term care insurance. Due to an environment of rising health care costs, increased longevity and low interest rates, in the past five years, 10 of the top 20 providers (such as MetLife and Prudential) have gotten out of the LTC insurance business.
How to Afford Long-Term Care?
For providers offering LTC insurance, it's possible they'll be forced to raise premiums to remain profitable.
If LTC premiums go up, one way to manage the cost is to reduce your coverage. For instance, you could shorten the benefit period from five to three years or reduce the daily benefit amount from $100 to $75.
In the worst case, if LTC premiums become unaffordable, you might have to abandon the policy altogether without getting any benefit from it. Unfortunately, no other type of insurance can completely replace it; however, there are other options.
To protect yourself or a loved-one from the rising costs of long-term care, consider these alternatives to regular LTC insurance:
• Hybrid life and LTC insurance - allows you to draw down the cash value of your permanent life insurance (such as whole, universal or a variable product) to pay for long-term care expenses. If you never require long-term care, your heirs will receive the full death benefit of the policy.
• Fixed Indexed Annuity (FIA) - is a financial product sold by an insurance company. The insurer guarantees to protect your principal and give you the potential for growth linked to an index, such as the S&P 500.
An FIA offers the opportunity for growth through a steady, guaranteed lifetime income stream, all while protecting your principal from the uncertainty of market volatility. You don't actually invest your money in the stock market, but you can receive some of the upside potential of growth without putting your money at risk.
In addition to receiving guaranteed income for retirement, many FIAs offer annuity riders that provide additional financial security to pay for unexpected health care expenses, such as long-term care.
For instance, a nursing home rider may allow you to increase the monthly income on an annuity or to withdraw from your account to pay for care in your home or at a nursing facility. Another option is a terminal illness rider, which allows you to access a portion of your account value if you're diagnosed with a terminal illness.
Having coverage through LTC insurance or a fixed annuity with optional riders gives you peace of mind for future health costs. If you carefully consider all your options and plan now for future long-term care expenses, you'll be prepared to cover the care you need when you need it.
Laura Adams is a personal finance expert, award-winning author, spokesperson, and host of the top-rated Money Girl podcast.