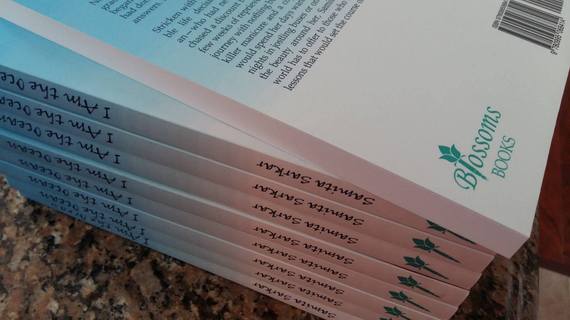 When I first began my book publishing journey, even writing a book seemed like such a lofty goal. But publishing, and then marketing it on my own? An insurmountable feat.
Once I had finished penning I Am the Ocean, my travel memoir about a solo backpacking trip I had taken along the east coast of the United States, what had once seemed impossible now seemed like a fun learning process after a mindset shift spurred by a harsh lesson: if you want something done right, you have to do it yourself. This is true of book publishing, and especially true of book marketing.
After all, us authors already have one of the best possible marketing tools at our disposal: our own writing skills. Here are five tips for using the power of the pen to market your book, even as an unknown, self-published author.
1) Seek Book Blogger Reviews--but Don't Rely on Them

I began my marketing journey by writing to book bloggers who reviewed nonfiction. In most cases, I was met with no response. Generally speaking, book bloggers are bombarded with review requests, and even if your book fits their requirements, you're following each other on social media, and you've written a personalized request to them, they simply don't have the time.
I'm not suggesting that you not approach book bloggers, just that you don't rely on blog reviews in your marketing plan. Understand that getting reviews from book bloggers will take a lot of work and a thick skin.
2) Connect with Other Readers

That's when I realized that reviewers don't have to be bloggers; they just have to be readers. What's the best social platform for connecting with other readers? Goodreads.
A few months earlier, I had made a Goodreads account and imported my Twitter followers, so I already had a decent sized network on the platform. Over the next few days, I started sending messages to my Goodreads friends, thanking them for connecting, pointing out if we had read any books in common or had any other similarities (such as in location or hobbies), and asking them if they would be interested in reviewing a new travelogue. Many Goodreads members are also authors or bloggers, even if they aren't specifically book bloggers. Using my Goodreads network yielded better results than approaching book bloggers, and I was able to form some meaningful online relationships with other readers around the world.
Still, I wanted to go bigger.
3) Find Your Niche

It's easy for disgruntled first-time authors to throw in the towel and convince ourselves that people just don't read like they used to. But that's far from the truth. People consume more media now than ever before, but in the online world, we can tailor this media to suit our interests. What a musician consumes is very different from the media that a professional skateboarder chooses to be exposed to.
What this means for self-published authors is that we need to find people who are already interested in the book's subject, even if they read infrequently. Once you find these people, they are an easy sell. In the age of information, finding them is easier than previous generations could even dream about.
I was able to find entire groups on Facebook devoted to travel, and even, more specifically, solo female travel. I made sure I wasn't violating group policies, and then I selectively posted messages in a handful of groups asking if anyone would like to review a travelogue.
Within a couple of days, I received dozens of responses. I was completely floored by all of the people who wanted to read my book. This was the least amount of effort I had put into a marketing endeavour, and yet this is what produced the best results.
Other authors can tailor this tip to suit their individual book. Perhaps you don't use Facebook groups, but rely on other online forums, such as this massively successful, previously unknown author who used Reddit to promote his book. Perhaps you don't approach solo female travellers, but you approach baking bloggers or vegetarian foodies to promote your cookbook on eggless cakes. You don't need to write a YA novel with mass appeal. Use your niche to your advantage.
4) Make It Easy for Others to Help You

Next, I went through Facebook groups and found posts from more travel bloggers who were seeking either guest bloggers or other nomadic writers to interview with a set series of questions. I visited their blogs to make sure that my story was similar to others they had already featured, and then I emailed them and told them about my travel experience and of course, my book.
I reached out to eleven travel bloggers one evening, and was met with five yeses in my inbox when I woke up the next morning.
When you ask someone to write a blog post about you, or even to write you a book review on Goodreads or Amazon, you are asking a lot of them. Not only do they have to take a few minutes to a few hours to write about you, but they have to take a few days to a few weeks to read your book. Your book is valuable, but so is their time, and this experience taught me how important it is to make it easy for those who are interested in helping you. For every blogger willing to write about you, there are ten who are willing to feature your writing.
In the future, I plan to use this strategy to contact media outlets, and I recommend that other authors do the same. Sure, you may be able to get a journalist from a major newspaper to interview you if your book's topic is linked to their column, but how much easier would it be for a major publication to say yes to you if you've already done the legwork and written the article? Authors are wordsmiths, and we can use this to our advantage when we market ourselves.
5) Keep Writing

I will spend the rest of my life marketing my book, and I've really only just begun. I have an endless amount of writing ahead of me. Writing is the best way to get ongoing publicity for your book. Now that the sequel to my first travel memoir is in the works, I intend to implement what I've learned as I market my second book.
Authors will always need to write, which is what we do best. It might seem difficult at first, but as our platform grows, book marketing gets easier with a little time and effort--and a lot of writing.
Popular in the Community