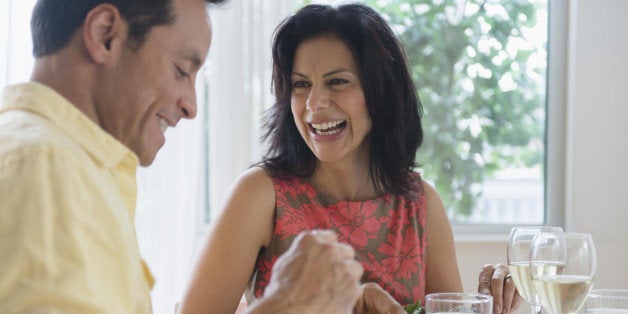 Meeting your soul mate in the treacherous dating scene can seem like a big mountain. The mountain to meet your soul mate appears to be tall and steep, and getting to the top can seem impossible.
Especially as a single, gay man who wants more than a hookup, going on multiple dates can seem disappointing as times when that's all other guys want.
Luckily, there's a cure for those who are starting to feel jaded by the dating scene! That's why I had to pull in Ken Page, bestselling author of Deeper Dating to give us the skinny on how to meet your soul mate and stop playing the games of seduction that often leave us feeling lonely and disappointed.
In this interview with Ken Page, we dive into the concepts of identifying your core gifts, the difference between relationships of inspiration versus relationships of desperation. Ken also gives an awesome tip on what to do if you're feeling a bit jaded in the dating scene or if you're unhappy in your current relationship.
Here's a nifty breakdown of what we talked about:
Lead with your core gifts to meet your soul mate
Your core gifts are what make you unique, and you have core gifts that are special to your DNA. Your core gifts can be identified by looking back at your times of joy and your times of tears. When you realize what makes you the most joyful and what makes you the most vulnerable, those are the characteristics that make you special and you need to honor that.
In my life, my core gifts are that I'm a highly sensitive person and that I value inclusiveness. When these core gifts are not honored by myself, I'm not being true to who I am. When someone else doesn't honor these traits, they're not worth dating and becoming intimate with.
To identify what your core gifts are, spend a few minutes remembering times that you were joyful and sad. Think about the honorable traits you presented during those times, and you'll begin to extrapolate your own core gifts. Don't ever lose sight of those because knowing your core gifts will help you move into having more successful dates and intimate relationships.
Don't be afraid to discriminate
Some dates leave us feeling drained. He never called me back. He always rolls his eyes when I talk about what I'm passionate about. I always have to walk on eggshells in order to please him. All of the relationships that don't feed the heart and soul are what Ken calls relationships are deprivation. These include relationships that are toxic, addictive for the wrong reasons, and generally unhealthy. Remove yourself from these relationships at all costs, seriously dude!
When you begin to discriminate against relationships that don't honor your core gifts, you begin to enjoy the relationships of inspiration that do feed your heart and soul. Those are what Ken calls relationships of inspiration.
Relationships of inspiration bring out the best qualities in both you and the person you're dating. If you love to talk about nerdy video games and talk about going on vacations around the world, your dates and partners need to honor and respect that in order for it to be a relationship that does feed you from the inside out. Finding and keeping these relationships are going to be much easier once you identify your core gifts, so make sure to do the exercise Ken mentions in our interview before you begin to discriminate guys that you date.
Follow this great rule and you'll be set for life
Most people forget that importance of kindness. You've got to be kind to yourself and kind to other people if you're going to have positive dating experiences and enjoyable intimate experiences.
When you lead with kindness, you open up opportunities for growth and inspiration that you'll never have had exposure to otherwise. You'll also be surprised to see who reciprocates and doesn't share kindness back with you.
Ken reminds us of the Marianne Williamson quote "Both feet in, both feet out." This means that you need to give it your all before you give up.
I also sincerely believe that there is soul mate out there for everyone, especially if you follow the principles outlined in this article.
Did you enjoy this interview with Ken? Be sure to let us know what you learned in the comments below and tell us what one of your core gifts are. We can't wait to hear from you!
Max DuBowy is a best-selling author, YouTube personality and the founder of Your Success Launch where he teaches sensitive singles how to become a friend magnet and love themselves unconditionally. Max's FREE 8 Step Self-Acceptance Checklist and Guided Meditation is a sure fire way to discover how to be your true, authentic self with strangers, new friends, and romantic interests, even if you're shy. Sign up now and enjoy these free gifts in 2016. Max wishes all Huffington Post readers an abundance of peace, happiness and joy.